TECH TRANSFER REVENUE SETS RECORD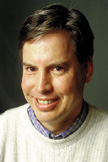 Coburn
The fiscal year ending June 30, 2002, is shaping up to be a banner year for revenue paid by companies around the world for commercial rights to University research. With four months still to go in the year, the University had received more than $40 million, topping the record set in the previous fiscal year of $29 million.
"I think people might not realize that the University has been active in promoting technology transfer for the last decade," says Mark Coburn, director of technology transfer. "It's the only way we would have this level of revenue because the time from new idea to finished product can be five to 10 years or more. Once a university has achieved this level of revenue, companies and venture capitalists begin to recognize that the University is 'licensing- and startup-company friendly.'
"It creates an exciting, sustainable process of technology transfer and helps to foster and attract resources to cultivate more innovative research."
Technology-transfer revenues have been on an upward trajectory since 1999, when the University received $3 million for the rights to research. In 2000, the figure had climbed to $13 million.
The most lucrative patents include a childhood vaccine and computer technology used in offices around the world everyday, though patents for everything from genetics to photography contributed to the skyrocketing return.

Maintained by University Public Relations
Please send your comments and suggestions to:
Rochester Review.