Voice
Opera by Prize-Winning Alumnus Gets Eastman Debut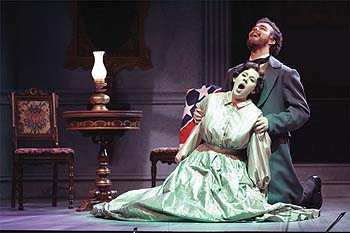 CASTING CALL: Set in post–Civil War South Carolina, the production of Claudia Legare featured two alternating casts of Eastman voice students, including Aubrie Willaert and Jared Schwartz. (Photo: Steve Piper)
The Rochester debut of an adventurous opera composed by Pulitzer Prize– winning Eastman School alumnus Robert Ward '39E kicked off the 2005–06 season of Eastman Opera Theatre last fall.
Claudia Legare, which has been produced only three times since its 1978 premiere, follows the story of a bored young woman caught in the middle of her husband's and former lover's differing plans for reconstructing the South. Reset in postwar South Carolina by librettist Bernard Stambler, the opera is based on the Ibsen play Hedda Gabler.
Ward, who won the Pulitzer Prize in 1962 for his opera The Crucible, visited the Eastman School to work directly with students in the production and with faculty members Steven Daigle, dramatic director for the opera company, and Benton Hess, the company's music director.