'Campus' Housing
New Student Housing Opens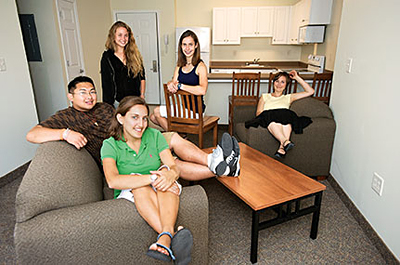 While the new Brooks Landing hotel (see story this page) brings new options for people who want to visit the River Campus, the development has helped launch a new option for Arts, Sciences & Engineering students who want more latitude to live independently while still being close to campus.
About 400 students moved into Riverview Apartments, a new housing option located on the west bank of the Genesee River, at the beginning of the fall semester. The goal is to provide flexibility for students while also helping to tie the University to Rochester's neighborhoods.
Owned by a private company, Riverview is inhabited solely by Rochester students. The five-building, 120-unit complex was "inspired" by Brooks Landing, says Ronald Paprocki, the University's senior vice president for administration and finance, chief financial officer, and treasurer.
Rochester City Councilmember Dana Miller '89S (MBA), the board chair of the Sector 4 Community Development Corp., says when a Buffalo-area developer saw the activity at Brooks Landing, he approached the University to see if it could use more student housing nearby.
—Kathleen McGarvey