Crew
Women's Rowing Joins Varsity Programs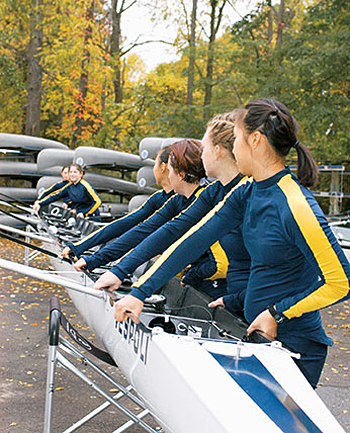 The women in Rochester's rowing program will compete on a new level beginning next year.
The University announced this summer that the program, which has operated as a club sport for more than 20 years, will be raised to varsity intercollegiate status beginning with the 2009–10 academic year, making the team eligible for the NCAA Division III rowing championship in spring 2010.
"This is a club program with a strong history at the University," says George VanderZwaag, director of athletics and recreation at Rochester. "We have a terrific rowing venue on the Genesee River. We feel fortunate to have the University's support in adding to our varsity program offerings in this way."
As part of the move, the men's team will become an upper-level club program, allowing it to be supervised directly by the Department of Athletics & Recreation, have full-time coaching support funded by the University, and share travel, equipment, and facilities with the women's program.
Men's rowing is not recognized as an NCAA sport, and does not have an NCAA championship.
Edward Fox '91, '95M (MD), the president of Friends of UR Crew, says the changes have been sought by the alumni group for some time.
"This longstanding dream of achieving varsity status for women's rowing would not have been possible without the dedicated Rochester alumni, friends, and parents constituting the Friends of UR Crew," he says.
Rochester's rowing tradition includes the 1989 founding of the Bausch & Lomb Regatta, which attracted some of the top rowing programs from the United States and Canada to the River Campus for a series of rowing competitions. The regatta was directed by George Angle, a former University vice president, who is the namesake for the trophy presented to the winner of the men's varsity eight division. A women's trophy is named after Elaine Wilson. The event is now part of the annual fall River Romance Weekend and was sponsored by the Rochester firm LeChase Construction Services in 2007.
"This initiative exemplifies our commitment to offering a rich experience for undergraduates, both in the curriculum and outside it, and will broaden our appeal to students," says Peter Lennie, senior vice president and the Robert L. and Mary L. Sproull Dean of the Faculty of Arts, Sciences, and Engineering.