President's Page
Grounds for Optimism
By Joel Seligman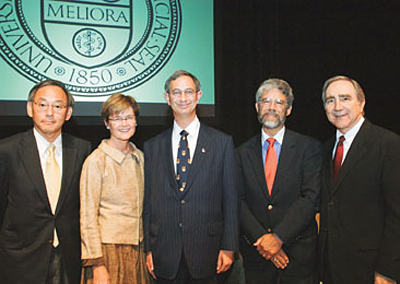 As challenging as our economy is, I believe there are grounds for optimism for research universities such as the University of Rochester, which in past years have performed a vital role in this nation's economic progress.
No one should minimize the human and social costs of our current economic emergency. But we are part of a nation with a history of honestly confronting our challenges and overcoming them. I believe that the economic development consequences of our nation's research universities can be pivotal in our economic resurgence.
President-elect Obama has articulated priorities that are likely to strengthen the links between economic development and research universities. During his campaign:
He recommended doubling federal funding for basic scientific research through such programs as the National Institutes of Health and National Science Foundation. He has made clear his intent to permit the NIH to fund stem cell research.
He has particularly focused on energy, proposing significant investments in clean, renewable sources of energy such as biofuels and investments in climate friendly energy supplies and efficiency. In all he would like to create five million new "green" jobs.
He would like the United States to lead the effort to combat HIV/AIDS, tuberculosis, and malaria.
Research universities in the post–World War II period have been leaders in science, engineering, and medicine, and have made possible innovations to address these types of global challenges. I am confident that universities like the University of Rochester will continue to be research leaders of the future.
All of us at the University of Rochester also are inspired by President-elect Obama's appointment of Trustee and Nobel Prize–winning physicist Steven Chu '70 to lead the U.S. Department of Energy. Steve is an uncommonly gifted scientist, administrator, and leader who has focused the work of the Lawrence Berkeley National Laboratory on the challenge of energy sustainability. He understands the challenges ahead of the nation and has articulated a vision that will help set the United States on a path that will reduce our dependence on carbon-based energy resources.
President-elect Obama has also named Heather Higginbottom '94 as the deputy director of the Domestic Policy Council, where she will help shape decisions on education, health care, college affordability, and other issues. A highly regarded advisor on Capitol Hill, Heather led Senator Obama's team in crafting a proposal for a $4,000 tax credit for college costs for students who commit to completing 100 hours of national service.
We are also delighted that our government will include Chris Lee '87 (R-NY), a Buffalo-area businessman who will represent Upstate's 26th district in the House of Representatives. Chris brings the energy of a successful entrepreneur to address the issues facing the University as well as the nation.