In Review
In Class
'Mirror with a Memory'
In conjunction with the George Eastman House, students explore the history of photography.
By Kathleen McGarvey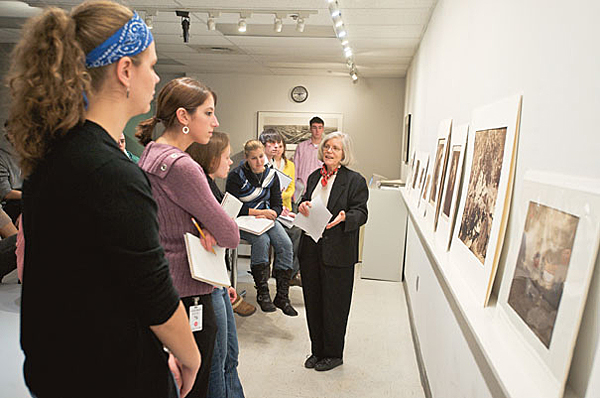 When she first taught courses in the history of photography, it was hard to persuade students to question the veracity of an image, recalls Grace Seiberling, an associate professor of art history.
"I had to convince students that the photographs weren't transparent, that they're constructed," she says. "Now it's the opposite. With Photoshop and so on, it's hard for students to see that people ever believed in the 'mirror with a memory.'"
Twenty-first-century sensibilities may make it hard for students to imagine photography as the purely reproductive medium many once considered it to be, but for those in Seiberling's History of Photography course, investigating how people have thought about and carried out photography since its invention is just what they do.
And they do it with the aid of a rare resource: Access to a wealth of actual photographic prints from photography's earliest days to contemporary times. On alternate weeks, the class meets at the George Eastman House International Museum of Photography and Film, located in Eastman's Rochester mansion. With a collection of more than 400,000 photographs and negatives, the museum holds the work of more than 14,000 photographers, and virtually every process and printing medium ever used is represented in the collection.
As Seiberling and her students meet in the Photographic Studies Center at the Eastman House, they carefully examine sepia-toned photographic prints that stand on the display rail. An archivist has pulled the images from the museum's collection at Seiberling's request, so that students can examine them closely.
"There was a debate early in the history of photography, on its purpose," Seiberling tells the students. "Objective reproduction? Art?"
The students cluster around "Ophelia Study No. 2," an 1867 photograph by English photographer Julia Margaret Cameron. The albumen print shows a young girl with flowing hair, dressed in a flowered hat and dark cape, a white rose pinned near her throat.
"What do you see?" Seiberling asks.
"You can't really see her eyes, but you can feel the longing and sadness in them," one student says.
"She's evoking a state of mind," Seiberling agrees.
As she continues to ask the students how the photographers are achieving artistic effects and in what ways their images may adhere to or deviate from faithful reproduction of what they saw around them, Seiberling prods class members to consider what it means to call something "artistic" or "realistic."
"One of the things I'm interested in is having people be aware of that dual identity of photography, as art and as part of our lives," she says later.
The course covers photography from its inception to today, and students, who range from freshmen to seniors, come from majors throughout the humanities and sciences.
"Learning to deal with ambiguity is something I think humanities courses are important for in the education of scientists," Seiberling says. By the same token, she notes, students from the sciences bring their own expertise to bear on the class, as optics students, for instance, can offer insight into the working of lenses.
And, of course, the early practitioners of photography were something akin to scientists themselves. "They had to figure out how to take photographs and experiment with the process," Seiberling says. "You had to be competent as an amateur chemist."
Whitney Holmes '09, an American Sign Language and English major from Sebastopol, Calif., joined the course as a result of her experience studying abroad in southern India last spring. She began taking photographs while she was there and decided she wanted to learn more about the medium.
"I thought maybe learning the history of photography would influence how I take pictures," she says.
The course has a considerable technical component, Holmes says, exploring the mechanics and processes of photography. But it's also concerned with the social context of taking pictures.
"An important part of the class for me is seeing how the two parts intersect, and how these inventors changed how people see," she says.
While history of photography courses are typically taught with the aid of textbook images and online photographic databases, Rochester students are able to examine the actual products of those inventors and their artistic descendants.
"With photography more than painting, people don't realize what a difference there is between a projected image and an actual image," says Seiberling. Among the appeals of an actual photographic print is that "it's an object," she says. "The objects have existed in time, so you see them as mutable. They've shifted, faded, changed color."
"That's what a museum provides—access to an object, and not just an image," says Joe Struble, an assistant archivist at the Eastman House who organizes the photographic displays for Seiberling's class. "And an object involves more of the sense than just vision."
The surface of different photographic papers varies, and photographic processes themselves create different surface—sometimes "velvety," sometimes "hard," Struble says. "You can only experience those subtleties of paper surfaces through the print itself."
"The fact that I'm within inches, just a hair's breadth away, from these pieces of art blows my mind," says Daniel Kim '09, a microbiology and immunology major from Horsham, Pa., says.
"You can learn so much by going back to the roots of photography."