In Review
Women's Basketball
A Legacy of Success
Yellowjacket seniors finish their careers with a record-setting season.
By Ryan Whirty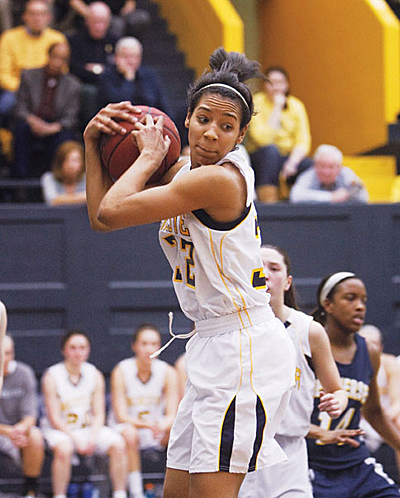 Women's basketball coach Jim Scheible has never had a senior class of players quite like the one he coached in 2008–09.
Over the course of their collegiate careers, the Yellowjackets—forwards Julie Marriott '09, Alex Porter '09, and Marlena Fisher '09, guards Rachel Stern '09 and Johanna McNelis '09, along with forward Jessica Waddell '08, '09S (MBA)—advanced to the NCAA Division III tournament four times, won a quartet of JPMorgan Chase Scholarship tournament titles, and finished with an overall four-year record of 88–24.
But the contributions of the seniors extends beyond the wins and losses, Scheible says.
"It was their determination and competitiveness," he says. "They worked as hard as any group I've ever had. They established a level of excellence over their four years.
"Just to get to the Sweet 16 four times is a tremendous accomplishment. Their legacy will be a challenge for the next group of players."
The women's basketball season came to an end in March, when the Yellowjackets fell to the College of New Jersey 70–58 in a Sweet 16 round game at the Palestra. The team, which finished with a 24–4 overall record, spent much of the season ranked among the top in the country.
For her part, Porter says the team had a special bond and a common purpose—to excel and make the University community proud. She says her classmates' united vision was rewarding.
"It was an unbelievable experience," says Porter, a native of Rockville, Md. "We had a high level of commitment, and we were all determined and committed to what we were doing, and I think it showed."
It was especially evident during the Chase tournament in January, when the Yellowjackets dominated their opponents, including a convincing 56–42 win over rival St. John Fisher in the title game. The victory gave Rochester an unprecedented four championships in a row.
"To be the first to win four in a row was an incredible moment for us as a team and us as a senior class," says Porter, who earned Chase MVP honors after averaging 10.8 points and 9.3 rebounds a game.
Rochester also spent several weeks at the top of the national Division III rankings, including the D3hoops.com and WBCA/USA Today/ESPN coaches polls.
Porter says the squad clicked because each player could play multiple positions and feed off the talents of teammates.
"We were very hard-working, but we were also very versatile," says Porter, a brain and cognitive sciences major. "We had great chemistry with each other. We had post players who could shoot from outside, and we had guards who could post up."
Depth also proved crucial, says Marriott. "Having so many talented players brought our level of play up in practice every day and allowed us to play a faster-paced game."
In recognition of their on-court success, the Yellowjackets earned several accolades. Marriott was named to the D3Hoops.com All-East Region first team, as well as the All-UAA first team. Porter and guard Melissa Alwardt '11 received second-team All-UAA recognition as well.
The Yellowjackets had high hopes going into the 2009 NCAA tournament after advancing to the round of 16 in each of the previous three seasons.
They stayed on track with opening-round wins over Widener University and Kean University, but ran into the College of New Jersey, then the hottest team in the country, and were knocked out of the tournament.
While crushing at the time, the loss doesn't diminish the overall accomplishments of the season, say team leaders.
"You can't base an entire season on just one game," says Marriott, who was also named to the ESPN The Magazine Academic All-District first team. "Our team should be proud of what we've accomplished."
Scheible notes that the team's record of 24–4 set a season record for overall wins by a Rochester basketball team and a record for season wins by a member of the University Athletic Association.
"We would have liked to go further in the NCAA tournament," says Scheible, who earned Women's Basketball Coaches Association Region 2 Coach of the Year honors for Division III. "But having said that, I think we had a very successful season."
Porter agrees.
"Everyone has that goal of getting to the Final Four," says Porter, who finished her career second on the program's all-time rebounding list. "We always have high expectations. (The NCAA loss) was a disappointment, but we're happy with how we played.
"We fought very hard and played as a team," she adds. "We left everything on the floor and rose to every occasion."
Ryan Whirty writes about sports for Rochester Review.