Alumni Gazette
Introducing the 2010 Hall of Famers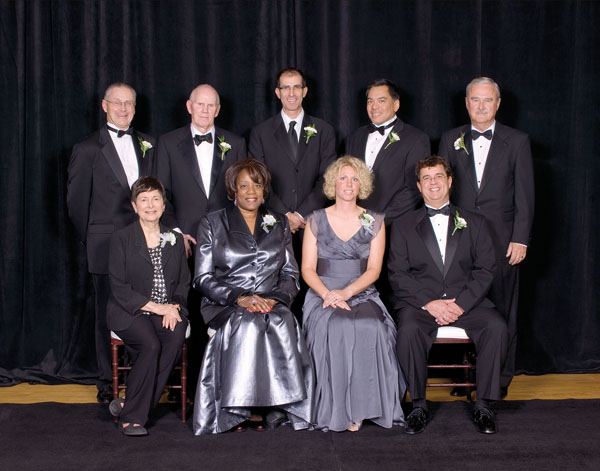 During last fall's Meliora Weekend, the Department of Athletics and Recreation inducted eight alumni into the Hall of Fame. Here's a snapshot of their accomplishments.
Doug Abeles '81, men's cross country and indoor and outdoor track As a senior, Abeles finished 10th individually in the 10,000-meter run at the NCAA Division III outdoor track and field championships and helped Rochester to a high national finish. He won the silver medal in the 10,000-meter run at the New York State championships. In cross country as a senior, Abeles placed fifth at the New York State championship, third at the NCAA regional qualifier, and 32nd at the 1980 NCAA Division III national championships. Abeles is an Emmy award–winning comedy writer and producer for Saturday Night Live.
Jessica Lyon Densmore '92, women's indoor and outdoor track Densmore was named Most Outstanding Performer at the University Athletic Association indoor championships each of her four years at Rochester. Her ability to compete in multiple events helped her claim several records for the University and for the UAA. She earned All-America honors in the 4x400-meter relay indoors and the heptathlon outdoors. Densmore is a Latin teacher and cross country and track coach at the Harley School near Rochester.
Patricia Dowell '78, women's basketball Dowell became a dominant inside player for the women's basketball team despite not playing the sport in high school. She's still among the individual record holders today. As a senior, her skills helped Rochester post a 16–3 record. After graduation, Dowell earned a master's degree in social service administration from the University of Chicago and is now an alderman of Chicago's 3rd Ward.
Paul Macielak '72, football Macielak was a three-year starter at left offensive tackle after starting his freshman year as a defensive tackle. In 1971, he was awarded the Ball-Keating Award as the Most Valuable Offensive Lineman. He's the president and CEO of the New York Health Plan Association, which represents managed care health plans across New York State.
Kevin Uy '87, '93S (MBA), men's swimming Uy helped Rochester win four straight upstate New York championships from 1983 to 1987. As a senior, he was a key component of a Rochester team that finished seventh at the NCAA championships. In four years, he earned All-America honors in seven events and set multiple records. Uy worked in the aerospace industry before returning to the University to earn an MBA from the Simon School. He works in the financial industry.
Lois (Inky) Ingersoll Watts '51, '73W (Mas) women's intramural sports Rochester didn't have an intercollegiate athletics program for women when Watts attended from 1948 to 1951. She participated in numerous intramural sports, including basketball, water ballet, and cheerleading, where she served a tenure as head cheerleader. She continued her involvement with the athletics program, working with recruiting and alumni programs in addition to serving on the Hall of Fame Committee. In 2002, she was selected to carry the Olympic torch for the Salt Lake City Olympics. She retired from a 38-year career as a reading consultant at the Allendale Columbia School near Rochester. Watts died in December.
John (Spike) Wilson '51, baseball Wilson pitched for the baseball team for two seasons, 1947 and 1951, and spent the two years in between as an unpaid pitching coach. In 1950, he attended spring training for the Rochester Red Wings. While he did not receive any money, the NCAA declared him ineligible for two years. His eligibility was restored as a senior after coach Lou Alexander wrote to each school on the schedule to permit him to play. Following graduation, he joined the Navy.
Jerrold Winter '59, football From 1956 to 1958, Winter played four positions: offensive tackle, center, middle linebacker, and defensive end. In 1958, the defense posted five consecutive shutouts to start the season and gave up just 19 points the entire year. After graduation, Winter served for three years in the Navy, then enrolled at the University at Buffalo's School of Medicine, earning a PhD in pharmacology. In 1966, he returned to teach and is now in his 43rd year as a faculty member.
Also inducted was Timothy Hale. A longtime coach of the cross country and track and field teams, he coached four individual national champions, 58 All-Americans, and guided the men's cross country team to the NCAA Division III championship in 1991. He's now the athletics director at SUNY Oswego.
—Dennis O'Donnell
---
O'Donnell is the sports information director for the Department of Athletics and Recreation.