Alumni Gazette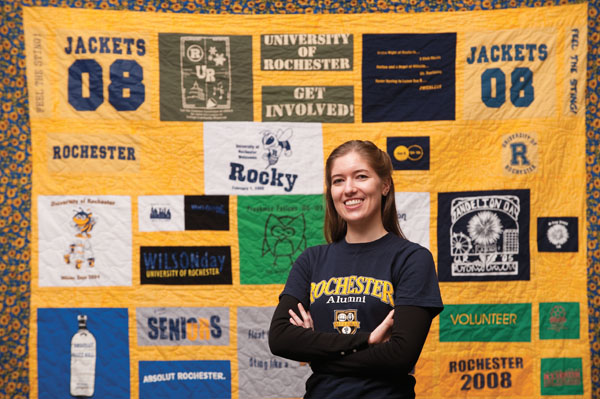 Throughout four years at Rochester, Stephanie Corretore '08 and her friends were avid T-shirt collectors. "If we knew there was a T-shirt to be gotten, we were there. We'd remind each other and stand in line together and save each others' spots because sometimes they run out," she says of the student groups who hand out shirts, often for free, at campus events.
Corretore wasn't about to let her shirts wear out. So the summer after graduation, she decided to stitch them into a quilt.
Doing so did require some compromises. "The cutting was the hardest part," she says. "It was quite emotional."
A freshman fellow, a 2006 Orientation volunteer, a class council member, and a member of the coeducational Alpha Phi Omega service group, Corretore says each square features a shirt that represents a personal memory and that some shirts mark important occasions in the University's recent history as well.
For example, Corretore obtained a Rocky towel the very day the new mascot was introduced, the result of a yearlong initiative to replace "URBee," the Yellowjacket mascot that had served as the athletics emblem since the 1980s.
Corretore also prizes a "Sting 'Em Rochester" shirt, handed out when the History Channel filmed a 2008 segment for a documentary on planetary nebulae. Physics professor Adam Frank joined the camera crew in the Palestra to deliver a lecture in which Rochester basketball players performed the roles of excited particles. "They gave out these T-shirts so that everyone in the crowd would look uniform, and really bright and enthusiastic," she says.
She had kept the quilt on her bed, but worried about wear and tear and the long-term effects of sunlight. Now she keeps the quilt boxed up.
It's hard to imagine, however, that her Rochester memories will fade. An evolutionary biology major, she became a lab technician in the Department of Biochemistry and Biophysics at the Medical Center. And in January 2011, Corretore starts nursing school—at Rochester.
—Karen McCally