In Review
STUDENT ENGAGEMENT
A Different Kind of Break
Student groups organize trips to build homes and fight poverty as part of alternative spring break.
By Maya Dukmasova '12 (T5)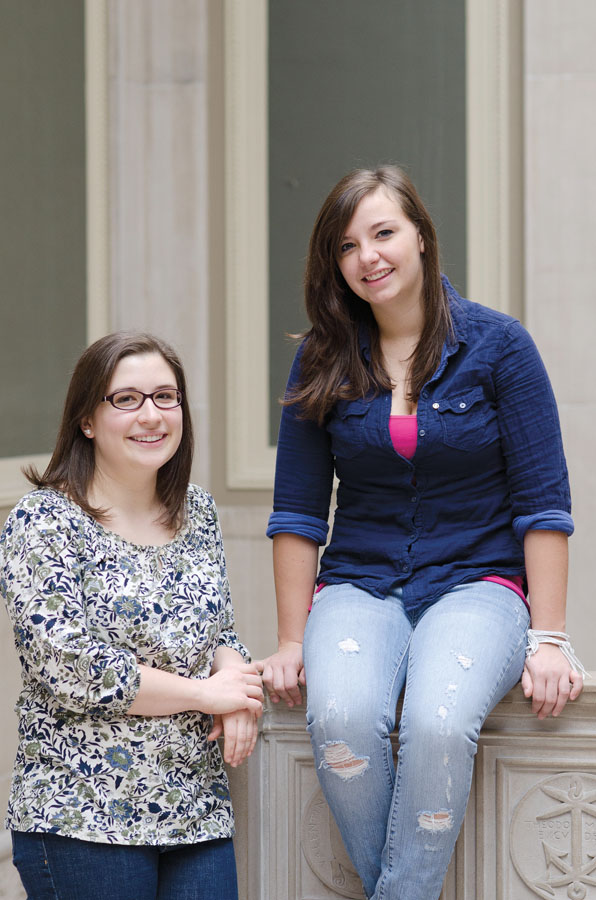 Since she was 14 years old, Jessica Nielsen '14 has been taking vacation time to build houses. Every summer she would travel from her hometown of Durham, Conn., to Booneville, Ky., located in one of the poorest counties in the country, to volunteer two weeks of her time and labor to help families in need of a new home.
"It's something that becomes part of you as you do it. I can't really imagine life without doing it," says the English and anthropology double major.
When she arrived at Rochester, Nielsen was happy to find a similar opportunity for community service with the student chapter of Habitat for Humanity and the group's alternative spring break trip. During the trip, students work together with a family who agrees to contribute 400 "sweat equity" hours toward building a new home. The project includes a small, interest-free mortgage the family will have 20 years to repay.
This year, Nielsen is leading the Habitat trip to Greensboro, N.C., and is looking forward to connecting with a new community and the homeowners she will help.
"You're physically building a house for someone, and you are putting your time, effort, sweat into it. It's definitely rewarding, much more rewarding than just writing a check," she says, "You get total satisfaction out of knowing, 'Oh, their bedroom? I built that bedroom.'"
As Rochester undergraduates take a week off classes in mid-March for the academic calendar's annual spring break, several students like Nielsen will be heading to less conventional destinations. Designed as an opportunity for travel and service, alternative spring break trips have been organized by University student groups for nearly two decades. In addition to traveling to sites across the country, several students plan to undertake service programs in Rochester, in conjunction with the University's M. K. Gandhi Institute for Nonviolence and the Rochester Center for Community Leadership. For many, the service trips are a welcome change from the stereotypical vacation- oriented spring break experience.
"The service trips in which our students participate are beneficial in at least two fundamental ways: they broaden the perspectives of our students, and they strengthen communities by building social capital," says Glenn Cerosaletti, director of the Rochester Center for Community Leadership, which helps groups conceive and implement their service projects.
Since the trips are planned and carried out by students they provide "a transformative leadership experience," he says. "This is about a reciprocal partnership in which students and community members get to know each other and learn from one another." This spring, in addition to the Habitat trip to North Carolina, student groups will travel to Baltimore and Boston.
For the past 12 years, the Catholic Newman Community has traveled to Baltimore to tutor and mentor children at Holy Angels Catholic School and serve meals at the Corpus Christi food shelter. The project is the longest-running such effort on campus.
"Our goal is just to expose our students to urban poverty," says Leah Gregorio '12, one of the leaders of this year's trip who has participated since her sophomore year. "Each night we have a reflection time and those always blossom into discussions of social justice and urban poverty."
Though the students live simply and stay at a parish church, they have plenty of time to see Baltimore, and the last day is reserved for a cultural trip to Washington, D.C. Gregorio, a political science major from Wethersfield, Conn., and her fellow leaders aim to continue similar service projects in Rochester when they return, "just so our volunteers can see that these problems aren't unique to the city of Baltimore, that they exist in our communities here at school and communities back at home."
Newman, Habitat, Roteract, Circle K, and other service-oriented organizations can receive logistical and financial support for their projects from the Community Service Network, a student-run umbrella organization for service groups. The network partnered with Alpha Phi Omega, a coed community service fraternity, for a trip to Boston.
"Our goal is to introduce students who are participating in the trip to different types of community service," says Mallory Laboulaye '12 (T5), president of the network and Alpha Phi Omega.
"This is an opportunity for [students] to dedicate a whole week of service to people they don't know and just to see that they're not isolated individuals in society," says Laboulaye, a neuroscience major from Horseheads, N.Y.
Whether groups venture to a different country or volunteer in Rochester, those who go on alternative spring break say the experiences prove to be fun and rewarding.
"These are students who are giving up their time, a whole week where they could be going on vacation, going home, relaxing, and they're giving up their time to help the environment, or people, and I think it just says a lot about the Rochester students," says Gregorio. "It's a lot of kids who spend their spring break—when many other people are going to Cancun or doing things like that—just really being selfless."
---
Maya Dukmasova '12 (T5) is a freelance writer and Take Five Scholar majoring in philosophy and religion.