In Review
UNIVERSITY HISTORY
New Residence Hall, Complex of Buildings Honor Presidents O'Brien and Jackson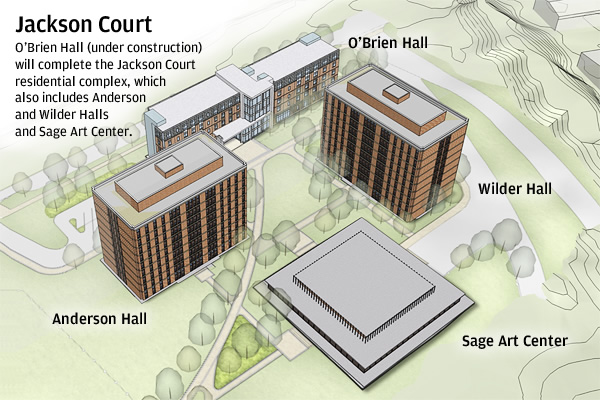 The names of two recent Rochester presidents will become part of the River Campus landscape later this year.
A new 150-student building, scheduled to open this fall, will be named in honor of Dennis O'Brien, who served as Rochester's eighth president from 1984 to 1994. And the residence hall complex, including the new hall, Anderson and Wilder residence halls, as well as Sage Art Center, will be named in recognition of Thomas Jackson, who served as Rochester's ninth president from 1994 to 2005.
"It is fitting that our newest residence hall and the residence hall complex will honor Dennis O'Brien and Thomas Jackson," says President Joel Seligman. "Their commitment to and investment in undergraduate education continues to make Rochester a leader in recognizing that student living and learning are integral to a successful college experience."
O'Brien Hall is situated at the intersection of Wilson Boulevard and Intercampus Drive and overlooks the Genesee River. Designed to complement the existing Anderson and Wilder halls as well as the Sage Art Center—all named for important figures in the University's history—the new building is part of an effort to give the area a unified, quad-like environment.
The construction of O'Brien Hall is targeted to meet LEED gold certification standards—a first for the River Campus—to reduce negative environmental impacts and improve energy performance, among many goals. As the first residence hall built on the River Campus in 42 years, the interior design of O'Brien Hall will differ dramatically from other River Campus living spaces. Upper floors will offer more study rooms and lounges while common areas on the first floor will be flexible for meetings, event planning, and music and dance rehearsals, among other activities. Sophomores, juniors, and seniors will live in O'Brien Hall with a combination of singles, doubles, and adjoining doubles. The established buildings of Jackson Court have been named for Martin Anderson, the University's first president (1853–88); John Wilder, the first chairman of the Board of Trustees (1850–58); and William Sage, the first secretary and treasurer of the Board of Trustees (1850–90).
A naming ceremony for the new building and courtyard will be held in May.
—Sharon Dickman