Class Notes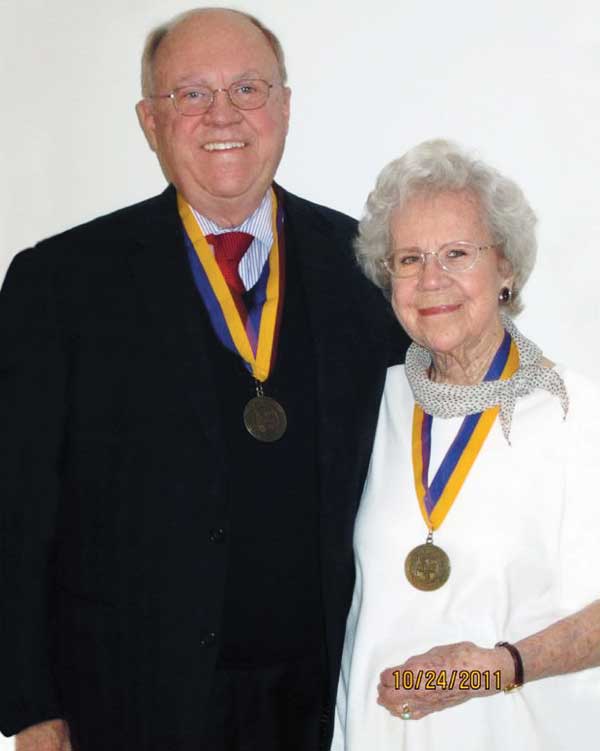 At last October's Meliora Weekend, David Sweet '61 received his University medallion along with other members of the class at his 50th reunion. His mother, Esther Webster Sweet '36N, had received a medallion after the tradition began in 2005. David writes:
"During our medallion ceremony, I mentioned to President Seligman that I had the opportunity to bring my mother to a reunion of nursing program graduates, and after he had presented the 50th class reunion members with their medallions, he then presented my mother a medallion, although she was long past her 50th class reunion.
"At 96, she is probably one of oldest living alums of the nursing program. This year marks her 75th anniversary since graduating. She began her career in 1937 as assistant head nurse in the emergency room at Strong Memorial Hospital and retired 37 years later as nursing supervisor of Strong's Outpatient Clinic. As a proud son, I can report that she continues to be very active. I call her 'the energizer bunny,' for she is very active in her retirement community, singing in the choir, attending lectures and concerts at Youngstown State University, where I served as president for 10 years until retiring in July 2010, attending church and chapel on a regular basis, and taking part in many other activities.
"She continues to practice what she learned at Rochester and demonstrated during her career at Strong: being a caring and compassionate individual to everyone she meets. President Seligman remembered only one other 'twofer' family where he had presented medallions to two generations of Rochester graduates: the late Judge Robert Witmer '26 and his son Bob '59, a University trustee. The medallion ceremony is a great, relatively new, tradition established by President Seligman, and I hope he has the opportunity to recognize many 'twofer' families in the future!"