Alumni Gazette
ALUMNI COMMITMENT
Special Summer Session
Looking for ways to help students near his home, an alumnus turns to a campus summer program.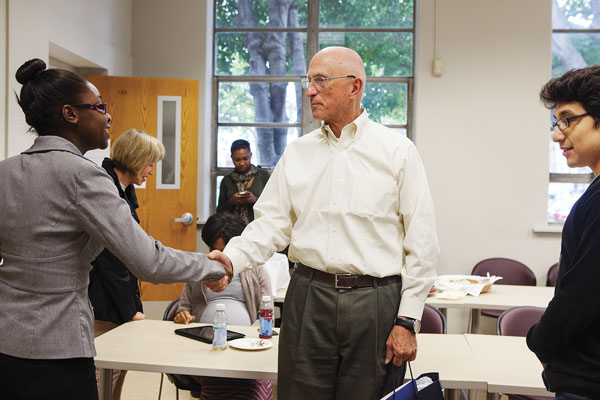 As a high school junior, Saul Almazan wanted to be a psychiatrist but knew little about how to start his educational journey until attending the Pre-College Summer Program at Rochester last year.
Almazan is from Bridgeport, Conn., where one quarter of the population falls under the poverty line. He was one of nine students from the area to participate in the summer program, designed to introduce students to college life, thanks to an unusual commitment from Lee Backus '62.
Backus, who lives in the nearby town of Westport, collaborated with Yale-Bridgeport GEAR UP Partnership, a community organization that helps students gain the skills necessary to graduate from high school and succeed in colleges and universities.
"It was a partnership that we were thrilled to forge," says Nadia Ward, the organization's director of urban education and prevention research. "The experience was transformative for our students. It enabled them to experience firsthand how exciting college can be . . . [and] gave them confidence and hope."
Backus initially found it difficult to reach students. Although he interviewed and provided application information to 15 candidates from three high schools, no one followed up.
"It was totally frustrating," says Backus, a newly retired hedge fund portfolio manager and a member of the University's Westchester/Fairfield Regional Cabinet.
It was a testament to the challenges faced by the students. They have high ambitions, but find the cost of higher education to "be an overwhelming obstacle" for them and their families, says Backus, who met the inaugural group last fall.
GEAR UP hopes to send 15 high school juniors to this summer's program, which starts in July.
Backus keeps a copy of a letter one program graduate wrote to the University, explaining that the program helped her "navigate the real world" and announcing her early admission to the University of Pennsylvania.
"These were kids who, for the most part, would be the first person in their family to go to college," says Backus, who also started an endowed scholarship for undergraduates at the University. "For them, this was an eye-opening experience. The response I received was heartwarming."
For his part, Almazan took something else away from the experience: the confidence to go after his dreams. "I definitely have more persistence and determination," he says. "I'm just going to keep doing what I have to do to get what I want."
For more information about Rochester's precollege programs for high school students, visit https://enrollment.rochester.edu/precollege.
—Robin L. Flanigan
---
Flanigan is a Rochester-based freelance writer.