Alumni Gazette
ALUMNI HONORS
Eastman School Honors Noted Trumpeter, Composer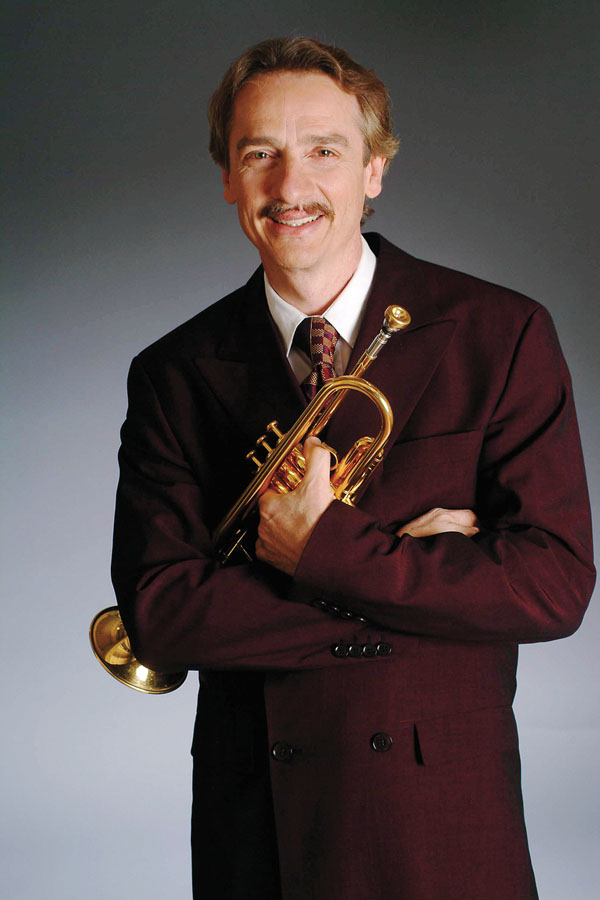 A trumpeter whose playing can be heard on more than 150 motion picture soundtracks, including Back to the Future, Star Trek, and The Black Stallion, was recognized by the Eastman School of Music during a concert in March for his achievements as a musician, composer, and music educator.
Allen Vizzutti '74E, '76E (MM), a classical and jazz performer, recording artist, composer, teacher, and entrepreneur, received the school's Distinguished Alumni Award.
As a student at Eastman, he earned bachelor's and master's degrees, as well as a performer's certificate. He held a chair in the Eastman Brass Quintet faculty ensemble and received the first artist's diploma ever awarded to a wind player.
Vizzutti has performed in concert with notable jazz artists, including Chick Corea, Chuck Mangione, Woody Herman, and Doc Severinsen and the Tonight Show Band, as well as classical orchestras such as the U.S. Army Symphony Orchestra, Japan's NHK Symphony Orchestra, and the New Tokyo Philharmonic. His solo jazz recordings include Ritzville, Trumpet Summit, and Skyrocket, and his classical recordings include Emerald Concerto and Other Gems, Vizzutti Plays Vizzutti, and The Carnival of Venus, featuring his wife, pianist Laura Vincent-Vizzutti '74E.
He has taught at the Eastman School, the Banff Center for the Performing Arts, Kansas State University, Ohio State University, West Texas State University, the Skidmore Jazz Institute, the University of South Carolina, and the Trompeten Akademie in Bremen, Germany.
He is the author of the Allen Vizzutti Trumpet Method book series and New Concepts for Trumpet: Innovative Etudes, Duets and Studies (Alfred Music).