Class Notes
TRIBUTE
Alejandro Zaffaroni '49M (PhD): Biotechnology Pioneer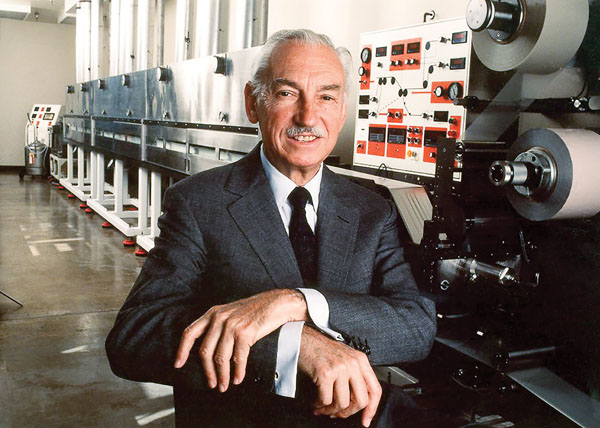 In the 1940s there were no PhD programs in biochemistry in his native Uruguay, so Alejandro Zaffaroni '49M (PhD) looked to the United States, where he was accepted into two programs: Harvard's and Rochester's. According to a 2004 interview with Rochester Medicine, the alumni magazine for the School of Medicine and Dentistry, he chose Rochester because of a promise of a small lab and control over his own research.
His research in that lab eventually led to the "Zaffaroni Technique" for isolating steroids, a process that gained international attention and launched Zaffaroni's pioneering career as a renowned biotechnology entrepreneur and innovator of drug delivery systems. The holder of 130 patented processes and founder of several companies, he had a hand in the development of the birth control pill, therapeutic corticosteroids, transdermal patches for nicotine and nitroglycerin, and controlled-release systems for various drugs.
Zaffaroni, who received an honorary degree from the University in 1972 and served as a life trustee, died in March at his home in Atherton, Calif. He was 91.
Born in Montevideo, Uruguay, in 1923, Zaffaroni suffered from asthma as a boy and couldn't join his friends in fútbol games—a favorite activity in his hometown. So he became an avid reader, particularly of science fiction. He also received an early introduction to medicine from a relative who founded a hospital in Montevideo and allowed him, as a teenager, to watch medical procedures.
After earning his PhD, he stayed in Rochester to complete an NIH fellowship. In 1968 he founded ALZA Corp. to focus on his ideas for revolutionizing the way drugs were delivered in the body. ALZA was the first of nine companies that Zaffaroni built. In 1980 he cofounded DNAX with Arthur Kornberg '41M (MD), who received the 1959 Nobel Prize for his research to isolate an enzyme that's a key to synthesizing DNA.
Zaffaroni and his wife, Lida, also established the Zaffaroni Foundation, a nonprofit organization that supports humanitarian causes, medical research, higher education, and scholarships.
—Leslie Orr
---
Orr is a senior science editor for Medical Center Public Relations.