Class Notes
TRIBUTE
Robert Larson '39: 'Quintessential Good Citizen'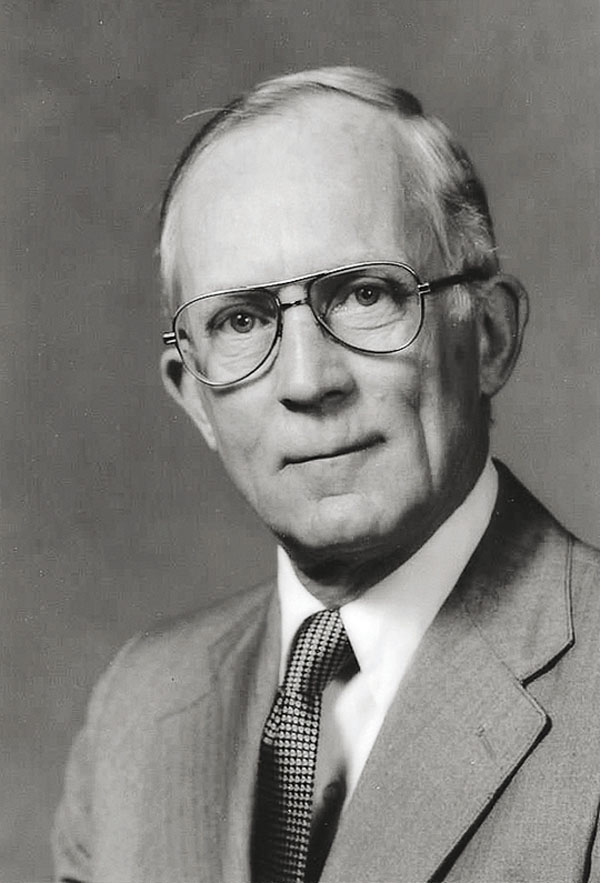 On March 25, the campus flag flew at half-staff in honor of my grandfather, Trustee Robert Larson, Class of 1939. He would have been really touched by this simple gesture.
Generations of our family were affiliated with the University. My great-grandfather, Arthur Larson, was the registrar of the Eastman School; my great-aunt, Elizabeth Larson Tellier '47, and both of my parents, Barbara Larson Stoner '68 and Max Stoner '65, are graduates. So, too, am I.
My grandfather studied languages in college and his fluency served him well in French Indochina during World War II. Afterward, he lived in Puerto Rico and then Colombia as he started his banking career with the First National City Bank of New York.
He returned to Rochester and worked for the Security Trust Company before moving to Glens Falls, N.Y., where he became a director, chairman, president, and CEO of the Glens Falls National Bank and Trust Company. Among the first to be certified as a chartered financial analyst, he was active in the New York State Bankers Association and as a director of the New York Business Development Corporation and the Empire State Chamber of Commerce. Especially committed to higher education, he was a trustee of Skidmore College, and he helped establish the Adirondack Community College Foundation and the SUNY Adirondack Foundation. He was active in Rotary, the United Way, the Chamber of Commerce, and the YMCA.
He was a competitive golfer, an avid handball player, and even took up skiing in his 50s. He was always on the go. He built his children tree forts and skating rinks, taught them golf, tobogganing, fishing, and bowling. I cherished his dry sense of humor.
He achieved many things in his long life but never called attention to himself. Instead, he would describe the good intentions of those who prompted him to get involved. Through it all, he maintained his ties to the University. He was proud to receive the University's Citation to Alumni and to be named a life trustee. He died in February at his home in Yarmouth Port, Mass. He was 96 years old.
His legacy lives in his efforts to make his community a better place. His hours of volunteering for educational and not-for-profit organizations prompted the Glens Falls Post-Star to describe him in a 1982 editorial as "the quintessential good citizen," an irreplaceable asset to his community. My grandfather's life was a wonderful example of what the University of Rochester prepares its graduates to achieve. And it's to the University that my grandfather would have given the credit.
—Megan Stoner '98
---
Stoner is a tax attorney and lives with her family in Washington, D.C.