Campus Updates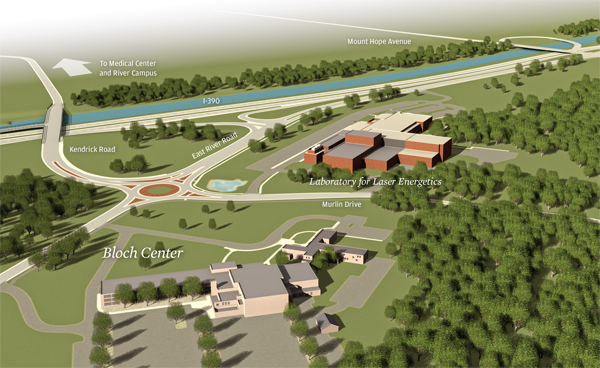 Several projects are designed to improve access to the Medical Center, the River Campus, research and alumni facilities on the South Campus, and new commercial developments near the University.
New On- and Off-ramps
Work on a $70 million effort involving federal, state, and local officials is helping ease traffic congestion along Interstate 390 near the University. The culmination of a decade-long initiative, the project is designed to help facilitate the growth of the University, as well as improve access to Monroe Community College, Rochester Institute of Technology, and nearby commercial developments.
Larry and Cindy Bloch Alumni and Advancement Center
In October, the University celebrated the dedication of the Bloch Center, named in recognition of University Trustee Larry Bloch '75 and his wife, Cindy. Home to the offices of Alumni Relations and University Advancement, the center hosts events and activities throughout the year for alumni and friends of the University.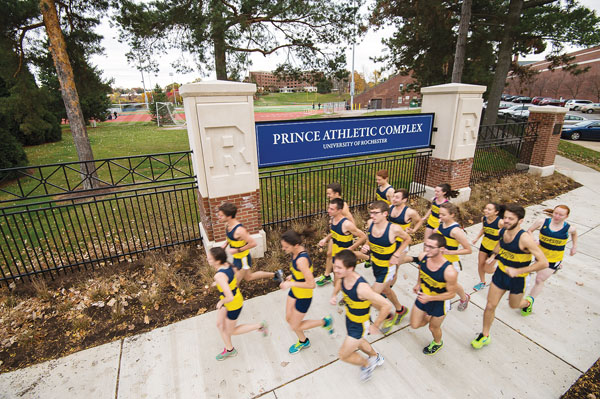 Introducing the Prince Athletic Complex
Rochester's athletic facilities, including Fauver Stadium, are undergoing a significant renovation and expansion.
Construction began this summer and includes infrastructure and other improvements to Fauver Stadium, the Lyman Outdoor Tennis Center, the baseball field, and outdoor practice areas.
The complex has been named the Brian F. Prince Athletic Complex in recognition of a lead gift from Brian Prince '86, '89S (MBA) in honor of his parents, Richard and Christine Prince. Brian
Prince, the president and chief executive officer of ORIX USA Corporation, was recruited to the University's men's soccer program in 1982, and he served as team captain.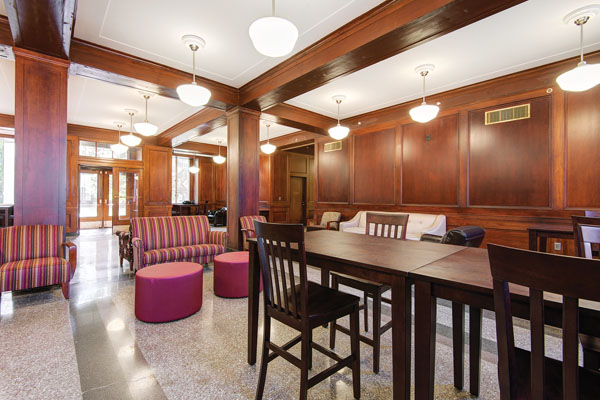 Eastman Quad Evolves
Buildings on the Eastman Quadrangle are getting some of their historic luster back, thanks to an initiative supported by University Trustee Ronald Rettner.
Rettner has established the Ronald Rettner Campus Improvement Fund to support work to revamp the iconic halls as learning spaces and to bring them up to date for the 21st century. The project began last summer with a multifloor renovation of Morey Hall that had its debut during Meliora Weekend.
Work begins this year on Bausch & Lomb Hall, directly across the quad from Morey.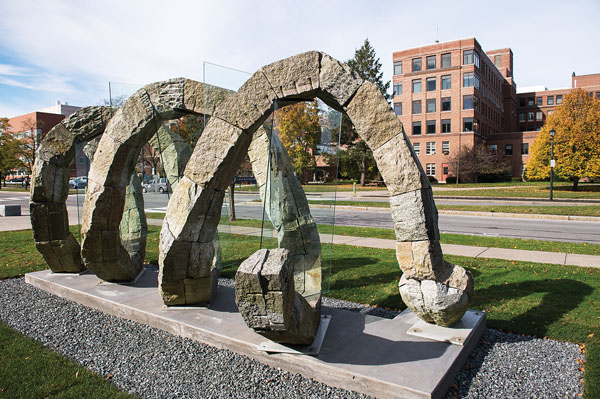 Sculpture Makes Its Debut at the Medical Center
DNA DISPLAY: A sculpture that highlights the intertwining of art and science graces a space between the School of Nursing and the Saunders Research Building at the Medical Center. Titled "A Dream of Two Snakes (DNA)," the work by noted sculptor Ilan Averbuch was donated by Martin Messinger '49, a life trustee of the University. The sculpture pays homage to the double helix nature of DNA, drawing on a story about a dream in which James Watson, one of the scientists credited with discovering DNA, reportedly saw two intertwining snakes as a clue to the molecule's structure. The 21-foot sculpture was installed last fall.