BY THE NUMBERS
First Day of Giving Finds Success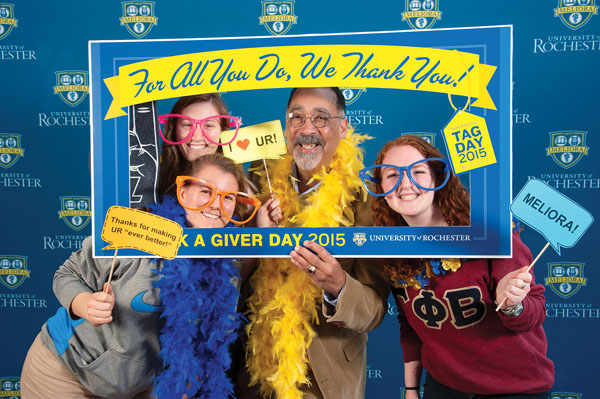 In late April, members of the University community—alumni, students, faculty, staff, parents, and friends —worked together in a 24-hour effort to encourge support for the University's programs.
The first Day of Giving—taking place in conjunction with the first Thank A Giver Day—resulted in more than $750,000 in support. Here's a look at the day's numbers:
Day of Giving
More than 1,000 donors made gifts.
More than $739,000 was donated as of the end of the day.
More than $11,000 came from 151 donors contacted by student callers.
Thank A Giver (TAG) Day
More than 550 tags were placed throughout the River Campus to highlight facilities that were funded by donors.
100s of students participated in TAG Day activities.
For more about the day's events, including photos, social media, and other information, visit www.rochester.edu/giving/dayofgiving.