In Review
HOSPITAL HISTORY
Golisano Children's Hospital Opens for Patients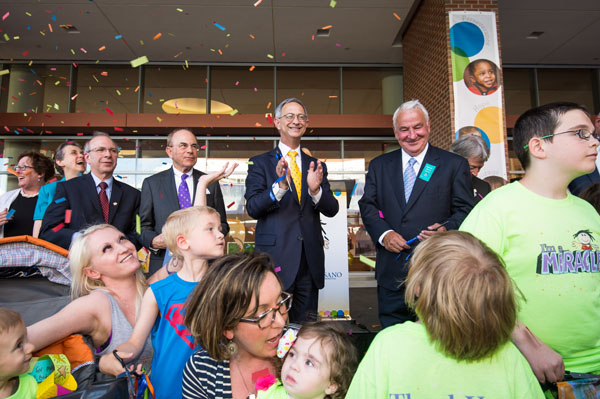 The doors on the largest building project in the University's history open this summer to patients, families, and friends throughout western and upstate New York.
The new eight-story, 245,000-square-foot Golisano Children's Hospital was formally dedicated in late May during a ceremony that featured patients and their families, University leaders, and significant building donors, including hospital namesake B. Thomas Golisano.
The largest capital project undertaken by the University, the new hospital is a key component of the Medical Center's campaign in support of The Meliora Challenge, the University's comprehensive fundraising campaign that continues through June 2016.
The hospital will feature all-private rooms and specialized technology, including the first integrated PET/MRI in a children's hospital in the nation, dedicated to healing sick and injured children. Each year, about 84,000 children across the Finger Lakes region are admitted to Golisano Children's Hospital for care.