Alumni Gazette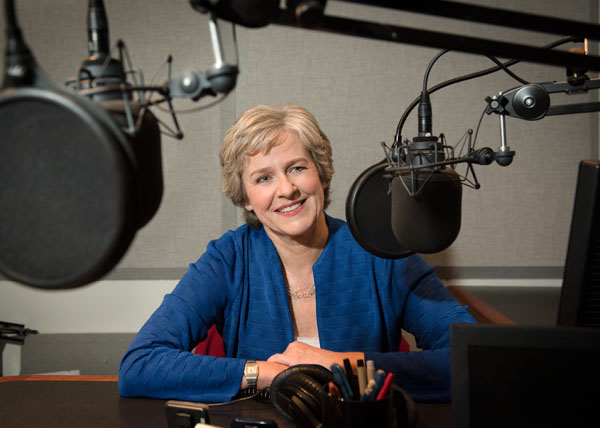 The Met's New Voice
The Metropolitan Opera began showcasing a new voice this fall. A radio voice, that is.
Mary Jo Heath '88E (PhD), a Met senior producer for the past nine seasons, was named Metropolitan Opera radio host in September. Heath succeeds the late Margaret Juntwait.
Heath started at the Met just as it was launching Metropolitan Opera Radio on Sirius XM satellite radio. As senior producer, she put together the expanded coverage, including backstage interviews and commentary.
Now, as the Met's radio host, her voice will be broadcast on public radio stations around the country each week from December through May during the Saturday matinee live broadcasts the Met has been doing since 1931.
In an interview with Rochester's National Public Radio affiliate, WXXI, Heath recounted her first experience in radio, at that station. Responding to a call for Eastman School of Music students to become classical music announcers, she passed her audition and, because she listened to the Met broadcasts anyway, took Saturday afternoons.
In that same interview, she recalled taking voice lessons at Eastman. Because she wasn't a voice major, she was assigned to a graduate student instructor. "I thought, OK, it will be some 22-year-old soprano who has never taught before, and I'll be her guinea pig," she said. "So I walked up to her studio, and I knocked on the door, and I opened the door and I said, 'Hi. My name is Mary Jo Heath, and I am looking for my new voice teacher. Are you Renée Fleming?' "
Renée Fleming '83E (MM), who this fall was appointed as a distinguished visiting artist at Eastman, is now an internationally renowned soprano and a regular performer at the Met.
White House Honors Evelyn Brooks Higginbotham '84 (PhD)
Evelyn Brooks Higginbotham '84 (PhD), the Victor S. Thomas Professor of History and African and African-American History at Harvard, received a National Humanities Medal in a White House ceremony in September. Managed by the National Endowment for the Humanities, the medal has been awarded to no more than 12 individuals or organizations annually since 1997.
Higginbotham is the author of Righteous Discontent: The Women's Movement in the Black Baptist Church, 1880–1920, which won multiple scholarly awards and was named a New York Times Notable Book in 1993 and 1994.
Jeff Beal '85E Wins Emmy Award
Jeff Beal '85E won an Emmy Award for Outstanding Music Composition for a Series for his score for the Netflix series House of Cards. The award was Beal's fourth Emmy. Previously, he won Emmys for his score on Nightmares and Dreamscapes, The Company, and the theme for the series Monk.