In Review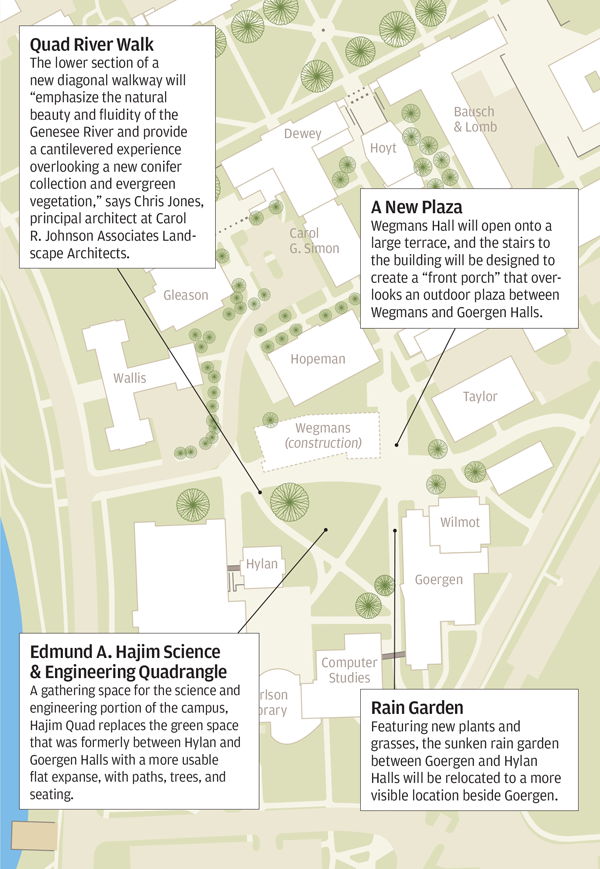 The Board of Trustees in May also recognized the contributions of Ed Hajim '58, voting to name the new science and engineering quadrangle in honor of the outgoing chairman.
Hajim has served on the board for more than 28 years, and steps down as chair after eight. His involvement with the University spans almost 60 years. As chair of the board's Investment Committee, he was instrumental in strengthening Rochester's endowment, and he has been especially involved in strategic planning and advancement efforts.
The president of Diker Management, an investment management company, Hajim received the Eastman Medal at commencement this spring, in recognition of his achievement and service.
The Edmund A. Hajim Science & Engineering Quadrangle is under construction in the area enclosed by Robert B. Goergen Hall, Hylan Hall, Hutchison Hall, the Computer Studies Building, and the future Wegmans Hall.
Plans for the quadrangle will bring greater functionality to the land, with steep inclines reduced to create large, flat green space for tents and other activities. The quad will also feature walkways, seating, new trees, and a botanical rain garden. —Sara Miller