Alumni Gazette: Rohan Krishnamurthy '13E (PhD)
Carnatic Crossover
A genre-hopping percussionist infuses contemporary jazz and funk with an ancient Indian musical tradition.
Interview by Kristine Thompson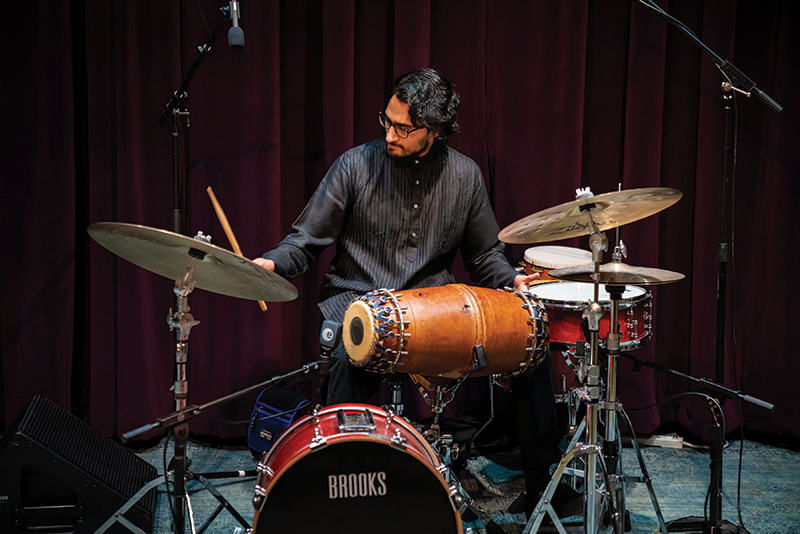 Rohan Krishnamurthy '13E (PhD)was nine years old when he first performed as a musician, and the world has been his stage ever since.
Considered one of the preeminent musicians of the dual-headed mridangam drum, a percussive cornerstone of southern India's Carnatic musical tradition, Krishnamurthy is in high demand as a solo and collaborative percussionist.
Described by the Times of India as a musical ambassador, he has performed with many of the leading artists of Indian classical music and earned recognition for his collaborative work with orchestras and jazz ensembles around the world.
Based in Oakland, California, he also founded the Alaya Project, an ensemble that blends the traditions of Carnatic music with those of contemporary jazz and funk. As the percussionist for the group, he developed his own drum set, one that combines Indian percussive instruments like the mridangam with the snare, bass, and cymbals found in many jazz and funk drum sets.
He holds a patent for a system for tuning Indian percussion instruments, an entrepreneurial endeavor he began as a student at the Eastman School of Music.
As the journal of the Percussive Arts Society notes, he is a leader of a "new, trendsetting percussion paradigm."
How were your introduced to Indian music?
I grew up in Kalamazoo, Michigan, a pretty unlikely place to turn out a professional Indian percussionist. But my parents were very musical. Our Kalamazoo house was always filled with great Indian music from their huge collection—Carnatic music from southern India; Indian pop, including Bollywood-style music; Indo jazz; and much more.
How does drumming bridge cultures?
For me, music is about expressing what is essential in all of us, regardless of where we come from. Cultures can have their own distinct musical style, but all music has one thing in common: rhythm. It's universal. Rhythm is part of everything—from the beat of the drum, to our heartbeats, to our breathing. There's something about rhythm that ties us all together.
What inspired you to become a musical entrepreneur?
Indian hand drums are notoriously hard to tune. Each drum is handmade and includes many layers of leather. Through Eastman's Institute for Music Leadership, I earned a grant and developed a tuning system I'd been working on for years—an easy-to-remove strapping system. I patented the technology while at Eastman and now manufacture and sell the system to musicians worldwide.
What are you listening to right now?
I've always loved Tower of Power, and have been listening to the classic "Back to Oakland" lately—it's a master class for drummers. I also listen to everything from classic Indian violin music to [pioneering Indian percussionist] Trilok Gurtu. For me, music is more about the artistry than genre.
What advice do you have for aspiring musicians?
Live musically. Listen to everything with an open mind. Don't judge while creating.