The Aquatics Center will be closed from January 20th through approximately January 28th for maintenance and installation of the Pool Pak.
Basketball Camps and Clinics
**Due to COVID-19, we are unable to host any summer 2020 camps/clinics**
For information about our program contact Luke Flockerzi (men's coach) at (585) 275-4306 or lflockerzi@sports.rochester.edu or Jim Scheible (women's coach) at (585) 275-4281 or jscheible@sports.rochester.edu.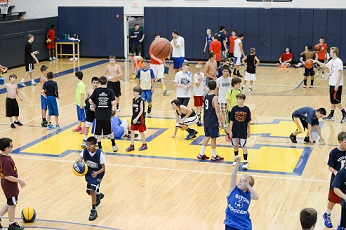 NOTE: Only online registrations will be accepted for basketball camps in 2020.
Boys Summer Camp
Session I: July 20-24, 2020
Session II: July 27-31, 2020
Grades: 3-10
9 a.m.–4 p.m.
Cost: $285
Girls Summer Camp
ONLINE REGISTRATION
CAMP INFORMATION
Dates: July 13-17, 2020
Grades: 3-10
9 a.m.–4 p.m.
Cost: $300 per individual camper
$275 for teams of at least five players/two or more family members/UR employee child
Boys Elite Camp
Dates: August 8-9, 2020
Grades: 9-12
Cost: $300
We regularly update our schedule, so please check back again soon for additional details on 2020 camps and pricing.