CETL—For Undergraduate Students
The Center for Excellence in Teaching and Learning (CETL) is a resource available to all students in the College. All kinds of students with all kinds of GPAs and academic records make use of our programs. We work with strong students who wish to become even better, as well as with students who have not yet tapped into the strategies needed to succeed in college, and everyone in between.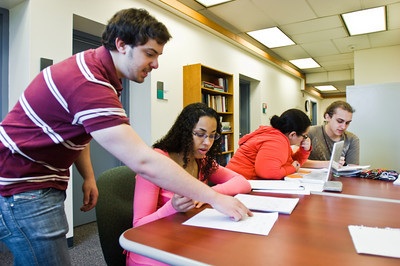 We offer an extensive study group and Workshop program, individual study skills support, study skills workshops and a study skills course, disability support, and the College Tutoring Program.

To make an appointment or to learn more, stop by our office in 1-154 Dewey Hall, call us at (585) 275-9049, or send an email.
Quick Links:
News & Events
Interested in Leading a Study Group?
CETL is now accepting applications for next year in CHM, MTH, PHY, BIO, ECO and more.
Three Methods of Inquiry Classes Offered in Fall 2015

Mondays, Sept 14 - Nov 23, 4:50-6:05
Tuesdays and Thursdays Oct 8 - Nov 19, 6:15-7:30
Fridays, Sept 11-Nov 20, 2-3:15
Class of 2019: Join Us for UR Transition
UR Transition is a pre-orientation program designed to support the needs of students with disabilities beginning their academic journey as members of the College. This program will bring students with disabilities and their families together with College services to cultivate supportive relationships and encourage self-advocacy skills, which in turn will ease the transition from previous educational environments to the UR. Students and parents will attend workshops and tours facilitated by CETL Access Coordinators and Study Skills Consultants, accompanied by CETL Student Mentors. Learn more
Walk-in Tutoring Available
CETL offers walk-in tutoring on Sundays:
Calculus: Carlson 102, 2-4 PM
Calculus: Carlson 1A, 4-6 PM
Calculus: Carlson 310, 6-8 PM
CHM 132: Carlson 102, 4-8 PM
CHM 204: Carlson 1A, 2-4 PM
Learn more about the College Tutoring Program.