For Undergraduates
Home | Workshop Program | Study Groups | Study Skills | Tutoring | Disability Support | News & Events | FAQ | Resources for Students | Report an Accessibility Concern | CAS 310 - Undergraduate Teaching Assistant Program | Resources for TAs
Tutoring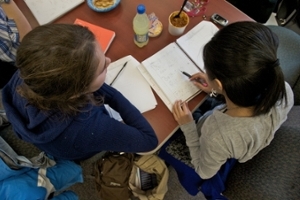 The University of Rochester offers a variety of course-specific support. Students are encouraged to explore the full range of academic assistance available to them, starting with course instructors and teaching assistants. For your convenience, we have listed the resources available on campus at the bottom of this page. Students are urged to seek help early during the semester. The evidence gathered by the tutoring staff clearly indicates better performance in courses for which academic support was sought before midterm and continued to the end of the semester.
Individual and small group tutoring is available for a variety of subjects through the College Tutoring Program in CETL. 
Individual Tutoring
In the Fall semester, the CETL Tutoring Program saw major growth, serving over 400 students and a total of over 2,000 tutoring sessions. This is great news! However, with a program that size, we decided to move away from the "matching system" used in previous years and instead utilize a system that is more efficient and flexible. Ultimately, these changes will better serve our students and make the program better equipped to manage the diversity of needs and courses requested. Please be aware that there is no guarantee to provide tutoring for every course request. However, we will do our best to provide tutors for as many courses as possible.
CETL will now be using an online scheduling system called WCOnline. Here students will register with their student e-mail and will then be able to make appointments with our tutors directly on a weekly basis (one tutoring session per week). Students will have access to the schedule up to two weeks in advance to keep things as fair as possible. Before you begin, it is highly recommended that students meet with the tutoring assistant, Sarah Gerin, to go over the program and learn how to make the most of your resources. If you are new to the University or the Tutoring Program, you are required to meet with Sarah prior to using the scheduling system.
How to Get Started:
CETL also offers academic support through
Questions/Concerns? Contact Sarah Gerin, tutoring assistant, or Robin Frye, assistant director of the program, or call the CETL office at (585) 275-9049.
We encourage you to pursue these additional tutoring options:
The Math Study Hall is staffed by math graduate students and typically provides students with individual attention. The study hall is open Monday through Friday from 5-8 p.m. in Hylan 1104. For more information, students should contact the Department of Mathematics or check the updated schedule posted on the bulletin board on the 9th floor of Hylan.


The Student Physics Society is primarily for help in 100-level mathematics and physics and astronomy courses. Tutoring is conducted Monday through Thursday, 7-9 p.m. in the POA Library by upperclass students and is geared toward specific problem solving for assignments. No appointments are necessary. Questions may be directed to the society at x5-8548 or the Department of Physics and Astronomy at x5-6679. Students may also stop by the society's office at 313 Bausch and Lomb Hall.


The Writing and Speaking Center offers a wide variety of writing and speaking support services for students of all levels and in all disciplines. This office is staffed by graduate student writing consultants and undergraduate writing and speaking fellows from the humanities, the social sciences, and the natural and applied sciences. Writing and Speaking Center tutors provide individualized feedback and assistance on all types of academic writing. They invite students to use their services during any stage of the composing process, from brainstorming ideas to polishing a final draft or presentation. The Writing and Speaking Center is located on the ground floor of Rush Rhees Library, RR G-121. For more information about face-to-face and online tutoring services they offer, please visit their website or call 273-3584.


The Office of Minority Student Affairs (OMSA) coordinates study services for minority students and for students in the Higher Education Opportunity Program (HEOP). Academic assistance is offered in the natural sciences, mathematics, and engineering, as well as the social sciences and humanities. Students seeking help should contact OMSA at x5-0651 or stop in Dewey 2-161.


Tau Beta Pi is the second-oldest honor society in the nation representing the scholastic achievements of engineering students. Members offer individualized weekly tutoring for a diverse range of courses (math, physics, chemistry, biology, chemical engineering, biomedical engineering, optics, electrical and computer engineering, mechanical engineering). In addition, they host weekly group sessions for introductory math, science, and engineering courses. Please contact the Tau Beta Pi Tutoring Chair, Jared Fialkoff, for information regarding their services.


The Computer Science Undergraduate Council provides 2-6 hours of free tutoring Monday-Friday for all computer science courses. Students having difficulty with homework, stuck on a project, or needing a second pair of eyes to look at their code are encouraged to stop by Hylan 301 during our scheduled tutoring hours. Students may also email csug-tutoring@googlegroups.com with their questions.