The Rochester Review, University of Rochester, Rochester, New York, USA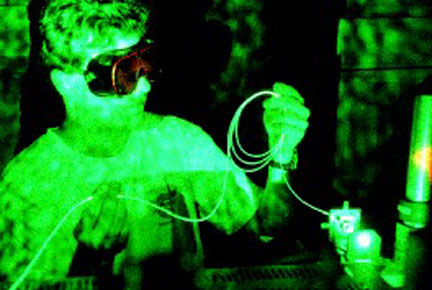 Light fantastic: Graduate student Craig Olson at work in a fiber optics laboratory at the Institute of Optics. Fiber optics makes it possible to transmit enormous amounts of voice, video, and computer data via light pulses traveling through optical fibers thinner than a human hair--and to do so faster, more cheaply, and with greater clarity than through the use of conventional cables.
Rochester researchers have recently developed a way to take light out of a fiber, measure and manipulate it, and then put it back in, with minimal disturbance to the light or the fiber itself. This work is another step toward the development of smart monitors that can keep tabs on the laser beams that form the heart of optical-communications systems.
| UR Home | Review Contents | Mail |


Rochester Review--Volume 60 Number 1--Fall 1997
Copyright 1997, University of Rochester
Maintained by University Public Relations(jc)