Guzick Appointed Medical School Dean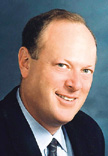 David Guzick, the Henry A. Thiede Professor and chair of the Department of Obstetrics and Gynecology in the School of Medicine and Dentistry, was appointed dean of the school. A professor since 1995, he is also chief of service of obstetrics and gynecology at Strong Memorial Hospital and Highland Hospital.
Guzick serves as an oral examiner for the American Board of Obstetrics and Gynecology. He was named by Good Houskeeping as one of America's 400 Best Doctors for Women and has published more than 100 articles on topics in obstetrics and gynecology, infertility, and reproductive endocrinology. He is a member of the American Gynecologic and Obstetric Society, the Society for Gynecologic Investigation, and the American Board of Obstetrics and Gynecology.
He succeeds Edward Hundert, who was named president of Case Western Reserve University.
Maintained by University Public Relations
Please send your comments and suggestions to:
Rochester Review.