Features
A Return on Rochester
The namesake for Rochester's engineering school calls the University his 'first real home.'
By David McKay Wilson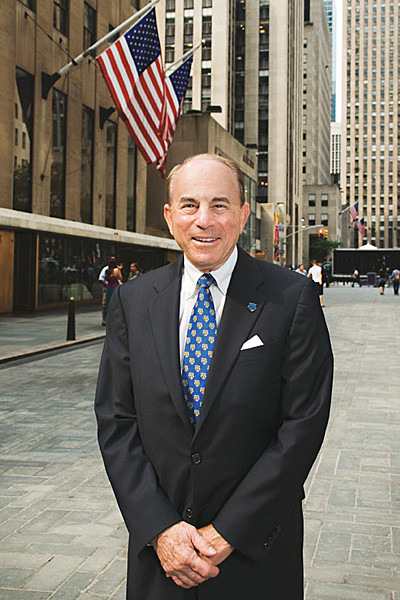 Ed Hajim's arrival at the University of Rochester in 1954 was the pivotal turning point in his life.
Hajim was raised from age three by a single-parent father who was an officer in the U.S. Merchant Marine. Long stints of duty forced him to leave Ed in foster homes and, at times, on his own at a young age.
At Rochester, Hajim '58 settled into what he calls his "first real home." His new family included Professor Oscar Minor who taught mechanical engineering and became Hajim's mentor; a group of students with a sense for comedic commentary with whom he founded UGH, the University's first humor magazine; and lifelong friends like Dick Wedemeyer '58 and Al "Jesse" James '58 who invited him home with them during holidays. There were also his brothers at Theta Chi, where he became the fraternity's social chairman, throwing parties such as the Beachcomber Ball, which brought a bit of sunshine to the frigid upstate winter.
In fact, the lessons he learned at the frat house have stayed with him as he rose up to become one of Wall Street's top executives.
"You want to bring people together to make sure they have a good time and produce something that is useful," says Hajim one afternoon in his office on the 25th floor at Rockefeller Center in Manhattan. "Good leadership means allowing people to do more than they think they can do."
Hajim knows how to lead. His leadership has brought him to the pinnacle of high finance, running financial institutions with billions under his watch. As Hajim wound down his investment business in 2008, he took on a new leadership role: chairman of the University's Board of Trustees.
Not long after his appointment, he made what he calls a "transformational gift;" a commitment of $30 million to the University, the biggest single donation ever made to the institution. During Meliora Weekend, Oct. 8–11, the University will formally dedicate the Edmund A. Hajim School of Engineering and Applied Sciences.
Hajim sees engineering and the applied sciences as a key part of America's future prosperity. "Without putting big money into engineering and applied sciences, we are history as a country."
Before making the commitment, Hajim says he gathered his children—GB, Brad, and Corey—to ask them their thoughts on his philanthropic plans.
"Without a blink, they said 'Go for it,'" recalls Hajim.
Hajim is a trim grandfather of six who works out regularly in the basement gym of his condominium building on Manhattan's East Side. He and his wife, Barbara, the sister of classmate David Melnick '59, moved there in 2003 after spending 35 years at their home in Greenwich, Conn. He wears rimless glasses, speaks quickly, helps tell a story with hands, and skis the intermediate runs at Vail.
Hajim has a 15 handicap at the Nantucket Golf Club, a course he built with a group of investors in 1997 on the island where he has a vacation home at the head of the harbor.
"He's a high-energy guy, who started out with nothing," says David Melnick. "What he has accomplished is by dint of his intelligence and drive."
Zane Burday '57, '61M (MD), a clinical professor of medicine at Rochester and Hajim's doctor for many years, says Hajim always had a goal, and devoted himself to reaching it.
"He was driven, motivated, and obviously bright," says Burday. "He always wanted to accomplish, and he still does."
Constructing the Nantucket golf course was particularly satisfying for Hajim, who began playing as an adult, gave up the game when his third child, Corey, was born, and took it up again at age 54 when she went off to Middlesex school. The club now has 300 members, sponsors an annual charity event that provides grants to dozens of charities, and provides college scholarships to eight students.
"Unlike some of the other things I've done in my life, this golf course is going to be there forever," he says. "I've become the CEO of a company, sold it, bought it again, and then sold it. It's gone and it's in a book on the shelf. The golf course, meanwhile, is there forever, and is a real sanctuary for 300 families."
Education has played a central role in Hajim's rags-to-riches story. At Roosevelt High in Yonkers, N.Y., he excelled in math and science, and did well enough on the military's ROTC exam to qualify for a Naval ROTC scholarship. It paid his tuition and gave him a $50 monthly stipend, which grew to $100 when he was on summer cruises with the Navy. A scholarship from Yonkers also helped make ends meet during his freshman year.
"I was a one-man team, with no siblings or relatives except my father, who was away at sea," he says. "I needed someone to pat me on the back. There was really nobody watching."
At Rochester, he was fully engaged with his studies and with extracurricular activities—from serving as finance committee chair for the Students' Association to setting up the structure for UGH to thrive. After serving three years in the Pacific with the Navy, including helping put marines up Vietnam's Mekong River in 1961, and one year working in the plastics industry as an engineer, he went back to school to earn an MBA with distinction at Harvard Business School.
In a most unlikely series of events while at Harvard, he reconnected with his wife-to-be and found his first job in the financial field. In his junior year at Rochester, Hajim had visited his classmate, David Melnick, in Staten Island, to help him take over the editorship of UGH. There, Hajim met Melnick's sister, Barbara, then just 13, who developed a crush on her brother's friend and decided she'd like to marry Hajim once she grew up.
Seven years later, Melnick asked Hajim to be best man in his wedding in San Francisco. Still a graduate student scraping to make ends meet, Hajim couldn't afford the flight. But he asked the school's placement office if any California firms were interviewing. One company, the Capital Group, was looking for young talent, and agreed to fly Hajim out for an interview. At the wedding, Hajim ended up spending some quality time with the wedding party, which included the fetching maid-of-honor, Barbara Melnick, who by then was 20.
They enjoyed each other's company. He invited her back to Cambridge for a weekend. After graduating, he landed the job at the Capital Group. She moved west for graduate school. They dated. They fell in love. They were married the following year. Their first son, GB, was born within a year.
"That wedding changed my life," says Hajim. "For whatever reason, the people at Capital Research loved me, and I went to work for them for 10 years. Then I married the maid-of-honor."
At Capital Group, he began as a securities analyst, and ended his run there as president of two mutual funds. His success brought him in 1974 to EF Hutton & Co., where he managed the institutional brokerage business, which included sales, research, and trading.
Three years later, the legendary Wall Street firm of Lehman Brothers Kuhn Loeb wooed him, and by age 41, he was a member of Lehman's board of directors, one of the youngest ever to serve in that post. He ran Lehman Securities and later built Lehman Management Co.'s money-management portfolio from $3 billion to more than $10 billion, handling investments for pension funds, college endowments, and large families.
By 1983, Hajim was ready to run his own show. He joined the firm of Furman Selz as chairman, which at the time had 80 employees and $20 million in revenues. Four years later, the firm's revenues had tripled. Its growth came at a time when U.S. corporations were growing through diversification. Xerox, the copier giant, wanted a foothold in the financial industry and bought the company, with Hajim remaining CEO of the Xerox subsidiary.
Three weeks after he sold the company on Oct. 1, 1987, the stock market crashed.
"We were very, very lucky," says Hajim.
Five years later, Xerox did an about-face, selling the company back to Hajim. Then came a wave of consolidation in the financial world in 1997. Long-established firms like Alex Brown and Oppenheimer were selling out to bigger companies. Furman Selz had grown to 800 employees and revenues of $450 million. Hajim decided to ride that wave, selling Furman Selz to ING, the Dutch financial firm, where he later served as CEO and chairman of ING Aeltus Group, with more than $60 billion in assets.
He left ING in 2002 to start his investment funds, which by 2008 he began to wind down.
Through it all, Hajim developed a reputation as a savvy investor, shrewd businessman, and a boss who got to know his employees and made sure that their marriages, children's births, and other life-changing accomplishments were acknowledged from the top. He also made sure that all key people owned company stock to make them feel part of the company.
"I wanted everybody to own a piece of the rock," says Hajim. "I wanted them to feel a part of something that was growing. Everybody worked together; they owned a piece of the entity. And when we sold the company, they did very well."
The importance of sharing opportunities is one of the lessons he learned at Rochester, where as a teen-age boy on his own from Yonkers he became a man with the support of the College community. He's happy to return the favor.
"I enjoy watching people do well. Nothing excites me more than seeing young people succeed at what they are trying to do."
David McKay Wilson is a New York–based freelance writer.