In Review
In Class
Music for All
An innovative Eastman School initiative helps students share their love of music with a broad community.
By Kathleen McGarvey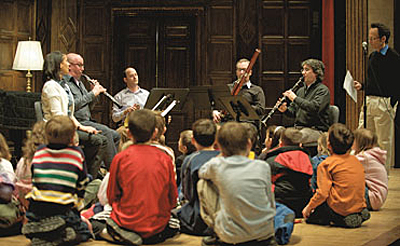 Nicole Cragin '11E recognizes that her future as a professional cellist will rely in part on her ability to create opportunities for herself.
So the Orlando, Fla., native and cello performance major is learning how, with help from the Eastman School's Music for All program. Last spring, Cragin performed as part of a piano quintet for students at one of the city's high schools and for an audience in a downtown church. She and her fellow musicians designed and organized the concerts themselves.
"It's being assertive, getting your name out there, that's difficult for most of us. We don't know where to begin," she says. "So Eastman helps us with the first step.
"The faculty have been there, and if they're telling you, 'This is a vital part of my career,' that gives it more credibility."
A component of spring chamber music courses at the Eastman School, Music for All is required of all chamber music performance students. Its purpose is twofold: To cultivate future audiences by taking music into the community, and to give students practical experience in concert organizing and in public speaking that they will need in their careers as professional musicians.
"I think any student who plays in this climate realizes it's not just how well you play anymore that determines success," says Elinor Freer, a former director of the program, noting that professional performers are now routinely expected to give preconcert talks, mingle with concert subscribers, and perform other public-speaking tasks in addition to performing their music.
"People don't really want musicians to be distant," says David Ying '92E (DMA), an associate professor of string chamber music and of violoncello. "We want them to be more 'user friendly'—to connect with the audience."
A key aspect of the Eastman School's approach is to treat music outreach not just as a service to the community but also as a fundamental component of educating students.
"We're the only conservatory that requires outreach experience. You can't get an undergraduate performance degree in strings, winds, piano, or brass without it," says Freer, an assistant professor of chamber music at Eastman and a collegiate instructor in piano at the Eastman Community Music School, the Eastman School's division devoted to music education for the Rochester community.
Training in a conservatory of music, where students spend many hours in the practice room and interact almost exclusively with other highly skilled, committed musicians, can be an insular experience, says Ying, who serves as a faculty coach for students in the program.
"The idea of Music for All is simple: To connect Eastman students and their music with the outside world," he says. "We want the students' eyes to be focused not just inward."
Bringing chamber music performers into the community has rich benefits for Rochesterians, too. "We bring the highest level performances to the classrooms" and other venues, says Petar Kodzas '99E (DMA), the director of Music for All and an instructor of guitar at the Eastman Community Music School.
Each year, more than 40 chamber groups perform some 90 concerts through Music for All. Over the years students have fanned out into hospitals, churches, senior centers, libraries, and shelters for the homeless and for women and children escaping domestic abuse. They've even taken their music to Rochester's Hickey-Freeman factory.
Students are responsible for arranging the gritty details of a successful musical program: Making sure that music stands will be on hand, for example, and that there will be armless chairs for the performers to use while they play.
Working with faculty coaches, students design a concert program, tailoring it for their listeners, and develop their own accompanying commentary to draw listeners into what the musicians are doing.
At the very start of the course, students have a model to inspire and instruct them. This spring Zéphyros Winds, a professional chamber ensemble from New York City, performed for a group of children while Music for All students observed. In the following weeks, students submitted an outline of their own planned performances and went through a dress rehearsal with their faculty coaches and peers before heading into the community.
"For many of the students, it's the first time they've done anything like this, even though they've been playing for years," says Ying. "Many of them are extremely nervous. They're not practiced in using their physical voices. But afterwards, they feel empowered to have excited a group of people."
He speaks from experience. When Ying and his siblings graduated from Eastman, their acclaimed string group, the Ying Quartet, took a professional residency in Jesup, Iowa, a farm town of 2,000 people. The group brought music into the town's homes, schools, churches, and banks—and through their playing, built strong bonds with the people of Jesup.
"To this day, I've never felt more relevant than I did there," Ying says.
"To me it's always been important to convey why I love music so much," says Erik Jacobs '11E, a double major in trombone performance and music education from Fort Meyers, Fla. He took part in Music for All with his chamber group, the Legacy Brass Ensemble. But musicians and non-musicians listen to music differently, he adds, and thinking about the listener is essential. "You try to get to know as much as you can about the audience you'll be playing for," he says.
The seed for the program was planted in 1985, when Jon Engberg, then associate director of academic affairs at the Eastman School, proposed an "audience building" project through which undergraduates would perform beyond the concert hall, fostering an interest in people who would not ordinarily attend performances. Ten years later, Music for All was established as a voluntary pilot program.
"It was a radical idea," says Freer. "I think one of the reasons it has succeeded is that Eastman was really ahead of the game in thinking of this as a requirement for a well-rounded musical education. And the administration has always supported it."
"We're so used to experiencing the emotions through music, we don't stop to put words to it," Cragin says.
Until now, she adds.