Health and Wellness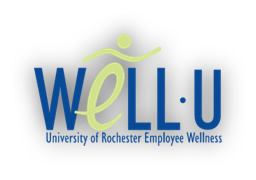 About Us: Well-U is an award-winning wellness program operated through the Human Resources Benefits Office. The program works in collaboration with representatives from the Healthy Living Center, Employee Assistance Program, Facilities, Nursing Practice, Schools of Nursing, University Health Services, and the URMC Fitness and Wellness Center.
Mission: Well-U will improve the health and wellness of University employees by promoting a work environment that encourages healthy behaviors and by providing the tools, resources, and education necessary to support healthful living.
Learn about Well-U's programs at www.rochester.edu/working/hr/benefits/wellness/.
Well-U Employee Wellness Line:
585-273-5240

Well-u-info@rochester.edu
UR Employee Resources