Transition Opportunities at the University of Rochester (TOUR)
TOUR is an inclusive college experience at the University of Rochester for students with intellectual and developmental disabilities who are age 18 to 21. TOUR is made possible by a partnership between the Center for Community Engagement and Monroe #1 BOCES.
While in TOUR, students have the opportunity to participate in:
College courses at the University of Rochester (non-credit status)
Vocational training and internships (unpaid)
Transition and independent living education
Social activities on campus
Students are supported by special education teachers and employment specialists from Monroe #1 BOCES as well as CCE trained and supervised Rochester undergraduate peer mentors. All courses, activities, and work experiences are catered to students' individual career goals and interests. Preparation for competitive employment after graduation is a goal for all students.
Interested in enrolling yourself or a loved one in TOUR? See the students and families section for more information.
TOUR Academic Coaches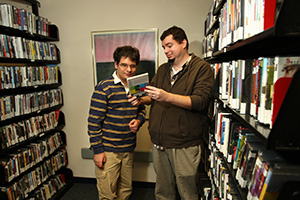 Academic coaches have the opportunity to work one-on-one with TOUR students, supporting them as they tackle a college course and navigate the academic and social landscape of the University of Rochester. Serving as an academic coach is a challenging and rewarding experience that can change the way you think about mentoring, inclusive higher education, and disabilities.
Required Training
All new TOUR coaches must enroll in CASC 125: Creating an Inclusive Campus Community: Disability, Mentorship, and Inclusive Higher Education (Fridays, 2–3:30 p.m.). Throughout this course students will explore the history, meaning, and lived reality of disability, with an emphasis on defining disability as diversity rather than deficit.
The course is designed especially to support students serving as mentors or coaches to fellow Rochester students who experience intellectual and/or developmental disability (IDD) and participate in TOUR.
Applying
Interested in applying to be a TOUR academic coach? Read the academic coach job description (PDF) then apply online through JobLink. Applications will be accepted on a rolling basis.
TOUR Students and Families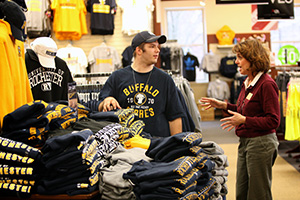 TOUR students work with special education teachers and peer mentors to develop life and work skills.
Students are paired with a peer mentor who is a current University undergraduate. Students meet weekly with their mentor, and the mentor attends class with them. This one-on-one connection ensures classroom support for the TOUR student, as well as social integration and learning opportunities on the Rochester campus. Meet our current TOUR Academic Coaches.
Students enjoy the activities and experiences that come with college life, with the partnership and support of a mentor.
If you or a loved one want information about applying to TOUR, or having a tour or meeting about the TOUR program, please contact Melissa Wollschleger, Principal for Transistion Program and EStart, at Monroe #1 BOCES.
Faculty Resources
A short resource video to explain the benefits of having a TOUR student in your class!
This quick-tips two-pager gives concrete steps to promoting inclusion and accessibility, no matter where you are with your inclusive practice!
More Informational Videos
Tips on Accessibility in the College Classroom 
Executive Functioning
Universal Design for Learning (UDL) 
Self-Advocacy
Overview of Autism Spectrum Disorders 
Questions?
UR students who have questions about working with TOUR or CASC 125, please contact the Center for Community Engagement at community.engagement@rochester.edu