Facilities
Goergen Athletic Center Training Facility
The Goergen Athletic Training Room in the Goergen Athletic Center is the main facility for all treatment and rehabilitation. In the fall, the athletic training room is open for treatment and rehabilitation. In the winter, this facility becomes not only the treatment and rehab area, but also the pre/post practice setup location for all winter sports. In the spring, we return to our traditional model of working in Goergen Athletic Center.
Treatment hours: Monday, Tuesday, Thursday, and Friday: 10:30 a.m.-2:30 p.m.,  Wednesday: 1-4 p.m.
Phone: (585) 275-7973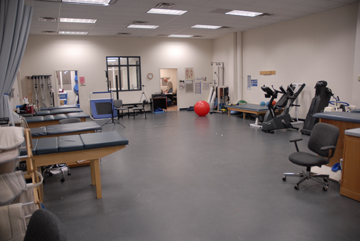 Boehning Varsity House Training Facility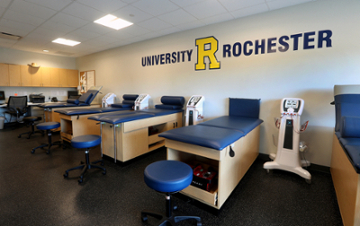 The new Boehning Varsity House was opened in 2017 and contains UR's newest sports medicine suite.  The state of the art facility is now the primary treatment facility for UR's outdoor sports teams.
Features of this new building include a large plunge pool, private exam rooms and state-of-the-art modalities.
Treatment hours: Monday, Tuesday, Thursday, and Friday: 10:30 a.m.-2:30 p.m.,  Wednesday: 1-4 p.m.
Phone: (585) 275-9471