Andrii Osipa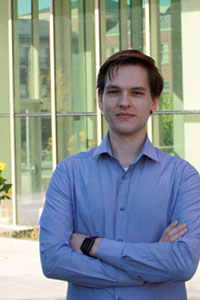 Name: Andrii Osipa
Hometown: Horlivka, Ukraine
Graduation Year: 2017
Program: Computer Science
Degree: Master of Science
---
Why did you choose the University of Rochester?
After completing my BA in Mathematics I was looking for a program with advanced courses in artificial intelligence; I was especially interested in machine learning, and the University of Rochester has much to offer in this arena. I am also interested in mostly theoretical courses, as I wanted to broaden my knowledge in theoretical Computer Science. Moreover, the MS in Computer Science program is somewhat small, which allows it to have good in-person communication with faculty.
What is your research experience/project? What do you study?
During the summer I worked with Professor Muthu Venkitasubramaniam on a project in secure multi-party computations. My coursework involves a few different areas, but the main one is artificial antelligence. I especially enjoyed the courses Logical Foundations of Artificial Intelligence and Computational Neuroscience. These courses really changed my point of view on Artificial Intelligence and a current state of progress in this area.
What is your favorite part about campus?
There are always events going on, so it is easy to find something to do and to get a break from studies and working. Also, the new Wegmans Hall, where the CS department currently is located, is great: there are two excellent offices for MS students and a lot of shared working spaces around the building.
What do you like about living in Rochester?
This city has a nice variety of restaurants, bars, and coffee shops that are worth checking out. Also, the city itself is not big, so it is not a problem to walk or bicycle from one part to the other.
During the summer, there's Jazz Fest, with a huge variety of different music to enjoy, and great performances at Eastman Theater. I was amazed when I found out that the Ukrainian band DakhaBrakha even performs in Rochester! That was an unexpected treat.
Who is your favorite faculty member and why?
My favorite faculty member is Lane Hemaspaandra. I took his course on Complexity Theory and found it to be very engaging and challenging. I am so impressed by this professor's attention to detail in everything he does. He explained material very well, and after each class, he published a plethora of notes clarifying all the details of his lectures and specifying the requirements of assignments. I really appreciated his dedication to students.
What is one thing prospective students should know about your program?
There are many opportunities in this program to take advantage of beyond the coursework, such as reading clubs, research assistantships, and teaching assistantships.
What are your tentative plans after graduation?
I have a job offer and plan to move to Connecticut and start working there.. I will also be considering an opportunity to pursue a PhD in the near future.