Leva McIntire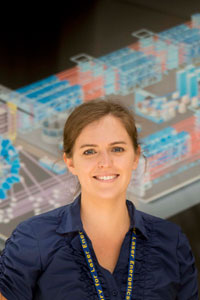 Name: Leva McIntire
Hometown: Spokane, WA
Anticipated Graduation Year: 2018
Program: Optics
Degree: PhD
---
Why did you choose the University of Rochester for your graduate program?
It was the best program for what I wanted to do in addition to local resources, such as the Laboratory for Laser Energetics (LLE).
What is your research experience/project?
I'm working on pump laser optimization for optical parametric chirped pulse amplification at the LLE. Overall my experience has been great. The scientists at the LLE are very knowledgeable in their fields, and I receive a lot of support from the faculty and staff at The Institute of Optics.
What is your experience with research opportunities at Rochester?
Rochester STEM research fields are a good mix between fundamental science and engineering, which provides opportunities for both the theoretical and hands-on types, such as myself.
Because there are so many engineering opportunities, interdisciplinary research is common. Students get to focus on making tools that are useful both to other research fields and the public in general. Whether it's medical optics for identifying and treating cancer, or high power lasers for laser-induced nuclear fusion, the research opportunities at Rochester allow students to make a greater impact on their communities.
What is your favorite part about life on campus?
The cultural and intellectual diversity is awesome. There's always someone around to learn something new from, whether it's about cultural traditions or what they research.
What is your experience living in Rochester?
It's a great city with lots of museums and places to eat. The housing is affordable,
And there's always something to do outside. In the summer there are lots of festivals; in the spring and fall you can go apple picking, visit state parks, and check out maple syrup farms; and in the winter you can go skiing, snowboarding, snowshoeing, and do other awesome outdoor activities.
All the local towns that surround Rochester each have their own unique feel, so when I don't feel like being in the city, there's always someplace to go that fits my mood.
Who is your favorite faculty member, and why?
Jim Zavislan. He's always very enthusiastic about this work and research, and he genuinely loves teaching others about optics. He looks out for the well-being of the students at The Institute of Optics, and always makes time to talk. Students are definitely his top priority, and he makes that very clear.
What are your tentative plans for after graduation?
I'm considering starting out in industry, but in the end I'd like to be a research professor. I love teaching and working in the lab, and a research professor seems like the perfect combination.
What is your experience with professional development opportunities at Rochester?
Industrial Associates, put on by The Institute of Optics, has been a fantastic experience. Professionals from industry come to meet and network with students, and each year they hold interviews on campus.
Even if you aren't looking for a job just yet, they like to establish a connection, and it's always good to practice interviewing. I'm excited to start interviewing this year.