Pooja Bansal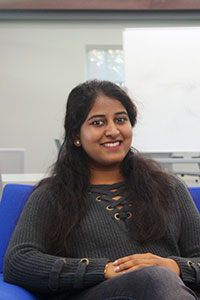 Name: Pooja Bansal
Hometown: Chandigarh, India
Graduation Year: 2018
Program: Technical Entrepreneurship and Management (TEAM)
Degree: Master of Science
---
Why did you choose the University of Rochester?
I was looking for a program that would offer me classes in both Business and Data Science. I shortlisted a few universities along with the University of Rochester and eventually chose it because of its highly-reputable Simon Business School and the flexible curriculum that allowed me to cherry-pick my Data Science courses along the way. Also, I was impressed by the mid-sized community and its brilliant array of diversity.  
What is your research experience/project? What do you study?
I am an MS candidate in the Technical Entrepreneurship and Management (TEAM) program with a technical concentration in Data Science. I study how to have an entrepreneurial mindset and how to make my work more effective using data science. My current projects are focused on the entrepreneurial domain, wherein we research patents and present ideas to a panel. I am looking forward to taking on some really interesting Data Science projects next semester.
What is your experience with research opportunities?
I am greatly interested in doing research in the supply chain domain. We have some top-notch faculty in this field, and I hope to have the opportunity to work with them in the future.
What is your favorite part about campus?
I love the beautiful trails in and around campus. The campus offers a great environment to dedicate my whole day studying, eating, and strolling. Carlson and Simon are two of my favorite spots on campus.
What do you like about living in Rochester?
I live in Goler House and have found it to be super convenient so far, given its close proximity to the campus, quick shuttle service, and easy accessibility to basic needs. Having never seen snow, I am looking forward to the city's much talked-about winter!
What has your experience with professional development been?
Ms. Kathy Driscoll, the program's Assistant Director for Career Management, is an amazing mentor and has always offered the best of her guidance regarding various professional opportunities. The University also offers various technical clubs that further foster real-world skills. Currently, I am part of the Data Analytics Club and participating in the Hult Prize Competition. These are both wonderful opportunities to help me build both confidence and a solid foundation for my practical skills.