Resources for Staff

Staff at the University play a unique role in contributing to a student's well-being and overall experience at the UR. No matter what level of engagement a staff member has with a student, they can recognize when a student may be in need of support and can make a positive difference in a student's life.
We encourage staff to submit a CARE Referral when there is reason to be concerned about a student. Upon receiving this information, the CARE staff can provide a coordinated response to ensure that the student is aligned with supportive resources.
As a staff member, you may have significant concerns and/or information about a student's:
Ability/disability
Academic performance
Athletic performance
Attendance in meetings and response to messages
Family dynamics
Financial difficulties
Personal and professional obligations
Relationships in the residence halls
If you are still uncertain about whether you should submit a CARE Referral, please review this document or contact the CARE Network staff. You may also or instead choose to submit a Bias-Related Incident Report or Community Concern Report.
CARE-related Resources
One-on-one consultations
If you have concerns about a student, are unsure how to engage with a student of concern, or would like to talk through a challenging situation, one-on-one consultations are available with a CARE staff member. Please contact a CARE staff member directly to set-up a consultation.
Case conferences
In certain circumstances a case conference may be necessary to discuss the best approach for a student in crisis. A CARE team member is available to activate a case conference involving necessary members of your office and other campus officials to address the concerns and establish a plan of action. If you believe a case conference is necessary, it is important to share information about the student in distress via a CARE Referral.
Presentations
A CARE staff member is available to provide presentations to your office based on the office's needs and desire for more information. Contact a CARE staff member if you or your office would like more information about:
Working with students in distress
How/when to submit a CARE Referral
Establishing healthy boundaries
Recognizing signs of concerning behavior
Tips
Suggested Text for: Websites
The University of Rochester recognizes that often students facing personal or academic struggles would benefit from support from multiple recourses on campus. The CARE network is a method through which university faculty and staff can request assistance for students who may need it, but do not know what resources are available to them. We may pass information that you provide to us along to the CARE network when we believe there is a need for multi-layered support from the campus community. The CARE network administrator shares information only with staff who need to know it in order to help you. We care about your success and are committed to our role in helping you get connected.
Suggested Text for: Brochures or fliers
This office CAREs about student success. We make referrals to the CARE network when our level of concern for a student necessitates inclusive, multi-layered support from the campus community. We CARE about your success and are committed to our role in helping you get connected.
Suggested Text for: Email correspondence
Please feel free to use or edit this wording when replying to a student of concern.
Thank you so much for sharing this with me. It sounds like you are going through a tough time. Do you know about the CARE network? The CARE network is one of the ways that we support students at UR by connecting them with supports and resources. It allows me to otify CARE staff who may be able to help you with this situation. The people who get this information will not spread it widely throughout campus. They will only share limited information if it is necessary to assist you. I use the CARE system when my level of concern for a student indicates that the student may need inclusive, multi-layered support from the campus community. I think you could benefit from this support, so I plan to write to the CARE network. Do you have any questions about this?
CARE Logos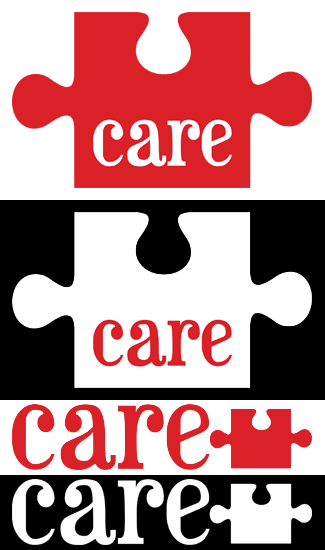 There are two versions of the CARE logo available for use in correspondence or on other materials—a large 'puzzle piece' version and a horizontal version. Each version has two color options—one for light backgrounds and one for dark background.