Eric Loy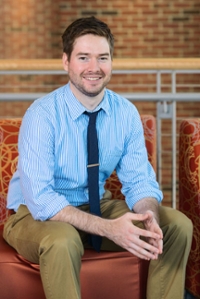 Name: Eric Loy
Hometown: Sioux Falls, SD
Anticipated Graduation Year: 2018
Program: English
Degree: PhD
Fellowship:  Andrew W. Mellon Digital Humanities Fellowship
---
Why did you choose the University of Rochester for your graduate program?
The University of Rochester is a great place for graduate study because it combines the feel of a small college with the resources of an R1 university.
What is your research experience/project?
My research interests include digital humanities, documentary editing, and American literature. I'm currently working as a project assistant for the William Blake Archive in the English department. I'm also participating in the University's new Mellon Fellowship for the Digital Humanities.
What is your experience with research opportunities at Rochester?
Rochester has a solid reputation for world-class research in many areas, and my experience with the English department and the Digital Humanities Center has affirmed that reputation in my own field. UR has the increasingly rare two-fold benefit of allowing students access to research projects along with various funding opportunities to support individual inquiry. The William Blake Archive has even taken on a few undergrad assistants this past year, with great results. 
What is your favorite part about life on campus?
I don't live on campus, but I take advantage of the nearby parks and bike trails as often as possible. Also, Rush Rhees Library is a tremendous resource.
What is your experience living in Rochester?
Like the University itself, the city of Rochester often feels small enough to be navigable and accessible, but large enough to offer some big-city perks. When I'm able to escape the library, I like to go to Amerks hockey games downtown or wander the aisles at Wegmans, the beloved regional supermarket. Also, yes, it snows a lot.
Who is your favorite faculty member, and why?
Morris Eaves, because he takes an active interest in graduate students' professional development, along with their growth as students and scholars. 
What are you tentative plans after graduation?
My plan is to enter the harrowing academic job market and find a departmental faculty position or post-doc research position. 
What is your experience with professional development opportunities at Rochester?
Outside of the academic "professionalization" that occurs within individual departments, UR seems to commit strongly to helping PhDs understand their job prospects outside of academia—an increasingly popular and viable option these days. There are usually a couple symposia or workshops every semester.