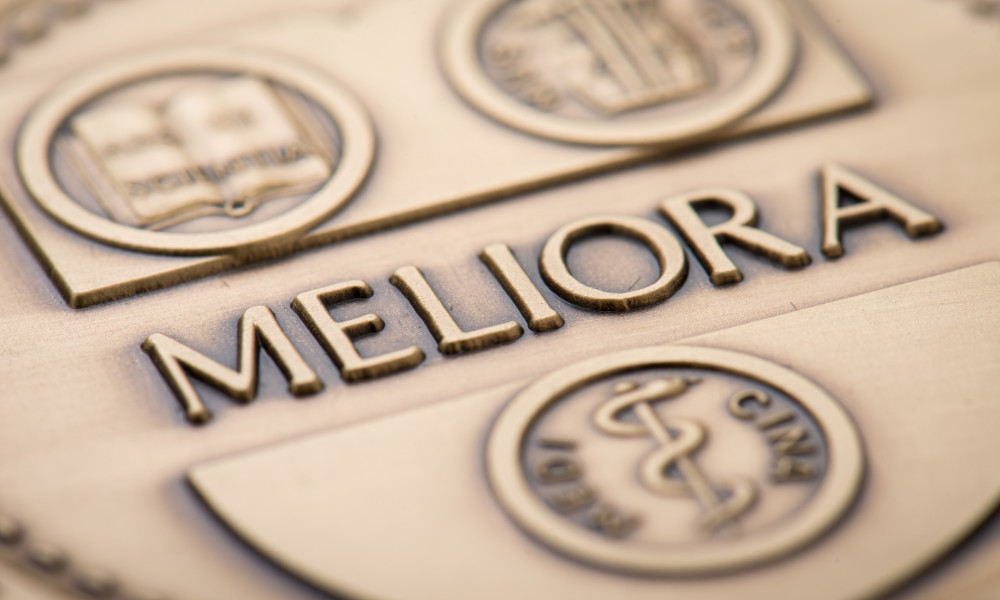 Highlights include the first Truman Scholar since 2004 and four Goldwater Scholars, an institutional record.
Students and alumni at the University of Rochester made a big impression—and a bit of history—as merit-based national awards were bestowed during the 2022–23 academic year.
The awards are based on academic success, research endeavors, and community contributions through leadership and service and will send students and alumni across the globe. This year's recipients include a Truman Scholar—the University's first in 19 years to receive the premier scholarship for public service—and four Goldwater Scholars, the highest number in any single year from Rochester to receive the prestigious award for US citizens planning research careers in STEM fields.
Below is a recap of the honorees.
Hoare selected as Astronaut Scholar
Margaret (Maggie) Hoare '24 is one of 68 students from 46 universities across the United States to be named a recipient of the Astronaut Scholarship Foundation Awards, given annually to undergraduate sophomores and juniors in STEM majors. The award includes scholarship funding, plus opportunities to expand recipients' professional networks to include astronauts, alumni, and industry leaders.
Hoare is a biochemistry major from Honeoye Falls, outside of Rochester.
Two earn public service scholarships
Andrés Arocho González '24, a political science major from San Juan, Puerto Rico, is the first Rochester student to be named a Truman Scholar since Jesse Bailey '05 in 2004. Arocho was one of 62 students selected out of 705 candidates from 275 colleges and universities.
Laith Awad '24, a native of Caguas, Puerto Rico, was an inaugural recipient of the Barack Obama-sponsored Voyager Scholarship for public service. Awad was also a finalist for the Truman Scholarship.
12 students, alumni offered Fulbrights
Rochester was named a "top producer" of Fulbright Scholars by the Chronicle of Higher Education for the 2021–22 academic year with 10 recipients, and exceeded that number this spring.
Twelve students and alumni were selected and 22 were named semifinalists out of Rochester's 40 applicants. Those chosen for Fulbrights receive grants for study or research and English-teaching assistantships abroad. One recipient is still undecided.
"The Student Fellowships Office team is overjoyed for the 12 applicants who garnered Fulbright student awards this competition year," says Belinda Redden, director of fellowships at the College. "In promoting a federally sponsored program that has citizen diplomacy at its heart, we strive every year to support a Fulbright applicant pool that is reflective of the broad diversity that our students represent. Among this year's winners, there's a nearly even distribution of majors in humanities, social science, and STEM fields; geographic diversity spanning from Hawaii to the deep South and New England; both first-generation college students as well as first-generation Americans."
Rochester's recipients include:
Danielle Getz '23 (chemical engineering)
The Penfield, New York, resident will head to the University of Copenhagen's Center for High Entropy Alloy Catalysts in Denmark. She'll pursue graduate coursework in chemistry and research on high-entropy alloy catalysts to investigate renewable chemical production pathways to reduce carbon dioxide emissions.

Sarah Hoh '23 (molecular genetics)
Hoh is traveling to Spain for an English Teaching Assistantship and has applied for placement in a Canary Islands rural setting to work with elementary school children.

Catherine (Katie) Hurwitz '23 (creative writing & world literature, music)
The Walpole, Massachusetts, native will incorporate her arts background into the curriculum during an English Teaching Assistantship in Greece.

Anand Idris '23 (optics)
Idris, from Queens, New York, is traveling to Taiwan for an English Teaching Assistantship.

Hannah Kim '22 (cell and developmental biology)
Kim is heading to Berlin, Germany, for study and research at the Max Planck Institute for Molecular Genetics. Her project on cancer cell dormancy is titled "Elucidating the Nuclear Interaction of Lin28-mTOR in Embryonic Diapause."

Shalaka Natu '23 (biochemistry)
Natu is a Rochester Early Medical Scholar from Colorado Springs and will be an English Teaching Assistant in Malta.

Abhiyudh Rajput '23 (anthropology, environmental health)
Rajput is heading to the Indian Institute of Technology in Delhi, India, to research the impact of automobile-centric built environments on pedestrian fatalities.

Haile Redietu '19 (biology, psychology)
Redietu is traveling to Spain for an English Teaching Assistantship and seeking early childhood/elementary school-age placement in Galicia.

Michael Riches '23 (creative writing, psychology)
Riches, from Tuscaloosa, Alabama, will pursue an English Teaching Assistantship in Germany.

Michelle Shuai '23 (health policy, philosophy)
A native of Honolulu, Hawaii, Shuai will be an English Teaching Assistant in South Korea, placed at the secondary level.

Vanessa Wish '23 (linguistics, ethnomusicology)
Wish is headed to Galicia, Spain, for an English Teaching Assistantship and hopes to work with secondary school students.
Four students earn Goldwater Scholarships
Four Rochester students were chosen to receive the Barry Goldwater Scholarship—the most in school history. The Goldwater is a highly competitive national award for US citizens, nationals, and permanent residents who are undergraduate students in science, math, and engineering committed to pursuing advanced degrees and research-oriented careers in STEM fields.
The recipients are:
Derek Chien '25 (chemistry, bioethics)
Chien is from Reno, Nevada, and aspires to be an academic physician, teaching the next generation of clinicians and conducting translational research to integrate findings into clinical settings.

Kathleen (Katie" Hall) '24 (environmental science)
The Rhinebeck, New York, native is interested in becoming a climate scientist with research focused on understanding the atmospheric methane budget and climate feedback mechanisms.

Margaret (Maggie) Scholer '24 (chemistry, environmental science)
Scholer is from Pittsford, a suburb of Rochester. She intends to pursue a PhD in atmospheric chemistry with a focus on understanding and advancing solutions to anthropogenic climate change.

Hope Silva '24 (chemistry)
A resident of Newtown Square, Pennsylvania, Silva plans to earn a PhD in chemistry and become a research scientist in industry working on environmental issues at the intersection of chemistry and materials science.
Two headed to Germany as DAAD RISE scholars
The DAAD RISE program offers undergraduates from North America, Great Britain, and Ireland summer research internships at top German universities and research institutions.
Adarsh Mavathaveedu '24 (neuroscience)
The Fleming, New Jersey, resident will perform research in the Department of Neurology at Julius Maximilian University in Würzburg. His project is titled "Pain-Related Evoked Potentials in Migraine Patients."

Xijue (Jade) Wu '23, '24 (T5) (chemistry, music)
The Guangzhou, China, native will conduct research at the Institute for Organic Chemistry at Karlsruhe Institute of Technology. Her project is titled "Photopharmacology of Cyclic Dipeptides."
App for refugees earns Projects for Peace grant
Abobakar Sediq Miakhel '26, an Afghan refugee who settled in Brussels, Belgium, is the University's Projects for Peace recipient and will be awarded a $10,000 grant. He is cofounder of an app called AILEM: A Language App for Peace, which provides language education for refugees and asylum seekers hoping to integrate into a new country. The app is free and available on the Google Play Store and the Apple App Store, with more than 6,000 downloads (primarily in Belgium, France, the Netherlands, and the UK). Miakhel plans to major in physics and mechanical engineering.
Campanelli, Studenkov to study language abroad
Two Rochester students have been named Critical Language Scholars and will spend the summer abroad expanding their language skills in the government-sponsored program.
Jesse Campanelli '25 (international relations)
Campanelli is headed to Taiwan for intermediate-level Mandarin study. He hopes to one day work to improve relations between the US and China, advocating peace, global security, economic partnership, and cultural exchange.

Mikhail (Misha) Studenkov '25, '25E (Japanese, jazz piano)
Studenkov is headed to Japan for advanced-level Japanese study. He hopes to discover new cultural perspectives and open avenues for his professional development.
Castillo heading to Seattle as PPIA fellow
Jose Castillo '23, '24 (T5), a comparative literature major, will spend his summer at the University of Washington's Evans School of Public Policy and Governance after being selected to receive graduate-level preparation by the Public Policy and International Affairs Program. The Bronx native will take part in the rigorous seven-week PPIA Junior Summer Institute at Washington.
19 students, alumni chosen by NSFGRFP
Nineteen students and alumni were honored by the National Science Foundation Graduate Research Fellowship Program, which supports outstanding students who are pursuing research-based master's and doctoral degrees at US institutions. The federally funded program provides up to three years of graduate study support.
Twelve current undergraduates and graduate students were selected:
Chesna Apere '23
Area of study: molecular genetics

Loren Cardani '23
Area of study: biochemistry

Bo Couture, graduate student
Area of study: chemistry

Noma Grace Creed, graduate student
Area of study: geosciences

Eloise Fadial, graduate student
Area of study: biomedical engineering

Ellen Irving '23
Area of study: biochemistry

Abbey Kampel '23
Area of study: biomedical engineering

Isabelle Linares, graduate student
Area of study: biomedical engineering

Daniel Nakamura '23
Area of study: chemistry

Felisha Romero, graduate student
Area of study: biology

Cheyenne Thomas, graduate student
Area of study: biology

Leyla Valerio, graduate student
Area of study: chemistry
Seven University graduates also were chosen:
Amanda Broadmeadow '21
Area of study: physics and astronomy

Justine Drappeau '21
Area of study: chemistry

Jonathan Musgrave '21
Area of study: optics

Spencer Ressel '20
Area of study: mechanical engineering

Helena Schreder '22
Area of study: mechanical engineering

Austin Varela '20
Area of study: computational biology

Anna Weldy '20
Area of study: chemical engineering
Criollo-Rivera recognized for service to Hispanic or Latinx community
Mara Criollo-Rivera '25 was one of 15 students chosen across the United States for the inaugural ETS/AAHHE Undergraduate Fellowship Program, sponsored by the Educational Testing Service and the American Association of Hispanics in Higher Education. The award is given to Latina/o/x undergraduate students with a record of service to the Hispanic or Latina/o/x community. Criollo-Rivera is pursuing a double major in business: entrepreneurship and digital media studies.
Two students to teach in France
Maria Schapfel '23 (molecular genetics) and Vanessa Wish '23 (linguistics, ethnomusicology) have been named 2023–24 fellows as part of the Teaching Assistantship Program in France (TAPIF). Recipients work in France for seven months, teaching English to French students of all ages. Wish, who was selected for both TAPIF and Fulbright, has opted to complete a Fulbright grant in Spain.
Chen named National Student Employee of the Year
Jiarui Chen '23, a data science major from Jiangyin, China, has been named the 2023 Student Employee of the Year for Technology and Innovation by the National Student Employment Association. Chen, who is also the University's undergraduate Student Employee of the Year, is a research assistant at the University's Clinical and Translational Science Institute.
Olivia Waysack '22, '23M (MS) is the University's Graduate Student Employee of the Year. The epidemiology master's student from Las Vegas is a research assistant for ROC HOME, a community-based home visiting research project in the Department of Environmental Medicine.
---
Read more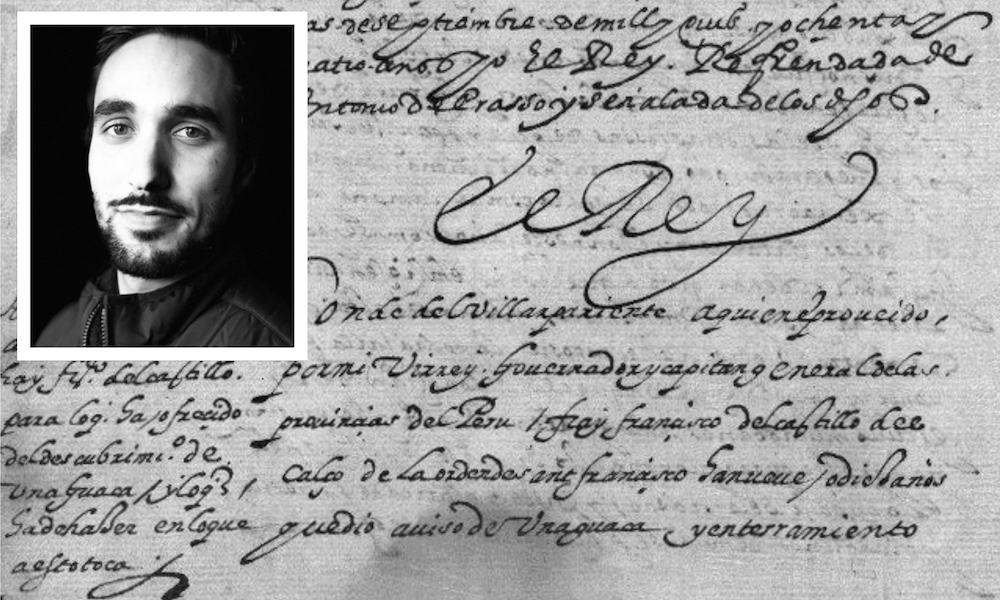 New award sends humanities graduate students abroad
Four Rochester doctoral candidates will research in archives in a dozen countries as recipients of the Meliora Global Scholars grant.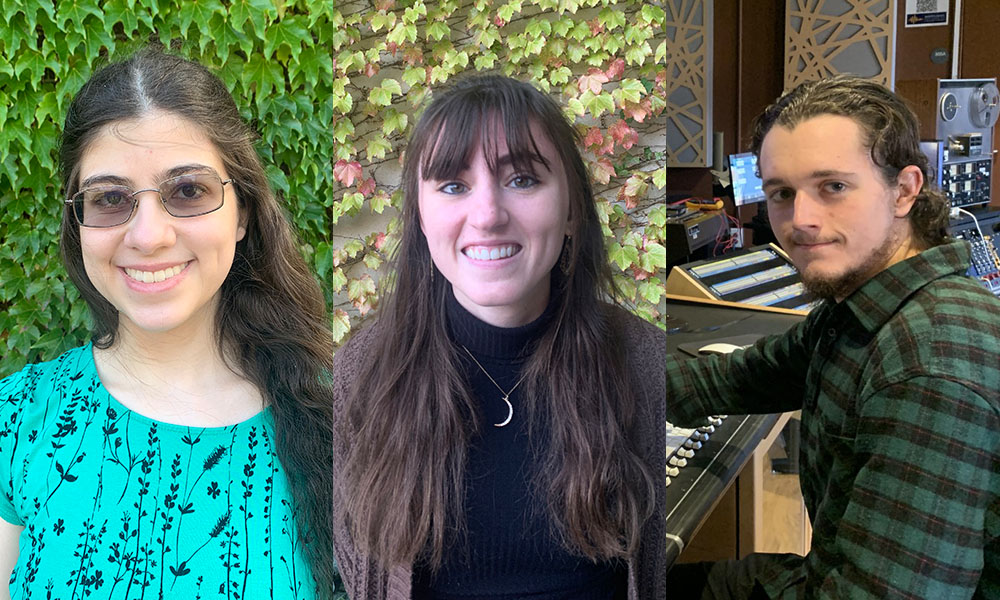 These students thrive where STEM, humanities intersect
The Wells Award recognizes engineering students who excel in humanistic disciplines.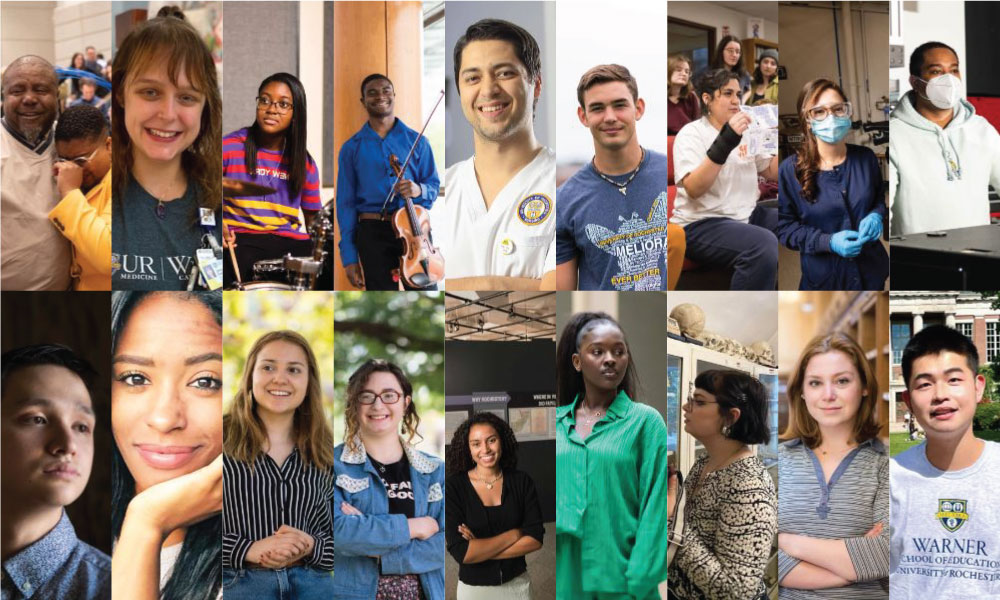 Meet—and celebrate—Rochester's Class of 2023
Get inspired by their stories, accomplishments, and perspectives—and see the full lineup of events recognizing all members of the Class of 2023.
Category: Campus Life