Camps & Clinics: Field Hockey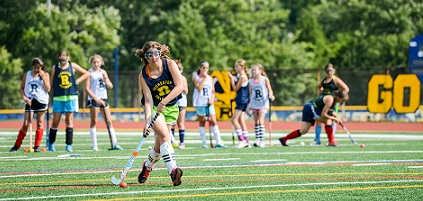 Field Hockey Camps and Clinics
Elite Prospect Camp (overnight)
July 27-29, 2018
4 pm Friday - 4 pm Sunday
Ages: 14-18
Designed for high-level high school varsity girls and club experienced players. Instruction includes advanced training in techniques of passing, receiving, attacking and defense. Additional training is given in game strategy, competition situations and game play; campers are divided into groups based on skill level, age, and experience. This session includes a recruiting seminar and campus tour.
Day Camp
July 30-August 3, 2018
8 am - 4 pm
Ages: 7-18
Designed for all skill levels. We have 2 full fields, 3 indoor courts and an indoor field house. The camp is intended for all ages and we divide into appropriate age and skill groups. Instruction includes developmental and advanced training in all aspects of the game.  Additional conditioning sessions will prepare athletes for preseason.
For more information, contact Wendy Andreatta at 585-275-4274 or at wendy.andreatta@rochester.edu. 
We regularly update our schedule, please check back again soon for additional details on 2018 camps and pricing.