Camps & Clinics: Field Hockey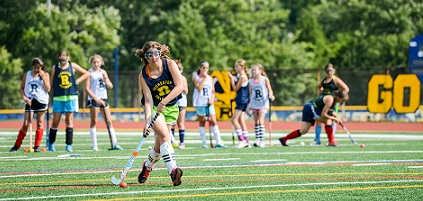 Join us for our annual Spring Tournament! 
DATE: Saturday May 3, 2014
TIME: 9 AM to 4 PM
LOCATION: Fauver Stadium, U of R Campus
Tournament is open to Junior Varsity and Varsity teams from Rochester, Buffalo and Syracuse! 
Format is half-field, 7v7 games and schools may enter up to 2 teams per Division. 
As always, we will feature round-robin play with a championship for each Division. T-shirts will be awarded to the winning team for each Division. 
Flyer
Risk Waiver for Minors
Risk Waiver Over 18 
Field Hockey Summer Camp
August 11-15, 2014 from 9 AM-3 PM
Our day camp provides athletes with top level instruction by collegiate coaches who are skilled at helping athletes understand the basics and improve their range of skills over the course of the camp. The intent is to provide an intense week of training to prepare for your high school preseason. Campers must pass swim test to use pool.
Cost: $300, all ages.
Brochure

For more information, contact Wendy Andreatta at 585-275-4274 or at wendy.andreatta@rochester.edu.