Camps & Clinics: Soccer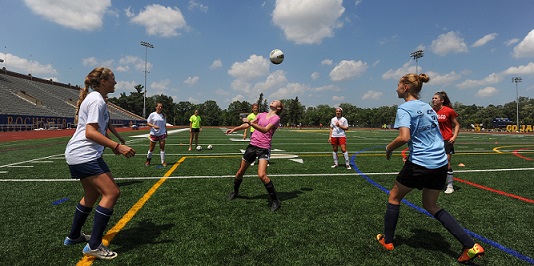 Online Registration: www.ursoccercamps.com
2018 Day Camps
Day Camp I: July 16-20, 2018 • Day Camp II: July 23-27, 2018
8 am - 4 pm (lunch included)
Boys & Girls 7-17 years old 
Girls ID Clinics
Clinic I: June 16, 2018 • Clinic II: July 15, 2018
12 pm - 5 pm


Mens Soccer Elite Camp
July 13-15, 2018
3 pm Friday - 1 pm Sunday


If pool time is included in camp, campers must pass swim test to use pool. 
For more information, contact Chris Apple (men's coach) at 585-275-5630 or at capple@sports.rochester.edu or Sike Dardaganis (women's coach) at 585-276-5101 or at adardaganis@sports.rochester.edu. 
We regularly update our schedule, please check back again soon for additional details on 2018 camps and pricing.