Become a Tutor
Now accepting Spring 2018 applications! 
Thank you for your interest in becoming a CETL Tutor.  To apply, please follow these instructions:
Step 1: Complete this flowchart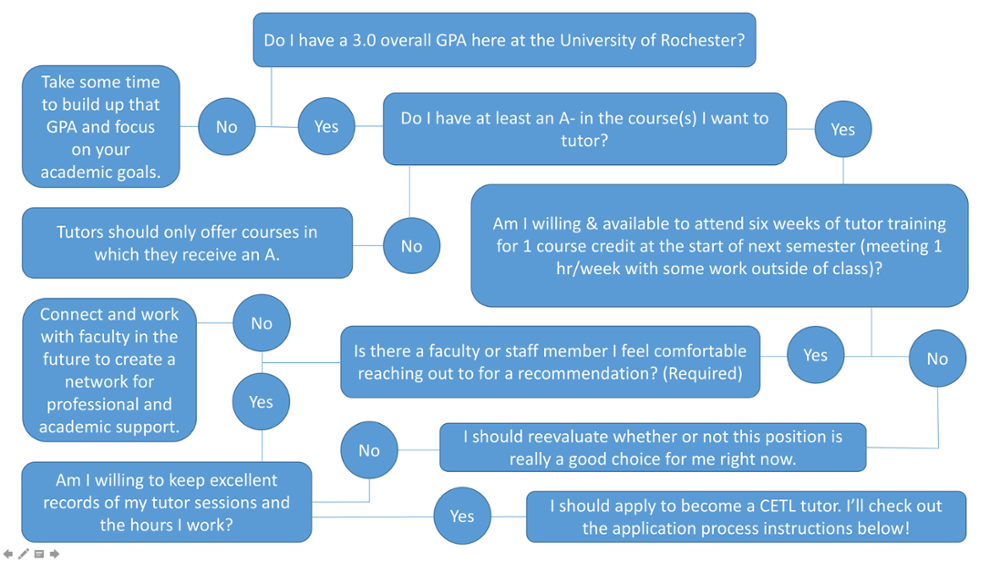 Step 2: Complete the CETL Tutor Application Form and then save it to your desktop/laptop.
Step 3: Download and save your unofficial transcript from Access
Step 4: Log in to your BlackBoard account and click on Joblink. Complete the entry for this position and upload your resume if you haven't already uploaded a resume to Joblink (My Account > My Documents > Resume).
Step 5: Upload the CETL tutor application form under the COVER LETTER section in Joblink.
Step 6: Upload your unofficial transcript under the APPLICATION MATERIALS section in Joblink.
Step 7: Ask a UR instructor or staff member who knows you well to submit a short email recommending you for the position to Carson McCain.  The email should speak briefly to your ability to work independently and professionally with students of diverse backgrounds and learning profiles.
Thank you for your interest in CETL Tutoring! 
CETL makes tutor selections based on subject demand.  While we hire an array of tutors for different subjects, chemistry, biology, data science, computer science, physics, engineering, economics, and math are all high demand subjects and therefore make for desirable applicants.  CETL will notify you before the end of the semester regarding an interview or to let you know the positions have been filled.  Pease feel free to apply again next semester if you are not chosen during this round of hiring.