Summer Research Students Participate in David T. Kearns Center Summer Research Symposium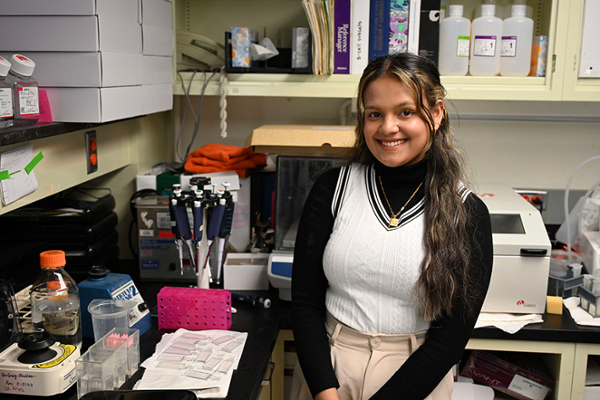 By: Alexa Olson

The annual David T. Kearns Center Summer Research Symposium was held last week, and for University of Rochester student and McNair scholar Lalita Dahal, that meant an opportunity to showcase the research she has been working on all summer.
"I am absolutely thrilled to present my work and showcase the project that I have dedicated so much time and effort to," Dahal says. She adds that the opportunity to share her project with her peers, and experienced professionals in her field is both exciting and nerve-wracking. "I am confident in the value of my work and eager to receive feedback and learn from the experts in the room. I am also very eager to learn about other students' projects and see all of the fantastic posters and presentations."
Dahal was part of a cohort of more than a dozen Rochester students participating in the Ronald E. McNair Post-Baccalaureate Achievement Program this summer. The McNair students – along with students from Rochester and other colleges and universities participating in summer Research Experiences for Undergraduates (REU) programs on campus – completed their ten-week summer research program with the Summer Research Symposium. There, more than 60 undergraduate students shared their work during oral presentations, poster presentations, and panel presentations. There was an excitement surrounding the event, and a sense of pride coming from the students.
George McCormick, a senior McNair advisor and curriculum specialist at the Kearns Center, says the symposium is a great culminating event for a couple reasons. "The Research Symposium offers the students a place to showcase their work. It also validates a different kind of learning—active, deep learning—that they've been involved with in their research. Doing research is very different than doing course work during the academic year. It takes more discipline, you have to be more of an intrinsic learner." McCormick says.
The Kearns Center administers five federal TRiO programs including the McNair Program, which was first established at the University of Rochester in 1992. Beth Olivares, the executive director of the Kearns Center and dean for diversity in Arts, Sciences & Engineering, says it's a program that is unique. "Students from low-income, first-generation, and underrepresented minority backgrounds have access to research experiences with faculty doing cutting-edge research at a highly competitive Research 1 institution. They gain important knowledge, apply classroom learning to hands-on work, deepen their understanding of academia, and ask and start to answer incredibly important questions in a wide variety of fields."
Dahal is one of those students who spent the summer doing hands-on research in a lab at the University of Rochester Medical Center. Dahal's research centers on a rare disorder called splenic diffuse red pulp lymphoma or SDRPL. Specifically, her project focuses on mapping the microscopic localization of SDRPL using immunofluorescent chemistry and immunohistochemistry to identify distinct patterns that can differentiate SDRPL from other similar disorders. Dahal says her summer experience has made a big impact, the most important being the opportunity to engage in interactive learning within her field of study. "Working alongside experienced mentors and faculty members has been invaluable, as it has allowed me to gain practical skills and insights that cannot be acquired solely through textbooks or lectures. Moreover, I have found great satisfaction in the process of acquiring new knowledge and obtaining fresh data," Dahal says.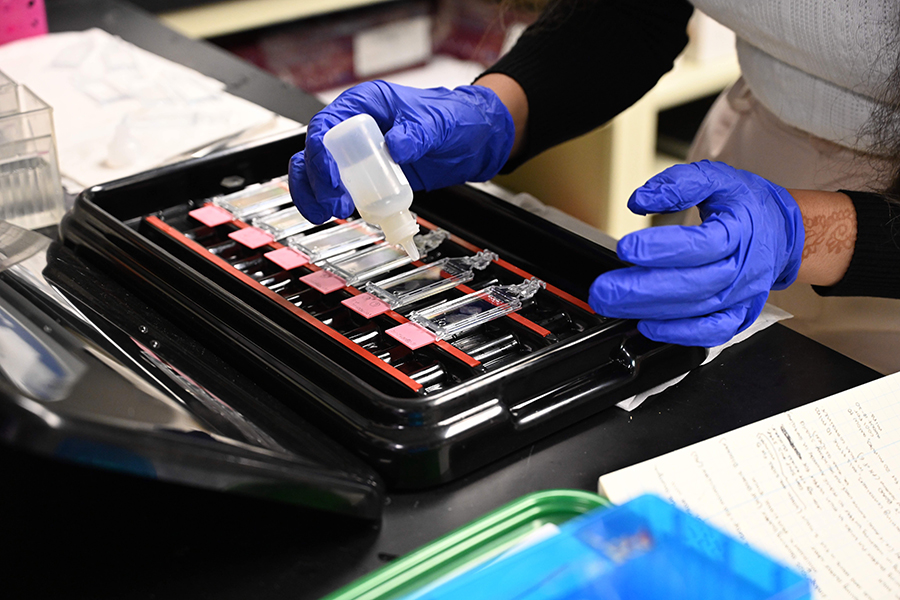 According to Olivares, experiences like Dahal's give students confidence and knowledge of how research works at the graduate level, preparing them to further their education. "Our [McNair scholars] are incredibly successful, with over 75 percent going into doctoral programs either directly or within a couple of years of earning their undergraduate degrees. As a result, they have diversified multiple graduate schools and the academy, as well as national research labs, NASA, the CDC, and many other industries across the globe. The McNair Program is the model on which we have built many of our other undergraduate research programs."
Melissa Raucci, the assistant director for College programs at the Kearns Center, says that the students who took part in the summer program impressed her. "This group of students are amongst the most driven, talented, and intellectually curious I have worked with. A true representation of the value and impact of our McNair program." McCormick agrees, adding, "Our McNair Scholars have put in a tremendous amount of work in a short amount of time. Between putting in 40 hours a week with their research, plus their coursework, plus their graduate school preparation, they have worked and studied tirelessly. If anybody has earned an August to relax, it's our McNair scholars."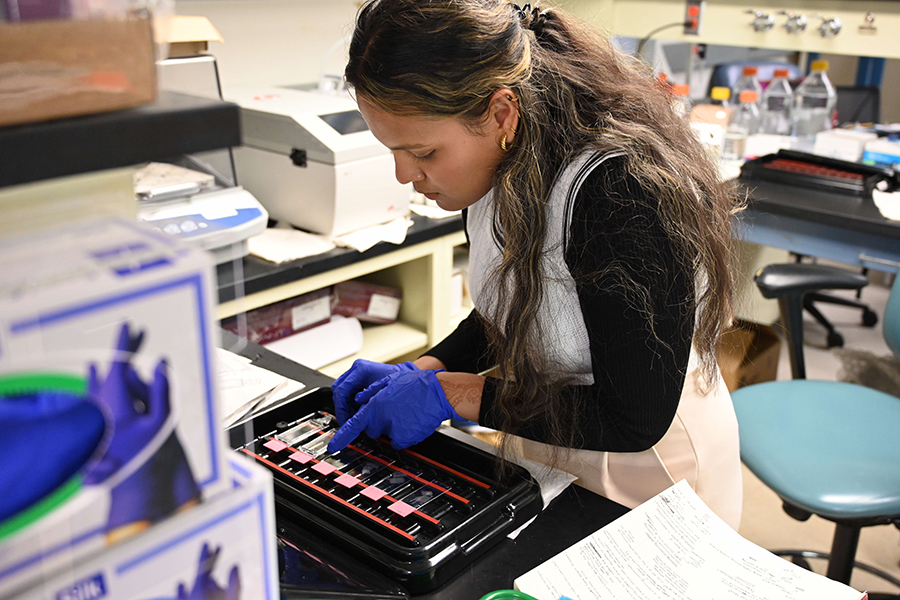 Dahal, the rest of the McNair cohort, and all the summer research scholars who took part in the summer program got to showcase their work to faculty, students, and staff at the annual David T. Kearns Center Summer Research Symposium on Friday, July 28, 2023 in the Feldman Ballroom from 9 a.m.-5 p.m.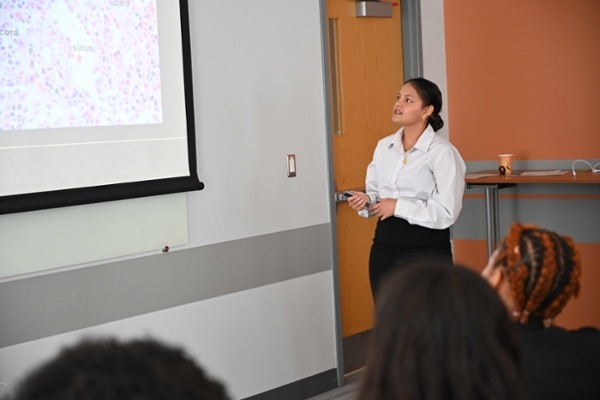 See the event program (pdf) for a complete list of the summer research students and the names of their research projects.