2013 News Archive
October 11, 2013
RCBU members Vikram Dogra and Navalgund Rao received a patent earlier this year for the new technology, called photoacoustic imaging. Their system uses rapid bursts of laser light to bombard a specific region of the body, with the resulting sound waves captured to create a series of high resolution images. This new technique could make a significant impact when compared to the traditional means of detecting and diagnosing prostate cancer.
---
October 11, 2013
Eva K. Pressman, M.D., has been selected as Henry A. Thiede Professor and Chair of the University of Rochester's Department of Obstetrics and Gynecology. Pressman is the first woman to chair the department, succeeding James R. Woods, M.D., who stepped down in June 2013 after 10 years as chair.
---
October 11, 2013
Maria Helguera, Ph.D. was appointed the Wedd Visiting Professor of Pharmacology and Physiology for the 2013-2014 academic year. Dr. Helguera is an Associate Professor in the Chester Carlson Center for Imaging Sciences at RIT, and a long-standing member of the RCBU. Dr. Helguera's research is dedicated to biomedical and materials multimodal imaging.
---
September 10, 2013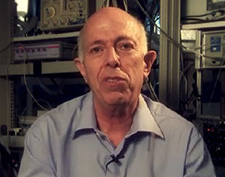 On September 24th, join us for a special seminar featuring Dr. Yoav Medan. Yoav Medan is the Chief Systems Architect at InSightec Ltd. in Israel, where he works on MRI-guided focused ultrasound technology. InSightec has been voted a top innovator by TIME Magazine for its revolutionary ultrasound system for noninvasive surgery. Prior to InSightec, he spent 17 years in research and management at the IBM Research Division and was elected to the IBM Academy of Technology. Dr. Medan has taught at the EE department at the Technion, Israel Institute of Technology, in addition to serving as a lecturer for Avionic Systems at the Aeronautical Engineering faculty, and mentors young entrepreneurs as part of the Technion Alumni Technion for Life program. Dr. Medan is a Senior Member of the Institute of Electrical and Electronics Engineers (IEEE) and holds over two dozen patents. He received his D.Sc. and B.Sc. (Summa Cum Laude) in Aeronautical Engineering from the Technion, Israel Institute of Technology, and a M.B.A diploma from Bradford University, UK.
---
September 10, 2013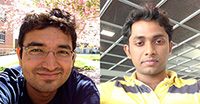 Himanshu Shekhar and Rohit Nayak have both been accepted into the Howard Hughes Medical Institute (HHMI) Med-into-Grad Fellowship in Cardiovascular Science. This prestigious HHMI sponsored URMC fellowship augments traditional Ph.D. training with clinical rotations, a clinical co-mentor, a weekly Cardiovascular Research Institute seminar series, and translational cardiovascular coursework to train the next generation of bench-to-bedside cardiovascular scientists. Himanshu received the fellowship based on his application titled, Nonlinear chirp-coded ultrasound pulsing for imaging plaque neovascular. Rohit received the fellowship based on his application titled, Predicting the propensity of atherosclerotic plaque rupture using noninvasive vascular elastography.Congratulations to Rohit and Himanshu!
---
July 26, 2013
Undergraduate students, Jacob VanderBurgh (BME) and Vincent Sayseng (BME), presented at the David T. Kearns Center Research Symposium on July 26, 2013. Both Jacob and Vincent are Xerox Undergraduate Research Fellows working in RCBU faculty laboratories. They each presented scientific posters of their summer research projects. Jacob, mentored by Professor Diane Dalecki and Professor Denise Hocking, presented his poster titled Development of a protocol to assess cell migration in hydrogels exposed to ultrasound standing wave fields. Vincent is working with Professor Stephen McAleavey and he presented his poster titled Simulation of refraction artifacts in shear wave estimation with curvilinear transducers. Both Vincent and Jacob will continue their research programs through the upcoming academic year as part of the Xerox Research Fellowship program.
---
May 6, 2013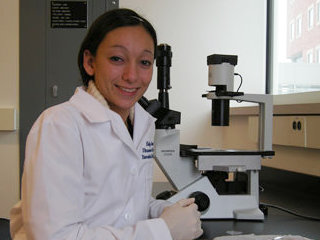 Kelley Garvin is the recipient of the Outstanding Dissertation Award for Engineering. Kelley completed the requirements for the Ph.D. in Biomedical Engineering in December 2012 and her thesis is titled Ultrasound Technologies for the Spatial Patterning of Cells and Extracellular Matrix Proteins and the Vascularization of Engineered Tissue. Kelley's Ph.D. research has exciting potential to provide new, noninvasive ultrasound-based fabrication processes that significantly advance the level of complexity of three-dimensional engineered tissues.
---
May 1, 2013
Karla Mercado (BME) and Himanshu Shekhar (ECE) were the recipients of Best Poster Awards at the 2013 UR Graduate Research Symposium. Karla is a Ph.D. student in BME and is supervised by Professor Diane Dalecki. Himanshu Shekhar is a Ph.D. student in ECE and is supervised by Professor Marvin Doyley. Both Karla and Himanshu are student members of the Rochester Center for Biomedical Ultrasound (RCBU).
---
April 30, 2013
BME Undergraduate student Jacob VanderBurgh was awarded a UR/Xerox Undergraduate Research Fellowship. Jacob will be working in the laboratory of Professor Diane Dalecki (BME, RCBU) on research focused on developing ultrasound technologies for cell and tissue engineering applications. The UR/Xerox Fellowship Program is a highly competitive program that provides engineering students with research experience. The program begins during the summer preceding the senior year, and continues as an independent research course in the fall and spring semesters of the senior year.
---
March 3, 2013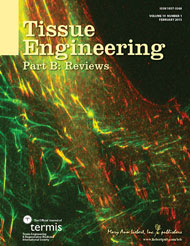 An immunofluorescence image captured by Dan Roy has been featured on the cover of the February 2013 issue of the journal Tissue Engineering Part B. The image is from the recently published paper by Roy and Hocking titled Recombinant fibronectin matrix mimetics specify integrin adhesion and extracellular matrix assembly. Dan Roy recently completed his PhD in BME in the laboratory of Professor Denise Hocking and is currently a post-doctoral fellow at the U.S. Army Institute of Surgical Research in San Antonio, Texas. Dr. Hocking is an Associate Professor in the Department of Pharmacology and Physiology and member of the Rochester Center for Biomedical Ultrasound. For further details, see the article by Roy and Hocking in Tissue Engineering, Part A, 19:558-570; 2013.
---
March 1, 2013
Diane Dalecki (Biomedical Engineering) and Kevin J. Parker (Electrical and Computer Engineering) were recently inducted as Fellows of the American Institute of Medical and Biological Engineering (AIMBE). Diane Dalecki was recognized forThe national and international leadership in the study of the biological effects of ultrasound and establishment of standards for ultrasound applications. Kevin Parker was recognized For leadership and scientific contributions to biomedical imaging, including digital image enhancement, multi-modal image representation, and sonoelastography. Dalecki and Parker are both members of the Rochester Center for Biomedical Ultrasound (RCBU). The AIMBE Fellow Induction Ceremony was held at the National Academy of Sciences in Washington, DC.