Overview

Undergraduate programs in the David T. Kearns Center focus on supporting our students in achieving their academic goals, whatever they may be. Through a mix of intensive academic advising, graduate school preparation, and an emphasis on undergraduate research, Kearns Center students graduate on time and attend graduate schools in numbers far above the national average.
Undergraduate students from outside the University of Rochester looking for summer research programs: Click Here
For more information, contact the Kearns Center College Programs.
---
Spotlight: Meet our staff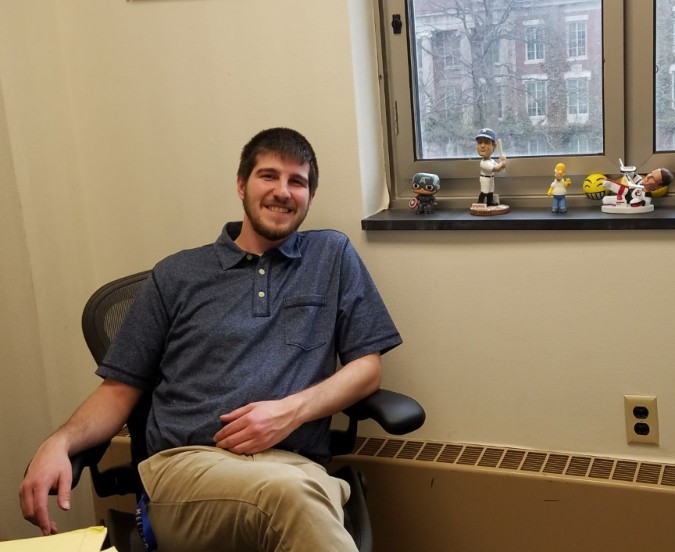 Featured this Week: Mike Droel
Mike is the Project Assistant in the David T. Kearns Center. He is responsible for coordinating events, managing the calendars, and special projects across all of the Center's programs. Mike graduated from St. John Fisher College in 2013, where he studied Communication/Journalism and Sociology. He is currently pursuing a Master's degree in Higher Education. He has volunteered for the last 5 years at the American Diabetes Association as an On-Site Entertainment Coordinator. In his free time, Mike enjoys watching baseball and hockey, listening to Bruce Springsteen, and watching "a lot" of movies; he has seen over 1,400 movies in his lifetime! 
---
More about us
| | |
| --- | --- |
| Advisor Name | Office |
| Jessica Colorado | 4-160D |
| Danielle Daniels | 4-160B |
| Jazmyn Haywood | 4-160M |
| Stephon Hamell | 4-141 |
| Kim Hunter | 4-143 |
| Isia Pembe | 4-160C |
| Anthony J. Plonczynski-Figueroa | 4-149 |
| Melissa Raucci | 4-153 |