Smart Board (Interactive Whiteboard)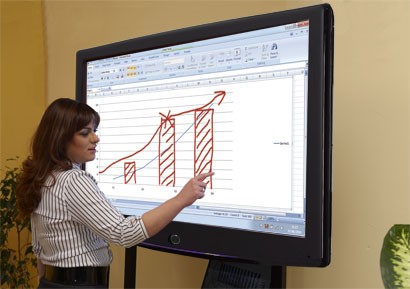 Smart Board is the brand name of an interactive whiteboard used by the Warner School of Education in LeChase Hall. The first floor classrooms (which are shared between Warner and AS&E) have a number of these Smart Boards installed. Warner School IT support is responsible for warranty repairs and support for the whiteboards in LeChase Hall.
If you want to use the whiteboard with your laptop first download and install the drivers from Smart Board's website here: Smart Board Support site (scroll down to section marked, Smart Product Drivers and choose latest driver for your Mac or PC).
The Smart Board drivers will allow you to hook your laptop to the Smart Board USB cable which will turn it into a large scale "tablet" style touch panel you can use to open/close or draw on your PowerPoint slides. Good options for this style of lecturing would be Word, PowerPoint or Microsoft OneNote which all allow you to mark-up a blank page with whatever notes you want to write on the board during class. These Microsoft Office applications are "ink-aware" when you attach the Smart Board USB cable and will allow you to mark-up blank pages or PowerPoint slides with the pens located in the pen tray on the Smart Board.
Smart Board also offers a proprietary notebook program via download at their website. It requires a code to be entered in order to install the software and make it run.
-Those directions are here in a PDF file: Installing Smart Board Software (PDF) Note: Copy and paste the activation code from the PDF into the Smart Notebook registration box.
If you need further visual cues as to how to use Notebook view this video tutorial from Smarttech.com, manufacturers of Smart Board: Smart Notebook video tutorial (15 min.).
Some links to videos of Smart Board being used in the course of a lecture:
Teaching Physics with a Smart Board (Vassar College)