Internet - Connecting a Macintosh to the UR_Connected Wireless Network
For further assistance:
Contact your desktop support specialist
Help Desk: 585-275-2000
Email: University IT Help
AUTOMATIC INSTALLATION (VIA PROFILE)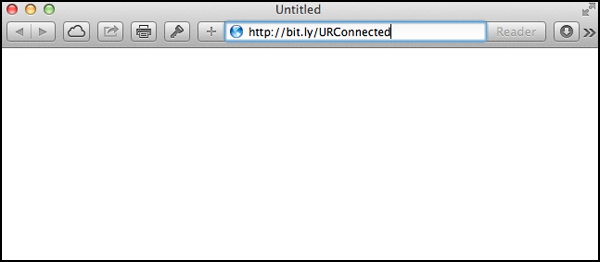 First, ensure that the Macintosh has network connectivity. This may mean temporarily joining the guest network, or using the wired network. Open a web browser on the computer, and go to http://bit.ly/URConnected.
Safari will download the MobileConfiguration file, if "Open Safe files is turned on", system preferences will open and display the Profile information.
If System Preferences does not open, go to your downloads folder, and double click on the signed.UOR-urconnected.mobileconfig file.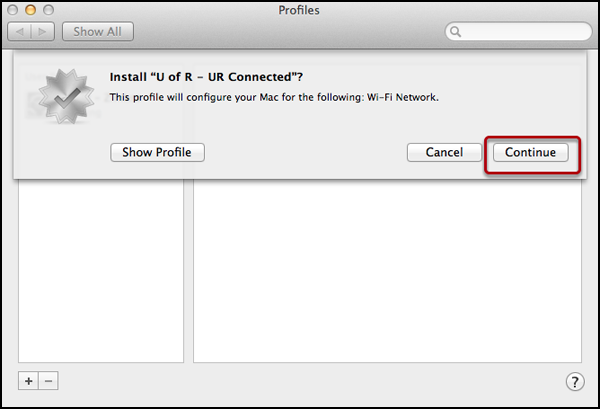 The Profile will display some details about the changes that it will make. In this case, it will configure the iDevice to work with the UR_Connected Wireless network. If you click on Show Profile, it will display every change that it will make on the computer. To start installing the profile, click on "Continue".
Select on Continue to confirm that you wish to install the profile.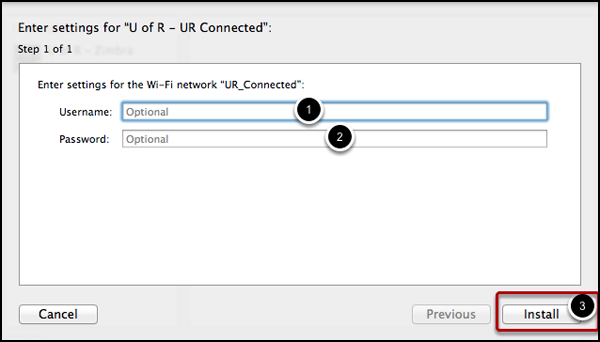 Enter your Active Directory username (#1). If you are uncertain, you can go to the MyIdentity website, and look up your Active Directory username. In many cases, your ActiveDirectory username will be the same as your Net ID username.
Enter your ActiveDirectory password (#2). Once again, you can reset the password at the MyIdentity website, and in most cases it will be the same as your NetID Password.
Select the Install button (#3).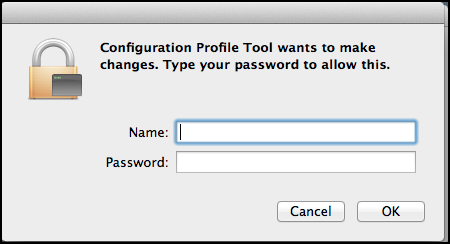 A prompt for the Configuration Profile Tool may appear. If it does appear, enter your computer's Administrator account and password to continue.
FINDING EXISTING PROFILES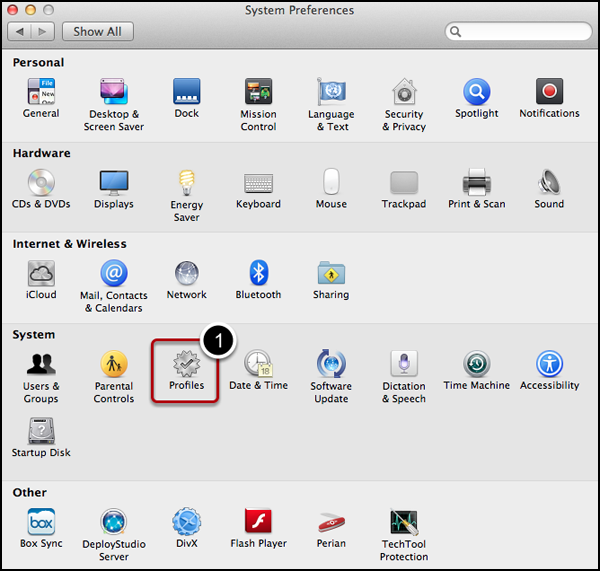 To find what Profiles (#1) are on your Macintosh.
Open the System Preferences then select on Profiles
REMOVING A PROFILES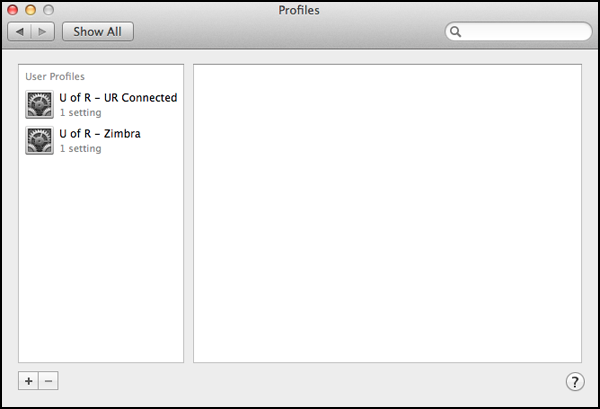 To remove a Profile, open the Profile in the System Preferences, select the Profile, and then select on dash icon to remove the selected Profile.
Note: This will remove all data associated with the Profile.