Software - Updating Your Macintosh Software
For further assistance:
Contact your desktop support specialist
Help Desk: 585-275-2000
Email: University IT Help
WHAT ARE SOFTWARE UPDATES?
All software updates, although seemingly trivial, can offer protection against a variety of vulnerabilities. Most of us will readily update our anti-virus software; we all understand that it can prevent a virus from taking control of our computer or deleting our data.
While the antivirus software actively scans incoming files/emails, AV software is similar to a last line of defense; it is there when your computer has already been the target of an exploitation.
It is really the everyday applications such as Adobe PDF Reader, QuickTime, Adobe Flash and Microsoft Office that are prime candidates for exploitation by hackers if left unpatched.
As a general rule, software updates are a must, and should be done in a timely manner. All operating systems support an automatic software update process, and large number of software manufacturers include a software update system in their software.
INTRODUCTION TO APPLE SOFTWARE UPDATE
In addition to releasing new versions of the system software at regular intervals, Apple also releases a stream of free software updates to enrich your computing experience. Mac OS X automatically checks weekly for software updates provided you have an Internet connection.
You can choose a different schedule, or check manually if you don't have a continuous Internet connection. If Software Update finds an item to download, it appears in a list. Click on an item to get a description before downloading it. If you see updates that you will never use, such as a language you don't speak or drivers for a printer you don't own, choose Make Inactive from the Update menu.
TYPES OF SOFTWARE UPDATES
Software updates (aka Patches, and Service Packs), generally improve usability, performance, and close security holes, within a piece of pre-existing software. There are several reasons to update your software:
Security Updates - to help protect your system from Virus, Malware, and other malicious attacks
Improve Performance of your computer, often software updates contain more optimized software, that can improve the performance of your system
Gain access to new features or a bug fix to an existing feature
In addition, software updates are available for your operating system (e.g. Windows, Macintosh, Linux, etc), and other 3rd party software (eg Adobe Acrobat, Microsoft Office, etc).
OPEN SOFTWARE UPDATES
Select the Apple Menu
Choose Software Update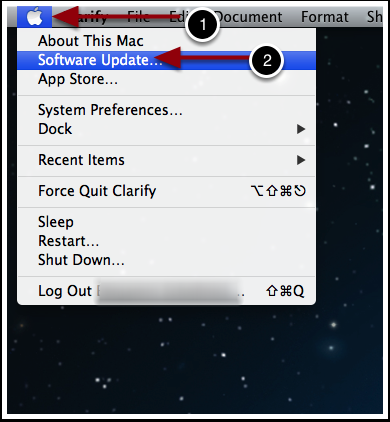 CHECKING FOR UPDATES WITH MAC OS X 10.7 AND EARLIER
If you are running Mac OS X 10.7 or earlier, the Software Update Application will open and start checking for software updates. If any updates are pending, another window will appear, with three options:
Show Details - Which will display the details regarding the updates
Not Now - The software updates will not be installed at this time
Install and Restart - Install all the updates and restart the computer (if needed)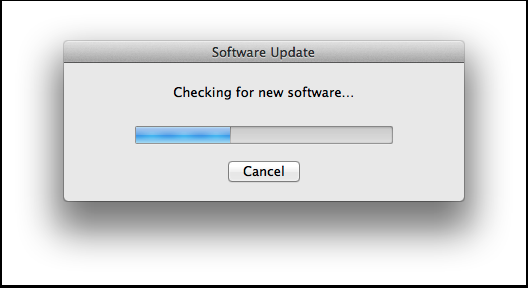 SOFTWARE UPDATE EXAMPLE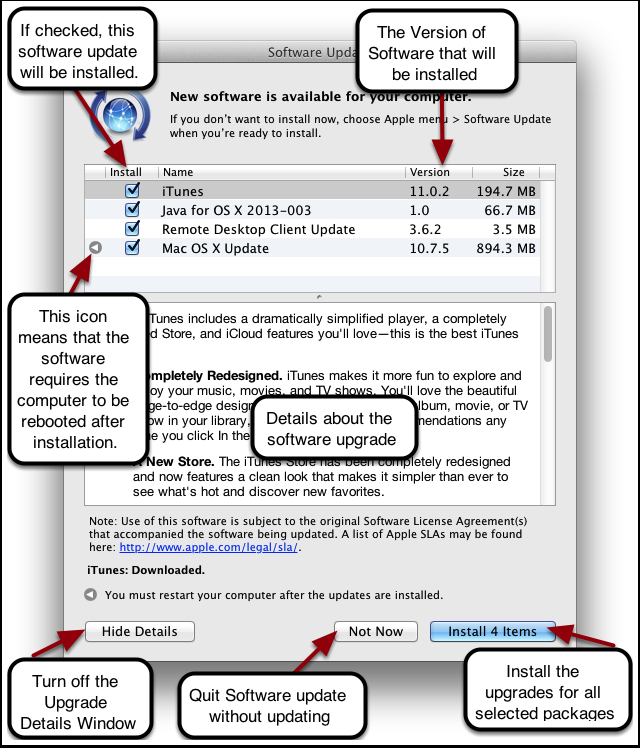 CHECKING FOR UPDATES WITH APPLE MAC APP STORE (MAC OS X 10.8 OR HIGHER)
If you are running Mac OS X 10.8, then the Mac App Store will open, and start checking for any Apple OS and Application Updates. In addition, it will check for any Mac App store application updates.
It is important to note, that until the Progress "Spinner" stops, then the App Store is still searching for updates. So do not quit the App Store while it is checking for updates.

APP STORE UPGRADE EXAMPLE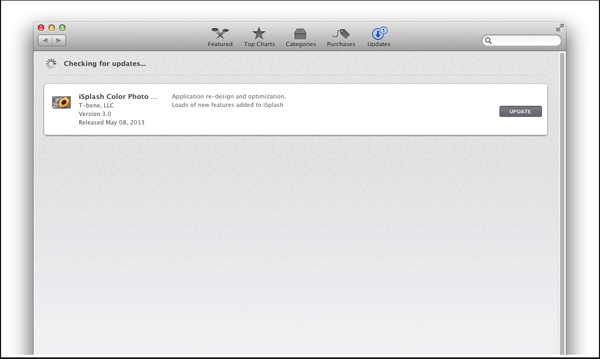 CHECKING SOFTWARE UPDATE THROUGH SYSTEM PREFERENCES
It is also possible to check for updates through System Preferences.
Choose System Preferences from the Apple menu.
Choose Software Update from the View menu.
Select Update Now (Classic) or Show Updates (Mac App Store).
Select the items you want to install, then click Install.
Enter an Administrator user name and password, if prompted. If you are using the Mac App Store, you may have to use the credentials that purchased the software.
After the update is complete, restart the computer if necessary.