Office of the Provost
Assessment
The National Institute for Learning Outcomes Assessment (NILOA)1 developed the Transparency Framework to help institutions organize and present information about student learning to various constituencies on and off campus. The six components of the framework were identified through a scan of over 2,000 sites to determine the elements of assessment data shared across institutional websites. The University of Rochester Committee on Educational Effectiveness Assessment has adopted the Transparency Framework as a structure in which to effectively communicate with various audiences and demonstrate educational effectiveness assessment.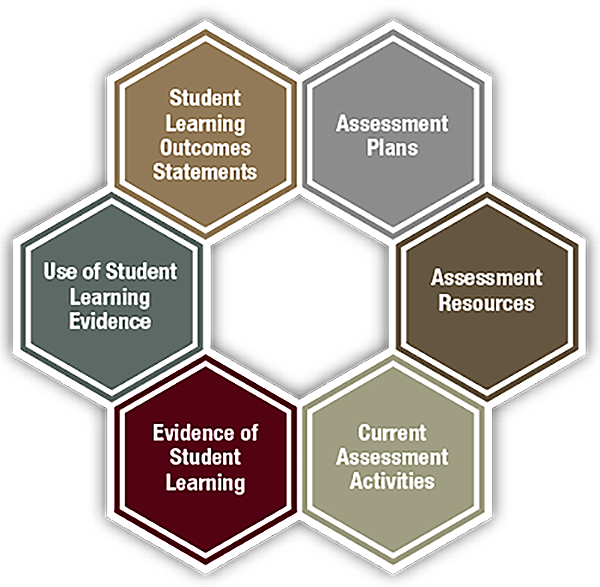 1 National Institute for Learning Outcomes Assessment. (2011). Transparency Framework. Urbana, IL: University of Illinois and Indiana University, National Institute for Learning Outcomes Assessment (NILOA).

Student learning outcomes statements articulate the expected knowledge and competencies student are expected to acquire through a program at an institution of higher education.

Campus plans for gathering evidence of student learning might include institution-wide or program specific approaches that convey how student learning will be assessed, the data collection tools and approaches that will be used, and the timeline for implementation.

Assessment resources encompass information or training provided to faculty and staff to help them understand, develop, implement, communicate, and use evidence of student learning.

Current assessment activities include information on a full range of projects and activities recently completed or currently underway to gauge student learning, make improvements or respond to accountability interests.

Evidence of student learning includes results of assessment activities. This may include evidence of indirect (e.g. surveys) and direct (e.g. portfolio) student learning as well as institutional performance indicators (e.g. licensure pass rate)

This component represents the extent to which evidence of student learning is used to identify areas where changes in policies and practices may lead to improvement, inform institutional decision-making, problem identification, planning, goal setting, faculty development, course revision, program review, and accountability or accreditation self-study.
---
University Committee for Educational Effectiveness Assessment
OFFICE OF THE PROVOST
Jane Marie Souza, Associate Provost for Academic Administration
Jennifer L. Mathews, Assistant Provost for Academic Assessment
EASTMAN INSTITUTE for ORAL HEALTH
Linda Lipani, Director of Student Affairs and Registrar
EASTMAN SCHOOL OF MUSIC
John Hain, Associate Dean of Academic and International Affairs / Director of Assessment
SCHOOL OF ARTS and SCIENCES
Josephine Seddon, Director of Educational Effectiveness
HAJIM SCHOOL OF ENGINEERING and APPLIED SCIENCES
Paul Funkenbusch, Professor, Mechanical Engineering, Hajim School of Engineering and Applied Sciences.
OFFICE OF GRADUATE STUDIES
Melissa Sturge-Apple, Vice Provost and University Dean of Graduate Education
SCHOOL OF MEDICINE and DENTISTRY – GRADUATE EDUCATION
Richard Libby, Sr. Associate Dean for Graduate Education
SCHOOL OF MEDICINE and DENTISTRY – MEDICAL EDUCATION
Christopher Mooney, Director of Assessment
SCHOOL OF NURSING
Bethel Powers, Professor and Director of Evaluation Office and the PhD Program
Andrew B. Wolf, Assistant Professor
SIMON BUSINESS SCHOOL
Mitch Lovett, Senior Associate Dean of Education and Innovation
WARNER SCHOOL OF EDUCATION
Martha Mock, Associate Dean for Academic Affairs