Office of the Provost
Student Awards
Provost's Circle Scholars
The Department of Athletics nominates student athletes who exemplify excellence in academics as well as in their sport for recognition as a Provost's Circle Scholar. Award recipients are honored at a dinner at the Patrick Barry House, the official residence of the Provost.
---
2019 Provost's Circle Scholars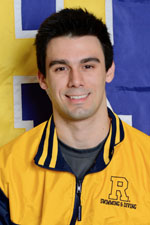 Eric Albuquerque
Swimming, Biological Sciences/Neuroscience
Growing up in Baltimore, MD in the US and Rio de Janeiro, RJ in Brazil, I was no stranger to big cities. However, despite loving home (in small suburbs of each city), I never grew to enjoy, let alone get accustomed to the hustle and bustle of city life. When I entered High School and started to think of College life, I was first intrigued by particular universities, including the University of Rochester, for their locations outside city limits. As I started to really consider places that offered excellence in academics, particularly in the Neurosciences field, as well as competitive swimming programs, that list started to get smaller and smaller, with the University of Rochester present in every iteration of my search. After visiting those schools, there was no doubt in my mind, at the time, that I wanted to be a student at the U of R. No other place offered the same level of academics with such variety of world-class degrees (including music), allowing me to keep my options open, and a swim team on which I could participate and grow as a swimmer, where I would be able to compete and still be challenged to improve my performance in the pool. In my spare time at university, I have taken to research in the Medical center since my Freshman summer. In addition, I got involved with extracurricular activities and clubs, including GR soccer, which raises HIV awareness among children and adults, and the Special Olympics. I have also enjoyed attending free concerts at Eastman since Freshman spring and have continued the tradition every spring semester since, maintaining my love for music. I also love using my spare time to play various sports outside in the beautiful spring weather or lovely winter snow, read, and watch movies with friends. Following my Undergraduate years, I intend to pursue an MD/PhD program with a focus in pharmacogenetics and neurobehavior, with an eventual career in medical practice and basic science research.
---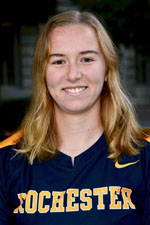 Kathleen Desmond
Softball, Mechanical Engineering
I am from Falmouth, Massachusetts, which is on Cape Cod. I found out about UR when I received a high school award from the university, and on my visit the UR became a top contender. I loved Rochester's campus, and I felt that the overall atmosphere of the school was a good fit for me. I was impressed by the engineering program, but I also liked knowing that I would have options for other courses of study if I decided that I did not want to pursue engineering. In addition to being on the softball team, I am a teaching assistant, I work with the game operations staff, and I am a member of Tau Beta Pi. After graduation I plan on pursuing a master's degree in structural engineering.
---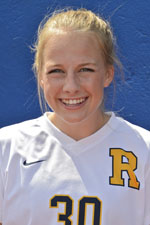 Jorie Freitag
Soccer, Brain & Cognitive Sciences
I am from Vancouver, Washington which is just twenty minutes north of Portland, Oregon. I was born and raised in the Northwest and will always consider it to be my home. I actually found out about U of R due to its affiliation with Eastman School of Music as I was initially planning on pursuing a degree in music. When I visited, I fell in love with the diversity of the campus, the vibrancy of its culture and the soccer team. Thanks to passionate and inspiring professors, I decided to major in Brain and Cognitive Science and pursue a career in medicine over music. This school has provided me with extensive hospital and clinical research opportunities that have since strengthened that decision. I am an Emergency Department Research Associate over at Strong Memorial Hospital, a private research assistant for orthopedist Dr. Rizzone and a volunteer music therapist for UR home hospice. Despite my involvement in research, I have not been limited in my ability to engage in other activities that also interest me. I take private voice and piano lessons through Eastman School of Music, I am a captain for the URWS team, I am an Organic Chemistry TA and the President of the Fellowship of Christian Athletes. I am so thankful to have found a school that not only provides me with the resources to succeed but also gives me the community and support I need to strive for success. When I am not studying, I enjoy traveling, hiking, skiing, playing soccer and reading good books. Upon graduation I plan to attend medical school with an interest in geriatrics.
---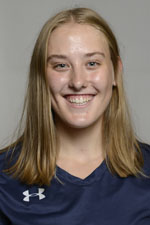 Katherine Korslund
Volleyball, Mechanical Engineering
I'm from Edina, Minnesota but spent the majority of my childhood in England and Switzerland. I chose University of Rochester because I wanted a smaller school with a good engineering program and strong volleyball program. I love the sense of community at U of R, the campus and the engineering program. I also love the flexibility of the curriculum, allowing me to minor in French and do structural engineering research in Ghana. Being on the volleyball team has been an integral part of my experience. My teammates are my best friends and I love spending time with them on trips for tournaments, team painting and studying in the library. Outside of school and volleyball, I enjoy scuba diving, reading, skiing and relaxing with friends. This summer, I will be interning with the Launch team at SpaceX in Hawthorne, California, and hope to use the experience to guide my post-graduation plans.
---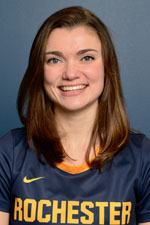 Jenna Macri
Lacrosse, Psychology/Brain & Cognitive Sciences
I am from Asbury, a small town in Central New Jersey. I chose the University of Rochester because I knew I wanted to be part of a team but also have the ability to involve myself in research as an undergrad. I could not imagine my college experience without my teammates; they have become my closest friends, and I love spending time together on and off the field. I also have been fortunate enough to work in two psychology labs since the end of my freshman year, which has allowed me to develop strong relationships with clinical psychology graduate students and professors, and to solidify my plans for the future. Outside of lacrosse and research, I am involved in Greek life and enjoy listening to music and traveling with my friends. Next year, I will be applying to clinical psychology doctoral programs, and I hope to have my own private practice as a psychologist in the future.
---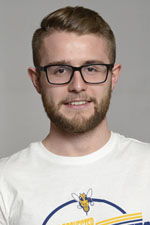 Rafal Mazur
Track, Biological Sciences/Neuroscience
I am originally from Szczecin – a city in north-west Poland – but I have also lived in England and Tanzania. Although the University of Rochester had been on my radar as a dream school for several years prior to my arrival to the United States, I was actually denied admission to the Class of 2019. I reapplied the following year and it was truly the best decision I have ever made. At UR, I have found myself at the centre of an inclusive community that welcomes people from all around the world. With a world-class medical school just stone's throw away, I greatly appreciate the plethora of research opportunities available for undergraduates. Outside of track and field, I am fanatically passionate about Arsenal Football Club, I volunteer in a local assisted living facility for older adults, I serve on e-board for Grassroot Soccer, and I have been a member of the Emergency Department Research Associate program for more than 2 years. Furthermore, my research work on utilization of marginal kidneys in transplantation has received publications in clinical journals. My professional goal is to pursue a medical degree to further deepen my passion for clinical research and become a bridge that delivers health care to those who need it the most.
---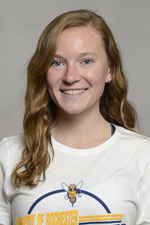 Julia Myers
Cross Country / Track, Digital Media Studies
I grew up in Westfield, New Jersey, about 40 minutes west of New York City. I was drawn to the University of Rochester by the open curriculum, campus, and the opportunity to continue competing in Cross Country and Track. I have loved the freedom given to students to personalize their curriculum and I'm lucky to have been able to pursue all of my interests through a Digital Media Studies major and a double minor in Business and Computer Science. I also had the privilege of spending a semester studying abroad in Copenhagen, Denmark. Being able to take unique classes, learn about different cultures, and travel around Europe was an amazing experience! Being a member of the Cross Country and Track teams has been a huge aspect of my college experience. My teammates have become family and the successes I have achieved so far this year by qualifying for the NCAA championships in Cross Country and Indoor Track have been really exciting. Outside of academics and athletics, I have been a Teaching Assistant and a Study Abroad Ambassador and I love spending my free time with family/friends and traveling. After graduation, I intend to pursue a career in Digital Marketing.
---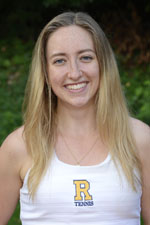 Abigail Reinhart
Tennis, Biological Sciences/Biochemistry
I am from Wilmette, IL, a northern suburb of Chicago. Tennis has been a part of my life since I was seven years old, and I'd always hoped to find a school where I could continue playing while also having an opportunity participate in scientific research. My search quickly led me to the University of Rochester, and on my recruiting visit I saw what ended up being, and remains to be, the reasons that I love the University of Rochester – the sense of community that defines this campus and how athletics here can be so much more than just sport. My teammates have truly redefined for me what it means to be a team member and a leader, and my involvement in the Varsity Student Athletic Advisory Committee has offered insights into the importance of athletics both to students and to the University. I've been able to apply my experiences in class and on the court to research roles in hospitals and in laboratories over the last two years, focusing on the clinical and biochemical aspects of inflammatory disease. Outside of tennis and academics, I love photography, taking my dogs to the beach, and spending time with family and friends. Upon graduation, I plan to pursue a career in healthcare consulting and also return to graduate school in Public Health.
---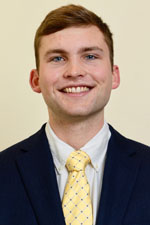 Garrett Renslow
Baseball, Biological Sciences/Neuroscience
I am from Castleton, NY, a very small town just south of Albany that few people, even those from the Capital Region, have heard of. I was drawn to the University of Rochester as I believed it provided me the best opportunity to play baseball at a competitive level while also dedicating myself to a rigorous academic schedule at a top university. The diversity in the student population at the U of R was another draw for me, as I had known the same 70 classmates for my entire life. The ability to branch out and experience new perspectives was very enticing for me. I was lucky enough to be welcomed onto a baseball team that is extremely close knit and has made my time at the U of R better than I could have hoped for. In my spare time I have volunteered with the Friends of Strong program, been a teacher's assistant and I look forward to research opportunities in the future. I enjoy running, playing the guitar and soaking up every second of sunlight that Rochester has to offer, as infrequent as they may be. Following graduation I plan on attending Medical School with an interest in pediatrics.
---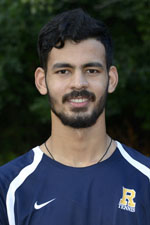 Sahaj Somani
Tennis, Financial Economics
I am from New Delhi, which is the capital of India. I didn't really know about the University of Rochester until the tennis coach reached out to me. Once I did my research, the University of Rochester become one of my top choices. Good thing I did not look up the weather before coming here. After graduation, I want to work on Wall Street as a quantitative trader. I am a Harvey Specter fan, even though I have no plan of going to law school. Iron man is my favorite Avenger and I am always down for good coffee and bubble tea!