Office of the Provost
Student Awards
Provost's Circle Scholars
The Department of Athletics nominates student athletes who exemplify excellence in academics as well as in their sport for recognition as a Provost's Circle Scholar. Award recipients are honored at a dinner at the Patrick Barry House, the official residence of the Provost.
---
2020 Provost's Circle Scholars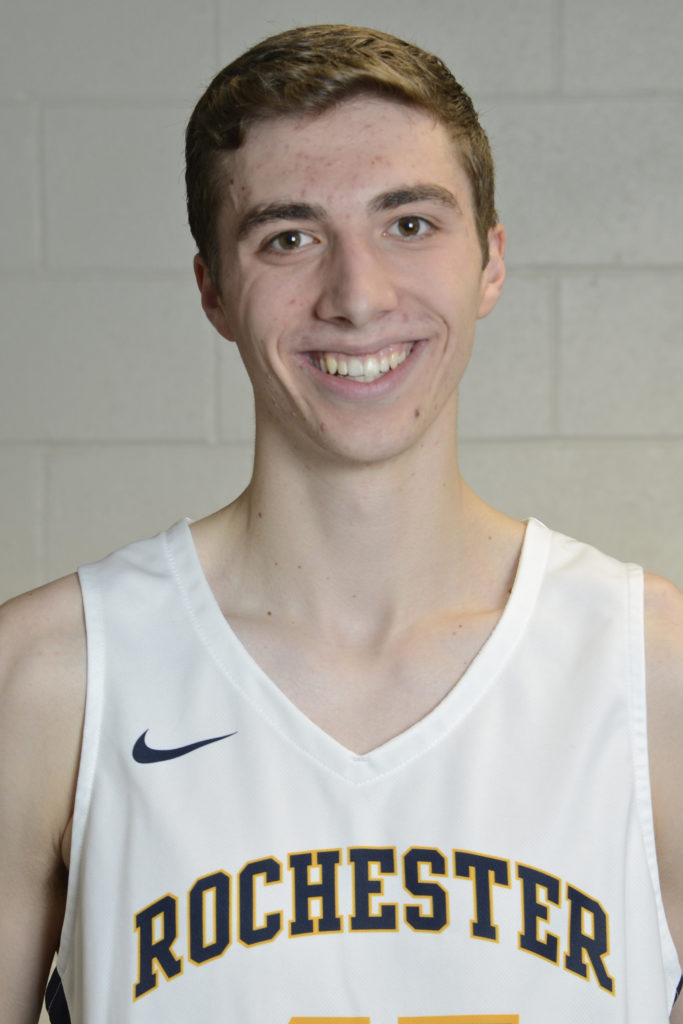 Ryan Algier
Men's Basketball, Data Science
I am proud to say I am a local to the Rochester area, as I grew up in Fairport, NY. Even though my home is only 20 minutes from campus, being at the U of R allows me to meet people from all over the world which is one of the main reasons I chose to attend. In addition, the unique open curriculum allows me the ability to study a cutting-edge major like data science along with business. The educational opportunities coupled with the high-level basketball competition in the UAA, made Rochester the perfect choice. Being a part of Rochester Basketball has truly been one of the greatest experiences of my life. I have connected with lifelong friends, learned extremely valuable skills, and have been able to play the sport I love. Beyond basketball, I am a member of several organizations including VSAAC, the Undergraduate Data Science Council, St. Sebastian Society, and the Late-Night Programming Committee. In addition, I enjoy playing volleyball, hanging out with friends, and learning how to do new things. After graduation I hope to travel and possibly pursue a master's degree.
---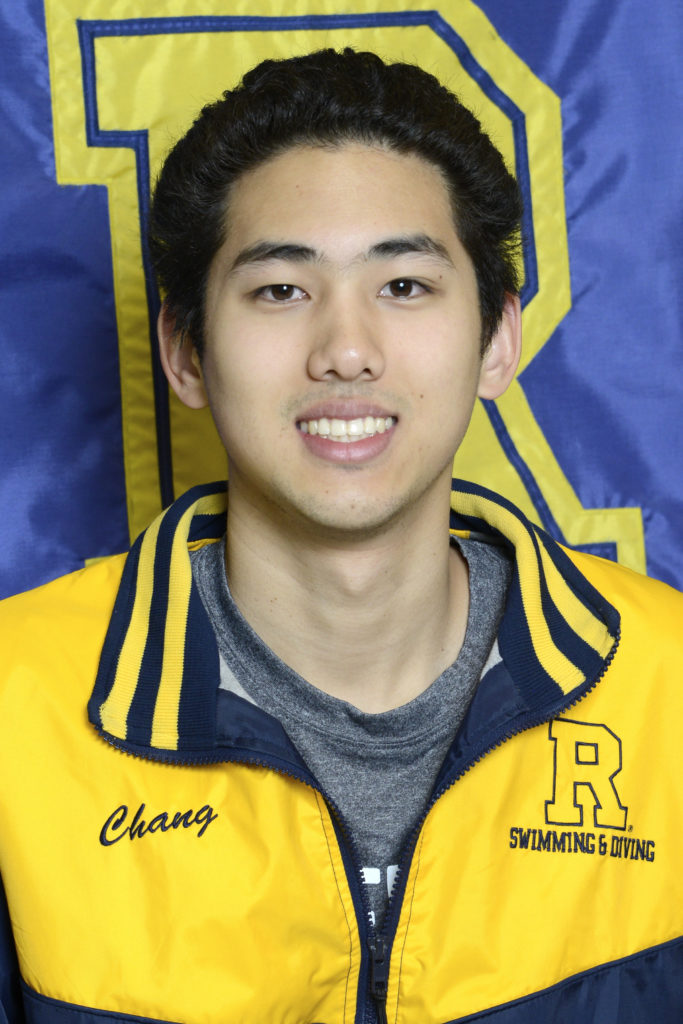 Eric Chang
Swimming, Biomedical Engineering
I grew up in Scotch Plains, NJ and loved the small and more secluded life that this upbringing was able to offer me. From a young age, I have always had high expectations for myself and a desire to achieve all I could. This was true whether I was in school, swimming, or participating in any other activity. For high school, I was able to attend a selective vocational school for design. I was never particularly good at the artistic side of this field, but I really enjoyed working with CAD and architectural design. Based on these experiences, I knew I wanted to pursue a career in the engineering field. Most of my family is in a business-related field, so I decided to look more into this career path, as well. When I discovered the University of Rochester, I loved the variety of majors offered, the open curriculum, the size of the university, and the many inviting people that ultimately led me to choosing this school. The more time I spend at the school, the more elements I found to love about it. The flexibility of courses has also allowed me to pursue both of my interests, engineering and business, as a double major. Growing up and throughout this time in school, I was also competitively swimming. Each year I strive to beat where I was last year, and this led me to compete at YMCA Nationals. I was still never the best swimmer on the team, but I continued to swim because I loved the sport. At the University of Rochester, I am able to focus on school, but also able to swim to my heart's desire. Besides having the opportunity to swim here, one of the many things I love about this school is the ability to get involved in so many different ways. So far, I have had the opportunity to work in a lab for motion perception, TA for three different BME courses, and be an active member of the Varsity Student Athlete Advisory Committee. Outside of school and swimming, I really enjoy rock climbing, playing video games, and spending time with friends. I plan to go into the field of prosthetics and orthotics after graduation, with the hope of starting my own company.
---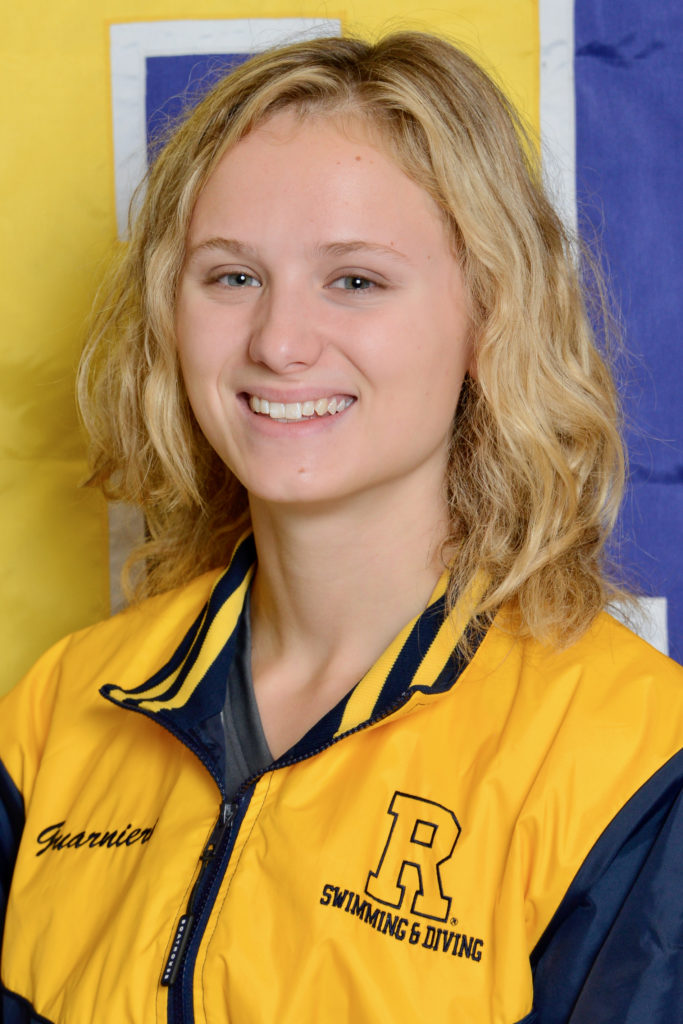 Sofia Guarnieri
Swimming, Biomedical Engineering
I am from Sleepy Hollow, NY which is about 40 minutes north of New York City. I knew I wanted to study engineering and swim in college and the U of R ticks both of those boxes. I am majoring in biomedical engineering with a concentration in biomechanics. I found biomechanics interesting because it ties so well with athletics and allows me to apply what I am learning in the classroom to my interests outside the classroom. The swim program here has given me a good balance between academics and athletics. I have found some of my best friends on the swim team and plenty of fellow engineers! I have grown so much academically and athletically at the U of R. I am working in Dr. Lerner's biomechanics lab studying the effects of partial meniscectomy on the contact mechanics of the knee. In the pool, I swim sprint freestyle and breaststroke and I have made finals at UAAs all three years. Upon graduation, I would like to pursue a graduate program in biomechanics.
---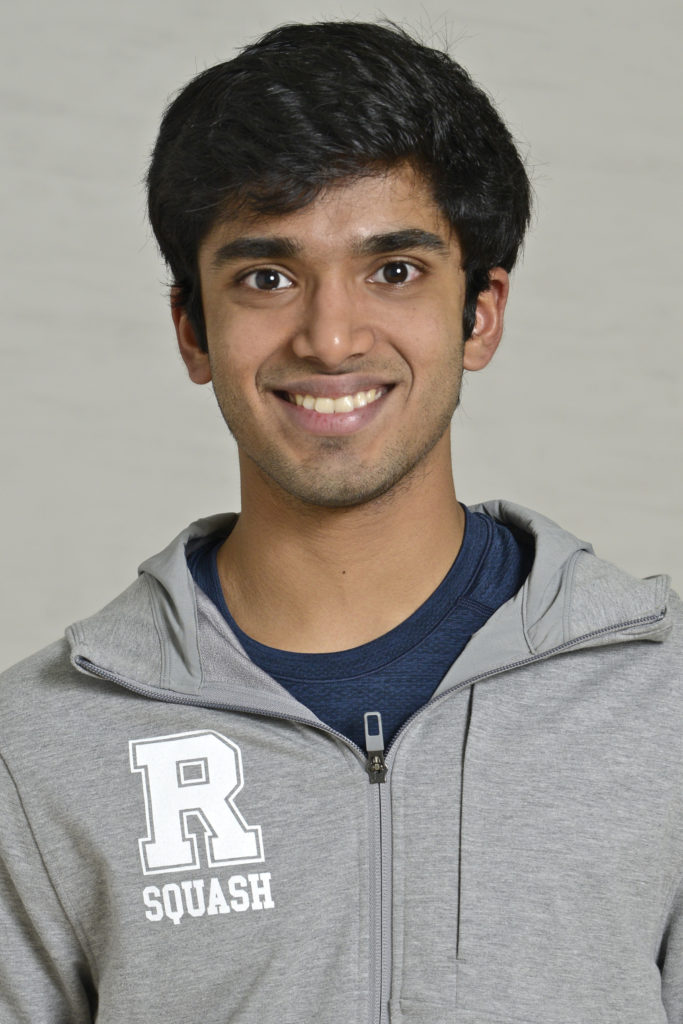 I'm from around Thane, India, and the university was one of my top choices for 3 reasons- the Rochester Curriculum, which provides amazing academic flexibility, the top-notch research opportunities, and the squash program, which is one of the finest and the most diverse in the country.
When I came in, I knew I enjoyed neuroscience and coding. A few years down, I am majoring in Brain & Cognitive Sciences with a concentration in Artificial Intelligence – a neat combination which I wouldn't have imagined to be possible earlier. Along the way, I have been fortunate to take a few random classes – such as Game Theory and Crime & Justice – which highly piqued my interest and fascination for interdisciplinary learning.
I first dabbled in research at the end of my sophomore year, and ever since, a career in research has been the top choice for me going ahead. The professors/researchers at the UofR are very experienced, successful and extremely helpful. I would say that having the opportunity to converse with successful researchers on a weekly basis has taught me a lot in terms of my topic of study, professionalism, and academia.
My experience in the squash team has been enlightening, to say the least. Having been raised in a fairly homogeneous city, I was thrown into a group of guys coming from all over the world – 10 countries and 5 continents. Competing on a top-tier, D1, amazingly diverse team has exposed me to different ideas, beliefs and understandings – coupled with the competitive spirit that the sport has provided me, I am extremely grateful for this experience.
---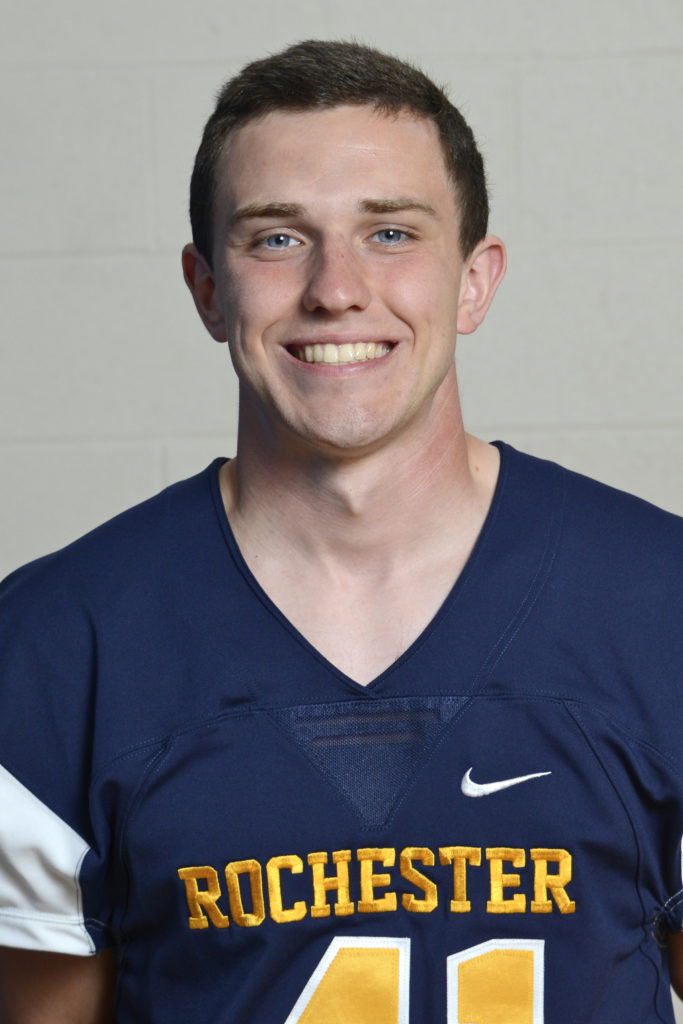 Dawson Klinger
Football, Political Science
My name is Dawson Klinger, a junior Political Science major on the football team. I am also a member of Psi Upsilon fraternity and plan on being a TA next semester. I am currently studying abroad at Vrije Universiteit in Amsterdam.
---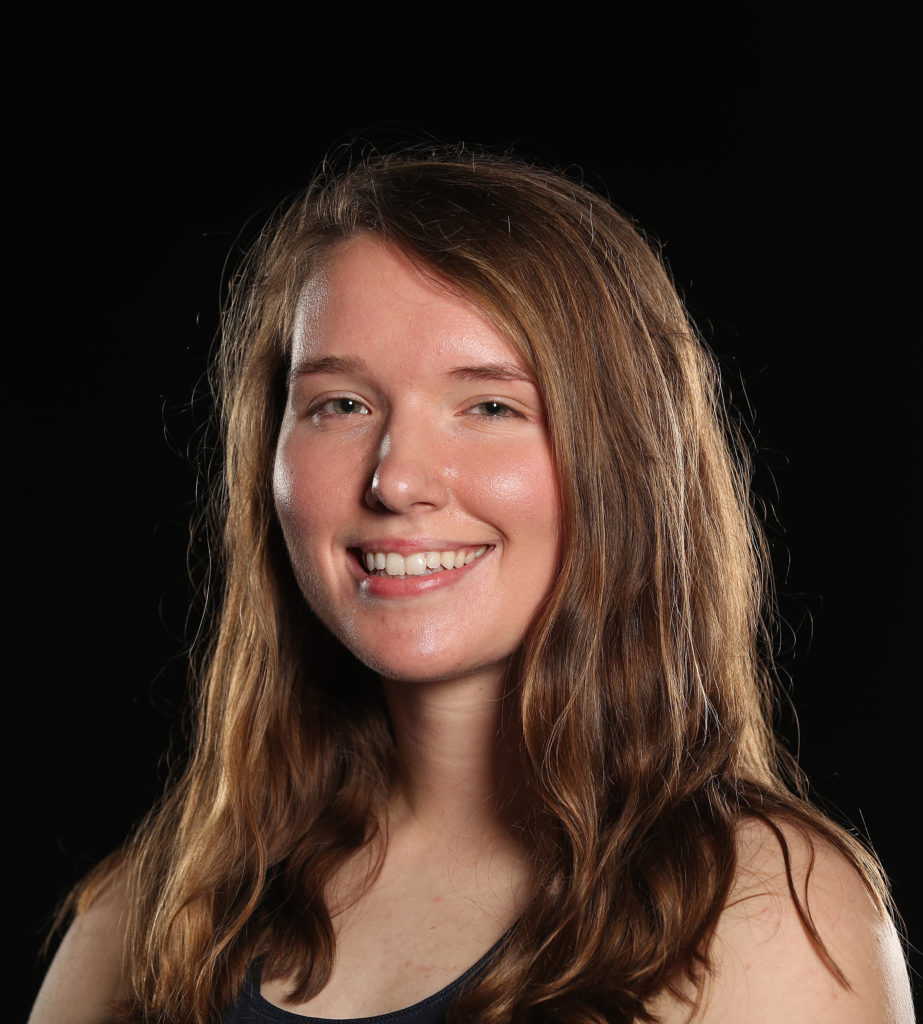 Karen Leap
Track, Mechanical Engineering
I'm from Niskayuna, New York, a small town just outside of Albany. I was drawn to the University of Rochester because of the open curriculum and top-tier academics, and because I loved the overall atmosphere of the school from the moment I first stepped on campus. I feel lucky to have the sense of community I've found at UR, especially within the engineering program and on the Track & Field team. Being a member of the track team has been a huge part of my college experience and the team has made my time at UR better than I could have imagined. Outside of track and academics, I am a teaching assistant, have an on-campus job, and I'm involved in Greek life. After graduation, I plan to pursue a career in design engineering.
---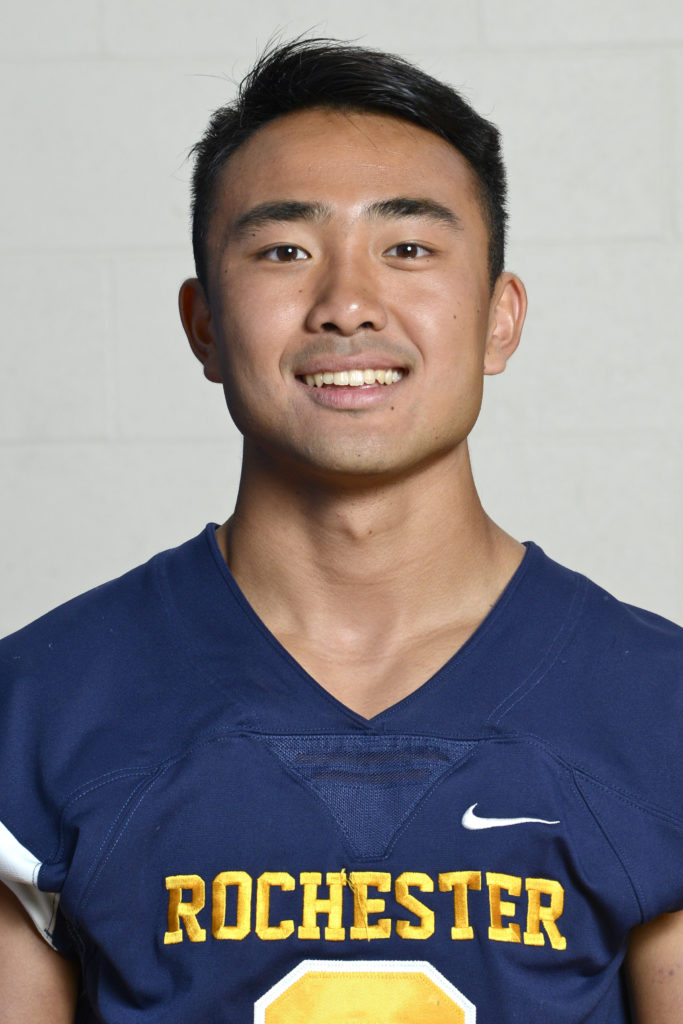 Joshua Liao
Football, Statistics
I am from South Brunswick, a large township located in Central New Jersey. I found out about the U of R during the college football recruiting process when a coach on the staff at the time reached out to me and invited me down for a tour of the campus. In addition to the incredible athletic facilities at the school, I was intrigued by the open curriculum which offers students an exposure to different fields and career paths. I took a wide variety of classes across several disciplines and eventually settled on a major in Statistics with minors in Business and Psychology. Rochester has helped to provide me with some of the best and most inspiring teachers I have ever met that have made my studies more enjoyable, in addition to numerous opportunities for career development and enhancement. Football has always been a huge aspect of my college life, as I was welcomed into the community of brothers on the team from the moment I stepped on campus, and have met friends that will be with me for life. On campus, I am currently a teaching assistant in the Statistics Department, a broadcaster for the Athletic Communications Team, a member of the Fellowship of Christian Athletes, and a brother in the Psi Upsilon fraternity. Outside of school and sports, I enjoy reading exciting novels, writing models in Microsoft Excel, playing piano, watching Netflix, and relaxing with friends. This summer I will be interning for Summit Consulting, a quantitative management consulting firm in Washington D.C., and I hope to use the experience to guide my post-graduation plans.
---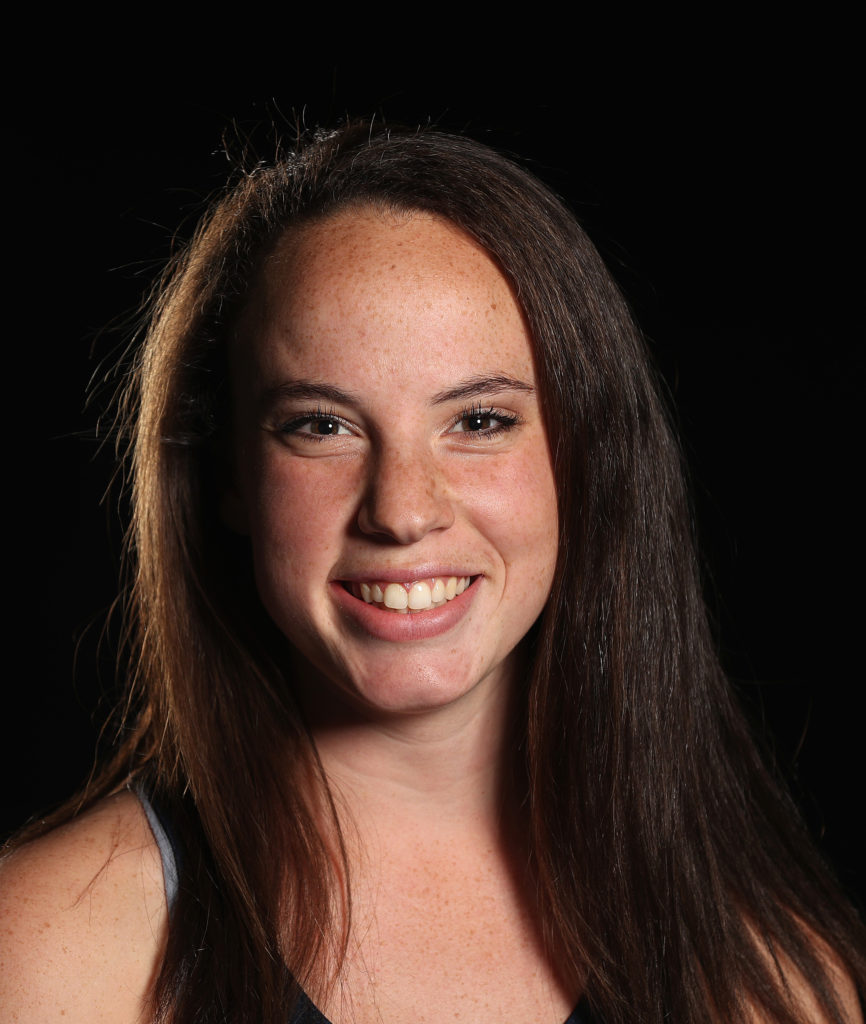 Samantha Mauser
Cross Country/Track, Biological Sciences: Computational Biology
I am from Ithaca, New York. Being from this area, the University of Rochester is very well regarded among my friends and family. When I visited, I fell in love with the close-knit community, dedicated professors, motivated students, and the incredible athletics department. The U of R has empowered me to have many meaningful pursuits including getting involved in research and becoming a chemistry teaching assistant. Although the University of Rochester's academics has much to offer, my life at Rochester would not be the same without the support of my coaches and teammates on the Cross Country and Track teams. My teammates have taught me many lessons about pushing through adversity, having confidence and making certain sacrifices in order to become the best version of yourself. Outside of athletics and academics, I enjoy listening to music, traveling, and getting coffee. 
---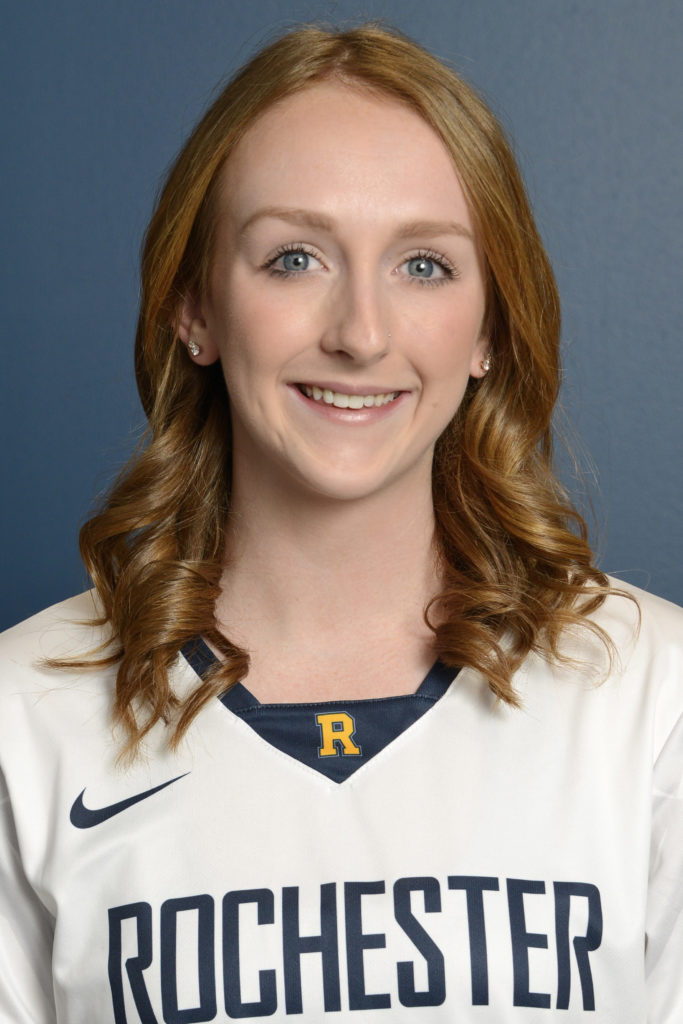 Mary Panepento
Lacrosse, Biological Sciences: Microbiology
I am from Walworth, New York which is a suburb of Rochester. I was fortunate to grow up with many of my relatives around, so family is a very important aspect of my life. I chose to attend the University of Rochester since I knew it would challenge me to do my best and provide me with the resources to succeed after my undergraduate years. Being close to home was just a bonus. I have enjoyed the open curriculum at the university, since I have found a passion in Psychology and Public Health which I may not have realized elsewhere. My goal is to pursue a career in medicine, and I am considering a master's in Public Health. The university has only strengthened this passion through my coursework and extracurricular activities. Over the course of my three years, I have not only been a member of the lacrosse team, but a teacher's assistant for an Intro to Biology course and a Biochemistry lab, an emergency department research associate intern, and a volunteer through StrongART. Additionally, over the winter breaks I have helped run a field trip in the Biology labs here for my local high school with my biology professor. Outside of the university, I am a patient care technician at Rochester General Hospital where I have gained direct patient care and an appreciation for those who work in medicine. In my free time, I enjoy being home with my family, playing with my dogs, hiking, bowling, visiting friends, and playing lacrosse. I am grateful for the foundation that the University of Rochester has provided me to succeed, and I think highly of the staff and students that work hard and contribute to our community. Following graduation, I plan to attend medical school and continue my passion for Public Health.
---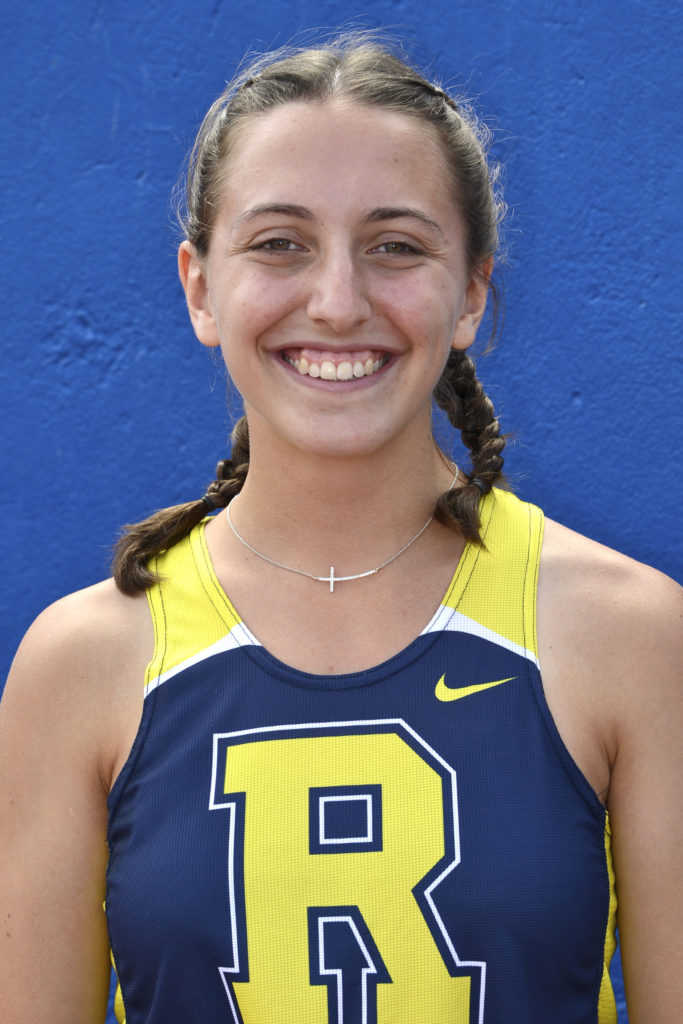 Elisabeth Rott
Cross Country, Spanish