Office of the Provost
Student Awards
Provost's Circle Scholars
The Department of Athletics nominates student athletes who exemplify excellence in academics as well as in their sport for recognition as a Provost's Circle Scholar. Award recipients are honored at a dinner at the Patrick Barry House, the official residence of the Provost.
---
2021 Provost's Circle Scholars
---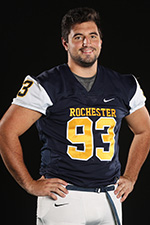 Jack Dippolito
Football player Jack Dippolito is an Economics and Political Science double major from Harrington Park, New Jersey, about an hour from New York City.  After graduation, he hopes to go to law school and eventually practice law. In his free time, he enjoys reading (especially about history) and golfing.  Jack says he came to the University of Rochester because he "really enjoyed the beautiful campus and liked the open curriculum.  The friendliness of the people here was really what sold me.  Everyone was so approachable and willing to answer all of my (many) questions." 
---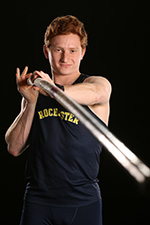 Jarod Forer
Jarod Forer hails from Glen Rock, New Jersey, which is in northern New Jersey, near New York City. A track athlete, Jarod is majoring in Mechanical Engineering and minoring in History.  He's considering his post-graduation options including completing a graduate degree in sports engineering, biomechanics, or biomedical engineering. Jarod says that he chose U of R because "it was the perfect mix between academic rigor and a welcoming social environment. The track team is a tight-knit family for such a large number of people, and there's always support available if you need it. It also didn't hurt that my aunt, uncle, cousin all graduated from here in the past and could speak highly of the school." When he's not studying or at the track, he enjoys spending quality time with friends and family.
---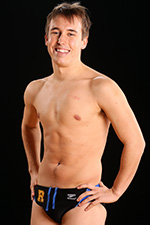 Adam Hopson
Double majoring in Microbiology and Environmental Studies, swimmer Adam Hopson, from Ithaca, New York, hopes to attend medical school after graduation and a gap year.  His current fields of interest are Obstetrics and Gynecology or Cardiology.  Outside of the classroom and the pool, Adam volunteers at Camp Good Days with children who have cancer.  He loves to watch football with friends and family, take on nature hikes and gorge trails, swim in lakes and oceans, and go out to dinner.  Adam chose University of Rochester because of the close-knit vibe he got when he visited. "I think that the student body is very collaborative and connected in the sense that everyone is working together in pursuit of a common goal to learn and have great experiences in college. I also really valued the great hospital right across the street, which has provided me with great opportunities to become involved in the medical field as an undergraduate before hopefully becoming a medical student in the future."
---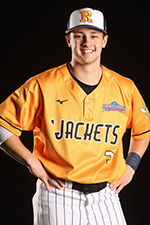 Brian McKinsey
Baseball player Brian McKinsey comes from Concord, North Carolina; just 20 minutes outside of Charlotte.  As a double major in Business and Political Science, he plans on attending law school after graduation. Outside of school and sports, he does research on campus, and is able to be a teaching assistant for a wide variety of courses from political science to philosophy.  He also finds time to enjoy hiking, cooking, and spending time with his three dogs. Brian says, "I chose U of R because of the challenge of academics and the athletic success that U of R has had. The combination of both, coming in as a student athlete, was too good to pass up. In addition, the opportunity to meet people from so many places around the world has given me the chance to meet friends and have connections and conversations that I would never have had if I had not chosen U of R."
---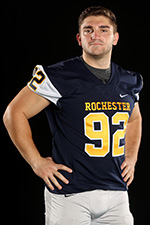 Nicholas "Nick" Petruzziello
Nicholas "Nick" Petruzziello from Randolph, New Jersey (about an hour from New York City), plays on the University of Rochester Football Team.  A Junior majoring in Economics and minoring in Legal Studies and Business, Nick plans to attend law school.  When not studying for classes or the LSAT, he is a teaching assistant for Microeconomics and on the executive board for Psi Upsilon fraternity. Nick's other hobbies include reading, watching movies, and weightlifting. Nick says he chose the U of R because of its "wide variety of academics and the open curriculum here, allowing me to take a wide variety of classes and get a top education."  A die-hard NY Giants fan, Nick would like everyone to know "that the Giants will win the NFC East this season."
---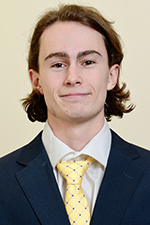 Luke Polson
Baseball player and Student Assistant Coach, Luke Polson, was born and raised in Castle Rock, Colorado (near Denver) but his family recently moved and now resides in Bluffton, South Carolina.  Luke said, "When I first stepped foot on campus, I knew that it was the place I was supposed to end up. Something just felt right. On my visit, I was fortunate enough to take a tour, as well as meet with Coach Reina. Leaving campus that day, I had already made up my mind that I was coming to U of R."  Luke is a Political Science major with minors in Legal Studies and Philosophy. After graduation, he hopes to attend law school.  His hobbies and interests include golfing, reading, and spending time with his family. Luke especially wanted to acknowledge his parents, Rhett and Suzanne Polson.  "Without them, I wouldn't be the man I am today."
---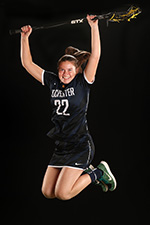 Michaela Ricker
Michaela Ricker comes to the U of R from White River Junction, Vermont, which is only a couple miles from Dartmouth in Hanover, New Hampshire.  She's majoring in Brain and Cognitive Science on the Neurobiology track and minoring in Clinical Psychology and Biological Sciences. Her goal is to become a Physician Assistant either the neurology or psychiatry departments of a hospital "where I can apply my interest in the brain to my everyday life." Outside of lacrosse, Michaela works at the Goergen Athletic Center and as a research assistant in Dr. Jeremy Jamieson's Social Stress Lab on campus. She is a member of the newly founded Pre-Physician Assistant Society, and said, "The university has a lot of research opportunities and connections with the hospital which are things I knew I wanted to try and take advantage of while attending."  Outside of athletics and academics Michaela enjoys reading, hanging out with friends, and hiking.
---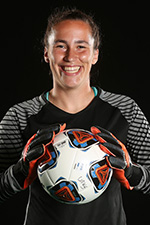 Emma Schechter
Data Science major Emma Schechter plays competitive soccer for the University of Rochester.  Coming from Belleair, Florida near Clearwater, Emma says that on her recruiting visit, she "saw how great the team chemistry was, how much the girls cared about one another, and the culture of excellence in both soccer and school. I knew it was something I wanted to be a part of." When not studying or playing soccer, she enjoys listening to music, playing the guitar, and working out. Emma is weighing her post-graduation options which include going into the workforce, working in sports or government as a Data Scientist, or continuing her studies and soccer career abroad for a year. 
---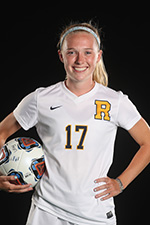 Kailee Sowers
Kailee Sowers, from Wheaton, Illinois, a western suburb of Chicago, came to the University of Rochester because of the "top-tier academics, research opportunities and close proximity to the medical center. The ability to receive such high-quality education while competing in one of the toughest conferences in NCAA Division III made Rochester all the more appealing in selecting an undergraduate institution."  Kailee is a Psychology on the Pre-Med track with a minor in Biological Sciences.  After graduation, she hopes to attend medical school and work in the field of developmental disabilities.  When not playing soccer, she volunteers for organizations/special recreation associations that offer athletic opportunities for children with disabilities. Kailee says, "I hope to take my education and use it to care and advocate for those less fortunate than myself."
---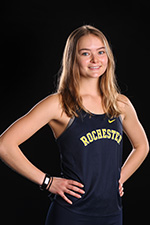 Kendra Watson
Kendra Watson chose the University of Rochester because of the five-year combined bachelor's and master's Chemical Engineering degree program and the opportunity to continue running track with an amazing team.  She is minoring in German.  Before coming here, she went to elementary, middle, and high school in Mercer Island, Washington. Mercer Island is also known as "East Seattle" because it is 10 minutes away from Seattle, Washington. With her outstanding 3.99 GPA, she was selected for the Eisenberg Summer Internship to work on the electroreduction of CO2 using nanocatalysts this summer, and is currently the social chair of the University of Rochester's Tau Beta Pi chapter.  Outside of her studies and track, Kendra enjoys skiing, traveling, yoga, and cooking. She has worked the last two summers as a baker for a local café in Chatham, Massachusetts on Cape Cod.
---
Lauryn Wilson
Track Team member Lauryn Wilson came to the U of R from Johnstown, New York.  While her post-graduation plan is to get a master's degree in Social Work, then a PhD in Clinical Psychology with a concentration in Community Psychology, Lauryn currently enjoys the U of R's open curriculum, and being a part of a top psychology program. Areas of concentration include Psychology, Brain Cognitive Sciences, Gender, Sexuality, and Women's Studies.  She'd eventually like to do applied clinical research that focuses on activism; specifically racial, gender, and sexuality issues.   When not studying, working, or running, Lauryn enjoys cooking, hiking, weightlifting, and skiing.