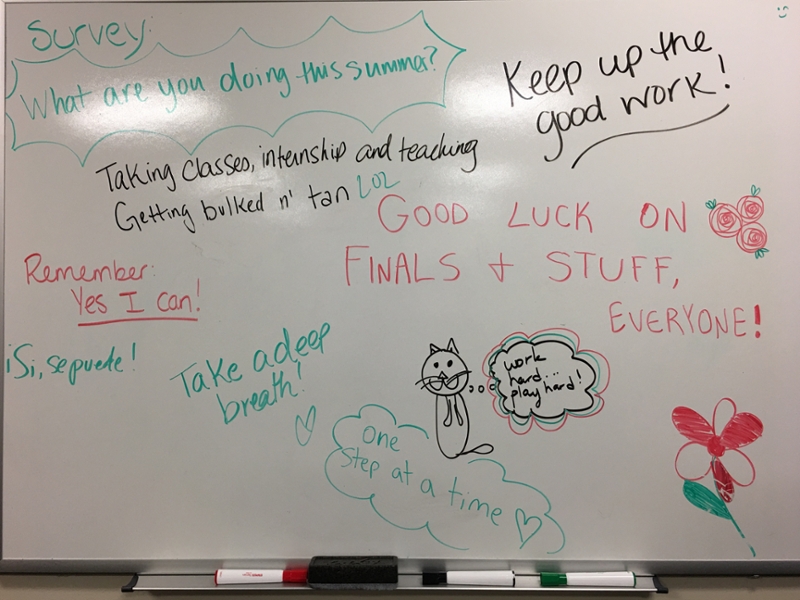 The Study Zone: a new format designed to help students flourish academically
About the Study Zone
We are delighted to announce the Study Zone opened on January 29, 2018. This comfortable place provides low-key support to help students make real progress on their academic work during each visit. Becoming distracted, getting stuck, and being short on time are all common obstacles to success. By providing a productive location, personal support, and a break corner, this informal study location will help students get past those barriers and turn academic goals into reality. 
The Study Zone is located within the Center for Excellence in Teaching and Learning, and is also sponsored by the College Center for Advising Services and the Writing, Speaking, and Argument Program.
Using the Study Zone
The Study Zone offers a new form of support. When students arrive, a student leader or a staff member will help them make an individual plan for that study session. Once they get down to work, another near-peer will be available to check in and to help staying focused and on track.  If difficulties pop up, the Study Zone leader will help students connect to additional resources, like the Tutoring Zone, and our Study Skills program. If students need a mini-break, they can write on the doodle wall and have a light snack before getting back to their work. At the end of each study session, one of the leaders will guide the reflection about that day's progress and the plan for the next session.
Be part of the Study Zone: Spaces are limited!
Spaces are limited for the Fall 2018 Study Zone cohort. Enrolling in this program requires a commitment to spend a minimum of three hours in the Study Zone each week. Students admitted to this program are free to spend additional time in this space whenever it is open. Students will be offered a spot on a first-come, first-served basis. Fill out the online application to apply. If you have questions or would like more information please email studyzone@rochester.edu.